Dollar Gain Is Loonie Pain as Job Data Tell Tale of Divergence
By and
U.S. adds 255,000 jobs, Canada loses 31,200 as paths split

Loonie to weaken further in coming months: BMO, RBC, TD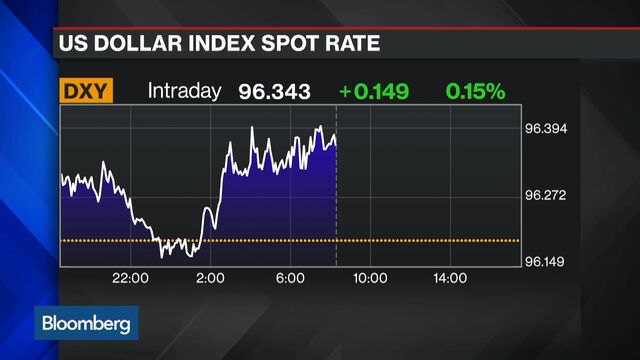 Call it a tale of two dollars.
The U.S. greenback and Canada's loonie face diverging fates after jobs data showed America's economy continues to gain traction while its northern neighbor slips further into malaise.

While U.S. employers added 255,000 jobs last month, more than the most optimistic estimate in a Bloomberg survey of 89 economists, Canada's labor market unexpectedly contracted for the second month in a row. Further underlining the nation's economic woes, Canada suffered its largest-ever trade deficit in June, the country's statistics agency reported last week.
U.S. labor figures are bolstering the odds the Federal Reserve will raise interest rates this year, while the one-two punch of worse-than-expected jobs and trade data is fueling speculation Canada's economy will require a dose of monetary easing to get back on track. The diverging policy expectations sent the loonie tumbling the most since June versus the dollar Friday.
"The old saying that the U.S. sneezes and Canada catches cold appears no longer to be true -- Canada's got the cold without the U.S. sneezing," said Karl Schamotta, director of foreign-exchange research and strategy at Cambridge Global Payments in Toronto. He sees the loonie weakening to C$1.35 per dollar by year-end, from C$1.3150 as of 8:10 a.m. in Toronto. "You're looking at a very different pattern than we've seen in the past."
To read more about rising stimulus bets in Canada, click here.
The Bloomberg Dollar Spot Index, which tracks the U.S. currency against 10 major peers, advanced 0.3 percent Friday. The Canadian dollar fell 1.2 percent, worst among 31 major currencies tracked by Bloomberg.
The probability of a U.S. rate increase this year rose to 47 percent Friday, from 37 percent a day earlier, fed funds futures data showed. In contrast, the likelihood of a rate cut by the Bank of Canada by year-end rose to 32 percent Friday from 13 percent a day earlier, overnight index swaps trading showed.
Canada lost 31,200 jobs in July, the most since November, Statistics Canada said from Ottawa. The nation's trade deficit surged to a record C$3.6 billion ($2.7 billion) in June, the agency said in a separate report.
'Deeper Pullback'
"It's awfully tough to be bullish on the Canadian dollar looking through the remainder of this year," Douglas Porter, chief economist at BMO Capital Markets in Toronto, said in a note to clients. Porter sees the loonie weakening to C$1.33 per dollar in October, with risks "heavily skewed to an even deeper pullback."
Yet losses for the loonie may be limited by stronger growth in the U.S., which will eventually boost Canadian exports, said Adam Cole, head of global foreign exchange strategy at Royal Bank of Canada in London.
Momentum Shift
Strong U.S. data and weak Canadian growth will spur a shift in momentum between the countries' currencies that will probably push the loonie to C$1.35 per U.S. dollar in the second half of the year, according to Mark McCormick, North American head of foreign-exchange strategy at Toronto-Dominion Bank.
The loonie, up 5.3 percent this year, is still is the best performer in the Group-of-10 behind the yen. 
"The currency is fundamentally overvalued and still not at a level that gives the country's exports a competitive advantage," McCormick said. "This is a structural problem for Canada."