markets
Treasuries Climb With Gold as S&P 500 Nudges Record; Crude Slips
By and
Dollar retreats as odds on 2016 Fed rate hike hold below 50%

Nikkei 225 futures signal retreat following yen's rebound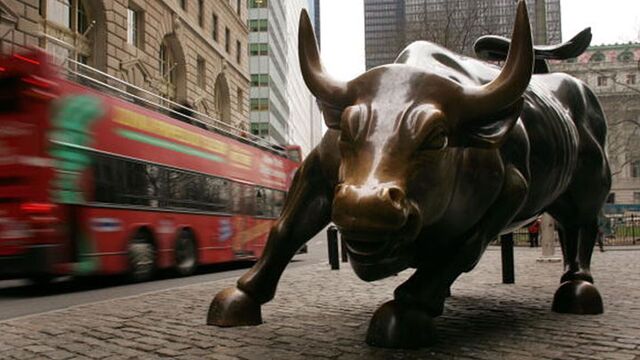 Bonds rallied with gold, while U.S. stocks held near a record amid signs global policy makers will keep a lid on interest rates amid uneven economic growth. The dollar and crude oil retreated.
Traders pushed up the value of Treasuries amid the highest demand at auction for three-year notes since December. U.K. bond yields dropped to record lows after the Bank of England failed to buy enough gilts to reach its stated goal at an operation. The S&P 500 Index rose less than one point amid below-average trading volumes, while a gauge of global equities advanced as German shares entered a bull market. The dollar fell the most in a week versus the yen.

Stocks, bonds and commodities are all posting positive total returns for this year, as central banks from the U.K. to Japan move to stimulate growth, while traders bet the Federal Reserve will raise interest rates only gradually. The Bank of America Merrill Lynch's GFSI Market Risk Index, a measure of future price swings implied by options trading on global equities, interest rates, currencies and commodities, has fallen to the lowest level since January, evidence a sense of stabilization is returning to markets.
"Global monetary policy is clearly in an unabashedly accommodative mode, and investors are reacting to that," said Alan Gayle, a senior strategist at RidgeWorth Investments in Atlanta, which has about $37 billion in assets. "We think that upward momentum is gradually returning to this market, so the bias is higher."
Officials from Frankfurt and London to Sydney and Tokyo are engaging in stimulus, lowing borrowing costs or engaging in massive asset-purchase programs -- sometimes both. The BOE resumed has gilt purchases, while Governor Raghuram Rajan said the Indian central bank's monetary policy stance remains accommodative on Tuesday. Economists predict the Reserve Bank of New Zealand will lower rates to a fresh record low on Thursday.
Stocks
The MSCI All-Country World Index rose 0.5 percent as of 4 p.m. in New York to its highest level in almost a year. Mining and industrial stocks led gains, while energy shares pulled back.
The S&P 500 rose less than 0.1 percent amid volumes that were 22 percent below the 30-day average. The U.S. benchmark has increased on four of the last five days, pushing its 2016 advance to 6.7 percent and its increase from February's low to 19 percent. It's trading less than 0.1 percent below an all-time high reached on Aug. 5.
Gap Inc. tumbled 6.3 percent, the most since May, after same-store sales at the retailer -- a key benchmark -- trailed analysts' estimates. Endo International Plc soared 22 percent after the drugmaker's results beat forecasts, while Microchip Technology Inc. jumped to a record as its outlook exceeded predictions.
Almost 90 percent of S&P 500 companies have posted results for this earnings season, with about 77 percent exceeding profit predictions, and 56 percent topping projections for sales. Analysts have tempered their estimates for the decline in second-quarter earnings to 2.7 percent, versus a 5.8 percent drop foreshadowed less than a month ago. Falling earnings are causing valuations to jump, with the S&P 500's price-earnings ratio climbing above 20 for the first time since 2009 last month.
The Stoxx Europe 600 Index extended its five-day advance to 2.7 percent as Germany's DAX Index climbed 2.5 percent.
Futures on Japanese shares signaled a pullback for Wednesday, with contracts on the Nikkei 225 Stock Average down 0.5 percent in Osaka amid a rebound in the yen. The MSCI Asia Pacific Index rose a fourth day on Tuesday, extending gains at its highest level since Aug. 11, 2015.
Bonds
Benchmark 10-year Treasury yields fell four basis points, or 0.04 percentage point, to 1.55 percent, Bloomberg Bond Trader data showed.
Yields on the U.K.'s 10- and 30-year bonds dropped to all-time lows as the BOE said it received offers to sell 1.118 billion pounds ($1.46 billion) of gilts due in more than 15 years, compared with a target of 1.17 billion pounds. The uncovered operation is the first since the central bank started quantitative easing in 2009.
"You'd understand why investors might not be keen to offload longer bonds -- if you are looking for yields that's the only place on the curve to be," said Jason Simpson, a fixed-income strategist in London at Societe Generale SA. "It is a bit of a surprise that this went uncovered in the first week of the operation, goodness knows what happens next week."

Indian bonds advanced after central bank chief Rajan left key rates unchanged at his final policy review before he leaves the post on Sept. 4. Chinese bond yields dropped to match their lowest levels since 2009 amid rising foreign inflows and as investors seek safety from a mounting number of corporate defaults.
Currencies
The yen strengthened 0.6 percent to 101.88 per dollar, rallying after a two-day retreat amid a revival in demand for haven assets.
Bloomberg's Dollar Spot Index, a gauge of the greenback versus its major peers, fell 0.3 percent after closing little changed on Monday.
The pound weakened 0.3 percent to $1.3003 as investors prepared for data that will give further clues on the state of the U.K. economy following the Brexit decision.The BOE cut interest rates for the first time since 2009 at its Aug. 4 policy announcement, and exceeded economists' expectations on quantitative easing.
"We could see some short-term weakness in the pound," said Janu Chan, a senior economist at St. George Bank Ltd. in Sydney. "It was an extensive stimulus program that the BOE announced. The economy has been hit in the short term, and could face a minor recession."
Taiwan's dollar rose to its highest level in more than a year as the improved outlook for the island's technology industry lured Asia's biggest inflows. In emerging markets, Brazil's real climbed 0.9 percent amid speculation the Senate will vote to move ahead with the impeachment of suspended President Dilma Rousseff, paving the way for a new government to pull the country out of recession.
Commodities
West Texas Intermediate crude fell 0.6 percent to $42.77 a barrel in New York after the U.S. Energy Information Administration raised its crude production forecast through 2017 in a monthly short-term energy outlook. While crude and gasoline inventories are expected to have declined last week, they will remain at the highest seasonal level in at least two decades.
"It's going to take a lot more time than anyone expected for the market to balance," said Mark Watkins, the Park City, Utah-based regional investment manager for The Private Client Group of U.S. Bank, which oversees $133 billion in assets. "It will be late this year or even the first half of 2017 before it happens."
Gold rebounded from its lowest price in a week as the dollar weakened, boosting demand for precious metals as a store of value. Futures rallied 0.4 percent to $1,346.70 an ounce after declining the previous two days.
The Bloomberg Commodity Index, which measures returns on raw materials, fell 0.7 percent as copper resumed its decline, dropping 0.6 percent in London. Cotton slid the most in 11 months amid prospects rain in Texas and the U.S. Southeast will boost crops.
Before it's here, it's on the Bloomberg Terminal.
LEARN MORE