These Are the Red Lines Europe Won't Cross in Brexit Talks
By
Survey shows host of competing demands facing May's government

Open Europe sees U.K. deal as compromise of national interests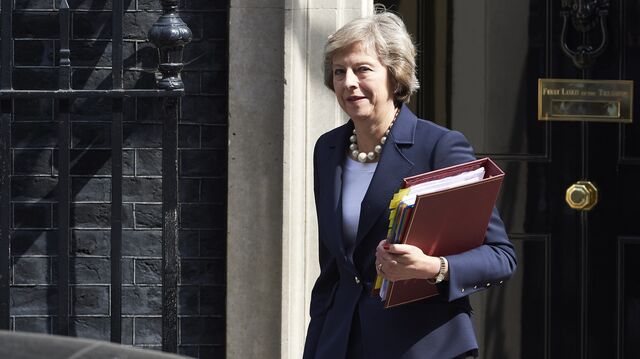 U.K. Prime Minister Theresa May faces a daunting array of demands from European Union nations when the time comes to negotiate Britain's future relationship with the bloc, an analysis of the region's 27 other members shows.
The Bloomberg survey, based on responses from ministries, public comments from government officials and interviews with policy makers, reveals European leaders are laying down their own red lines as May's team weighs what it wants to seek in the Brexit talks.

The result is a complex patchwork of priorities -- from fishing to shipping, an insistence on freedom of movement to the sovereignty of Gibraltar -- that may run counter to what the U.K. wants to achieve. May will still have to seek to satisfy at least some of them if she is to meet her commitment of making a success of Britain's withdrawal from the EU.
"Clearly there are going to be different issues raised by all the different sides," said Stephen Booth, co-director of Open Europe, a London-based research group. "The EU is ultimately a compromise of national interests so whatever the U.K. gets in the end will be that."
Seven weeks since voters in the U.K. chose to quit the EU, Bloomberg News reporters in each of the region's capitals have compiled the first comprehensive look at the main topics the 27 other governments want to raise in the negotiations. Two years of formal talks won't begin until May invokes Article 50 of the bloc's Lisbon Treaty.
Free Movement
Worryingly for May and her Brexit minister, David Davis, several countries including Germany, Portugal and the Czech Republic insist that the U.K. adhere to rules on free movement of labor in return for access to the single market in goods and services. Many who backed Brexit did so in the belief it would mean fewer immigrants.
Just three fellow EU members -- Denmark, Austria and Bulgaria -- cited a shared concern with Britain over immigration, suggesting that May will find sympathy in short supply.

France signaled it is ready to go even further and link freedom of movement to Britain's ambition of retaining the passporting rights that allow the financial industry to sell services and raise money on the continent.
The U.K. has to accept that this will be a package deal and both freedom of capital and freedom of labor are part of the package, according to Sandro Gozi, Italy's junior minister for European affairs. "It's not take it or leave it," Gozi said.
Another clash may loom over the determination of countries in eastern Europe as well as Greece to ensure the U.K. continues paying into EU coffers to maintain the flow of funds to their region. Pro-Brexit lawmakers campaigned to keep what they said was the equivalent of 350 million pounds ($460 million) per week the U.K. sends to the EU, although they have since walked away from that calculation.
Among the challenges for the U.K. that top the agenda in other capitals are the following:
Belgium is concerned about the potential for populist and separatist sentiment spreading to its restive region of Flanders
The government in Dublin wants to prevent a hard border with Northern Ireland
France and Denmark are concerned with reciprocal access for fishermen to their respective waters

Spain will press to assume joint sovereignty over Gibraltar
Austria wants to stop the U.K. from awarding power subsidies for the Hinkley Point nuclear plant, if it goes ahead


The chief concern among the 27 was ensuring continued protection for their citizens living in the U.K. About 200,000 Spaniards live in the U.K., with some 800,000 Britons resident in Spain, for example. May says she wants "to be able to guarantee the rights of those EU citizens living in the U.K.," but that will only be possible if the rights of Britons are protected elsewhere.
Security Concerns
Baltic and eastern European states also want reassurances about continued security in the face of Russian aggression.
"It's not just about trade," said Booth. "Security, geopolitics are important too and put the niggly trade issues in perspective."
There are also potential upsides for the U.K. Malta is among those keen to retain preferential access to British universities for its young people, and to specialist hospitals for its sick.
Ireland, which is the most vulnerable to the fallout from Brexit, wants to give Britain as much access to the single market as possible to avoid the imposition of costly tariffs on both sides. Germany, as Europe's biggest economy, had a trade surplus with the U.K. of 51 billion euros ($56 billion) in 2015.
British Tourists
Estonia warned against taking retaliatory measures toward the U.K. Cyprus and Greece want to limit any economic fallout that would hurt the pound further and discourage the large numbers of British tourists who flock to both countries.
For a QuickTake explainer on why Britain voted to leave the EU, click here
Still, several EU members are looking to profit from Brexit. Italy aims to poach institutions including the European Banking Authority and the European Medicines Agency. Greece is keen to capitalize on Brexit to lure jobs in shipping, while Malta, an English-speaking former British territory, will pitch to be the U.K.'s "gateway" to Europe. Luxembourg wants to attract financial jobs from the City of London.
"After London, we are the first and obvious choice. We have already many British players in our country," Luxembourg's Finance Minister Pierre Gramegna told Bloomberg TV. "And we have a lot of political stability and hence a lot of predictability. That's what investors are looking for."
Also in doubt is who should lead the talks. While May will prefer to seek a deal with counterparts such as Germany's Angela Merkel in the hope she can appeal to common interest, Sweden insists that she engage with the European Commission.
"There have been discussions, not least calls from various U.K corners, for separate agreements between the U.K. and different countries," Swedish EU Minister Ann Linde said. "We want to counteract all such attempts; there shouldn't be separate agreements but only with the EU as a whole."
Sign up to receive the Brexit Bulletin, a daily briefing on the biggest news related to Britain's departure from the EU.