Putin Senses Syria Victory to Cement Assad, Confound U.S.
by and
Russia 'will show the whole world we are right,' senator says

Siege of Aleppo aided by Putin-Erdogan rapprochement: SOHR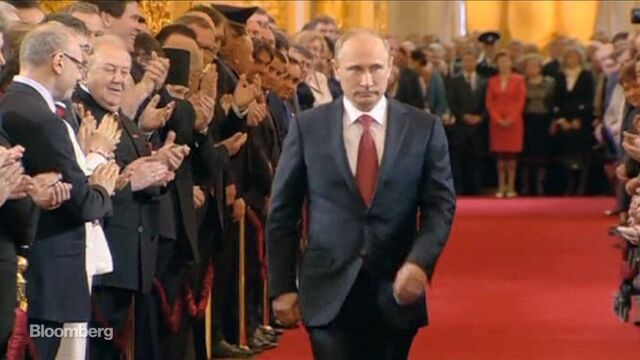 Vladimir Putin may be on the cusp of a pivotal victory in Syria's civil war that would make it much harder for the U.S. to achieve its stated goal of ousting Bashar al-Assad without a major military escalation.
Assad's troops, backed by Russian air power, are bearing down on rebels entrenched in Aleppo, Syria's most populous city before fighting erupted in 2011. Reclaiming Syria's commercial capital would give Assad control over all major population centers and cement his hold on a contiguous swath of land from Turkey to Jordan that makes up almost half of the country.
"Russia will stick to its guns in Syria and show the whole world we are right," Frants Klintsevich, deputy head of the defense committee in the upper house of parliament, said by phone from Moscow. Driving the last rebel groups out of Aleppo within a few months is now "quite realistic," he said. 

It's been almost a year since Putin stunned the U.S. and its allies by entering the conflict to battle Islamist militants and prop up an old ally, turning the tables on western and regional powers intent on regime change. What started as a bloody crackdown on peaceful protesters morphed into a multifaceted proxy war that triggered Europe's worst migrant crisis since World War II and facilitated the rise of Islamic State and its global campaign of terror.
For a review of the forces involved in Syria's civil war, click here.
Opposition militias in Aleppo over the weekend managed to open a route out of besieged neighborhoods where some quarter of a million people live, but renewed strikes by government and Russian forces are preventing them from securing it, according to the U.K.-based Syrian Observatory for Human Rights, or SOHR, which monitors the war through activists on the ground. 
Syria's official SANA news service called the fighting inside Aleppo "fierce," while footage posted on the Twitter feed of the opposition's Orient News showed dozens of residents dancing to the chant of "freedom, freedom, we want our freedom in spite of you, Bashar."
Turkey, Iran

"The rebels managing to break the siege despite their lack of air power and despite the huge imbalance of power in favor of the Russians and the Iranians and the regime is by itself proof that this is a battle much harder to win than the Russians or the Iranians thought," said Riad Kahwaji, head of the Dubai-based Institute for Near East and Gulf Military Analysis. 
The joint siege got an unexpected boost last month when a failed coup in neighboring Turkey accelerated a rapprochement between President Recep Tayyip Erdogan and Putin, who called Turkey's downing of a Russian fighter near the Syrian border last year a "stab in the back."
With authorities in Ankara accusing the U.S. of complicity in the putsch and officials from Washington to Brussels condemning Erdogan's resultant purge, the Turkish leader is turning to Putin to forge a new strategic partnership. The two leaders will meet in St. Petersburg on Tuesday, a day after Putin holds talks with the president of Iran, Assad's other major benefactor.
Key to the Turkish detente for Putin is getting Erdogan to curtail the flow of arms and men to militias fighting his sworn enemy Assad, which he's been doing since the failed coup, according to SOHR director Rami Abdurrahman. Turkey has slowed weapons shipments from Arab countries for the Aleppo battle, while slashing its own flows dramatically, he said.
"The Syrian regime wouldn't have been able to besiege Aleppo had it not been for the Turkish-Russian rapprochement," Abdurrahman said. "The military support is not what it used to be."

The capture of Aleppo, whose eastern neighborhoods have been held by rebels since 2012, would give Assad control of more than 40 percent of Syrian territory and 60 percent of the population, leaving Islamic State with about 35 percent of the country, mostly desert, according to SOHR estimates. The Kurds have about 15 percent of Syrian land, with the rest split between other groups.
'Huge Rethink'
Robert Ford, a former U.S. ambassador to Syria, said it's now clear that Assad won't be forced out, leaving the next president with few good options for dealing with a Kremlin-backed leader at the epicenter of Islamic extremism.
"Short of some kind of huge rethink in the U.S. and a whole set of relationships between the U.S. and partners in the region like Turkey and Saudi Arabia, Assad's survival is no longer in question," said Ford, who's now a senior fellow at the Middle East Institute in Washington. "The next administration will likely be left confronting a situation where a weakened but still powerful Syrian government under Assad controls the former population centers."
The two leading candidates in the U.S. presidential election, Democrat Hillary Clinton and Republican Donald Trump, have both called for major changes to current U.S. policy for dealing with the conflict in Syria and the emergence of Islamic State, which also controls swaths of neighboring Iraq.
 
Clinton would order a "full review" of U.S. strategy to get the "murderous regime" of Assad "out of there" while escalating the fight against Islamic State, Jeremy Bash, a Clinton adviser, told the Daily Telegraph last month. Clinton has promised to establish a no-fly zone to protect civilians, which would put her directly at odds with Putin.
Trump, on the other hand, has said the U.S. has "bigger problems than Assad" so he'd focus on destroying Islamic State, possibly by forging a military alliance with Russia. Trump in June blamed Clinton's policies as secretary of state for "opening a Pandora's box of radical Islam."
Regional Realignment
With Trump offering the prospect of deeper U.S.-Russia ties, Putin is also courting another major backer of Assad's opponents, longtime American ally Saudi Arabia, whose main concern is countering Iran's influence in the region. The kingdom is pursuing "coordination and consultation" with Russia to bridge their differences, Foreign Minister Adel al-Jubeir said July 31.
The regional realignment is happening as President Barack Obama pursues joint action with Russia to fight al-Qaeda's former Syrian branch while avoiding forceful steps to prevent Putin from attacking other groups fighting Assad. Yet even as Obama explores coordinating with Russia in some areas of Syria, he's condemning it in others, underscoring the complexity of the conflict.
Russia's backing for the "medieval" siege of Aleppo and the unfolding humanitarian catastrophe raises doubts about its "commitment from pulling the situation back from the brink," Obama told reporters last week, reiterating his position that defeating Islamic State "requires an end to the civil war and the Assad regime's brutality against the Syrian people."
Obama's failure so far to either destroy Islamic State or topple Assad has frustrated many current and former U.S. officials who backed a plan to arm rebels with advanced weaponry after a cease-fire negotiated by Moscow and Washington collapsed.
Dennis Ross, Obama's senior Mideast adviser in 2009-2011, said last week the U.S. should punish Assad for breaking the truce by bombing airfields and bases where no Russian troops are present. A former member of the CIA's advisory board, Michael O'Hanlon, said the U.S. should arm Islamist groups as long as they aren't al-Qaeda's former wing in Syria, Jabhat Fath al-Sham, though not with anti-aircraft missiles.
'Unprecedented Firepower'
Meanwhile, Putin and Assad have been gaining an unbeatable advantage since Russia unleashed an "unprecedented amount of firepower," said Faysal Itani, a senior fellow at the Atlantic Council.
Given that "the groups best-placed to break the Aleppo siege are hard-line Islamists, the United States is likely to do little to lift the siege," Itani said.
Even with a victory at Aleppo, though, Assad would face an insurgency not unlike what the Americans encountered in Iraq a decade ago, according to Ford, the former U.S. ambassador.
"We could hold the cities in Ramadi and Fallujah, but there was still a lot of fighting, a lot of ambushes on the roads," Ford said. "There are so many weapons floating around in Syria right now that there'll always be an insurgent element able to take those weapons and use them."
Before it's here, it's on the Bloomberg Terminal.
LEARN MORE