Japan's Emperor Indicates He Is Ready to Step Down
By
Akihito, 82, has undergone successful heart bypass surgery

Abdication would require a change in the Imperial House Law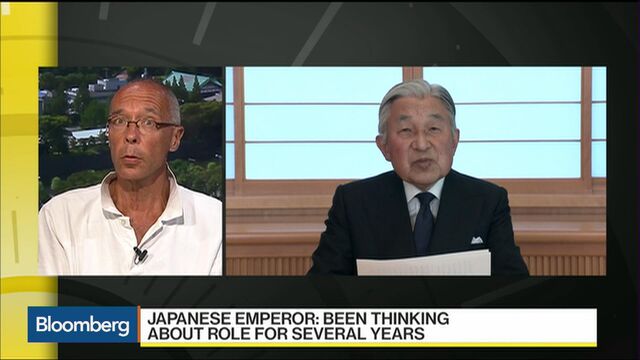 Japan's Emperor Akihito, head of the world's oldest hereditary monarchy, said in a televised message he was concerned that it would become difficult for him to carry out his duties, weeks after reports that he had expressed a desire to abdicate.
"I am now more than 80 years old and there are times when I feel various constraints such as in my physical fitness," the 82-year-old said in his second such broadcast message to the nation. "I am worried that it may become difficult for me to carry out my duties as the symbol of the state with my whole being as I have done until now."
To read the full statement, click here
Akihito has had health problems. He underwent almost four hours of surgery for a successful heart bypass in 2012, and was hospitalized for pneumonia the previous year. If he were to step aside, the government would have to discuss how to accommodate his wishes, because the current Imperial House Law does not allow for abdication.
In his speech, he avoided using the term abdication or giving any indication on a potential time line to step down. If he were to do so, he would be succeeded by his eldest son, Crown Prince Naruhito, 56.
"When we think about the burden of the Emperor's duties and his age, we are concerned about the strain on him," Prime Minister Shinzo Abe said in a brief statement after the broadcast. "We must think carefully about what we can do."
'Scrupulously Apolitical'
"Under the current system the Emperor is supposed to be scrupulously apolitical," said Colin Jones, a law professor at Doshisha University in Kyoto. "Abdication would require a change of law so if the Emperor is seen to be openly proposing such a course he would be seen to be advocating legislation, which some might find problematic."
One option, said Jones, is a regency whereby another member of the Imperial Family performs the imperial duties, without a formal change of emperor. The Crown Prince served as regent while his father was recovering from heart surgery.

Akihito indicated he would prefer not to reach the end of his life while still officially on the throne.
A regency "does not change the fact that the Emperor continues to be the Emperor till the end of his life," the Emperor said in his message. "When the Emperor has ill health and his condition becomes serious, I am concerned that, as we have seen in the past, society comes to a standstill and people's lives are impacted in various ways," he added, saying that he was wondering whether this could be prevented.
Nearly 86 percent of the public would accept an abdication, a Kyodo News poll showed last week. The yen, which has been the currency of Japan since 1871 when Akihito's great-grandfather was on the Chrysanthemum Throne, weakened slightly after the broadcast.
Legal, Political Issues
Abe is unlikely to move quickly to make the necessary legal changes for abdication, according to Yohei Mori, an associate professor at Seijo University in Tokyo, who has written about the imperial household. A panel within the Cabinet Secretariat will probably be responsible for drafting a bill, he said, and an expert panel may then be nominated to review the draft.
"They could opt to pass a special law just for the current Emperor, rather than changing the Imperial House Law," said Mori. "This is what was done when Edward VIII abdicated in the U.K." in 1936.
Introducing abdication across the board "would be a very dangerous thing -- it would allow the government of the time to force an Emperor to abdicate," he said, adding that it could also prompt other members of the imperial household to seek to step down.
Mending Ties


During his 28-year reign, Akihito has become known for striving to mend ties with countries hurt by Japanese wartime aggression perpetrated in his father's name. The first of his line to marry a commoner, his reign began as the nation was at the zenith of its economic power and a year before its "bubble economy" burst, ushering in decades of stagnation.
In visits across Asia and beyond, Akihito repeatedly addressed the issue of Japan's militarist past.
In 1990, he apologized for Japan's colonization of Korea from 1910 to 1945. Two years later, during the first visit by a Japanese monarch to China, he acknowledged the country had "inflicted great suffering" on its neighbor. In 2001, he told reporters he felt affinity with Korea because one of his ancestors is said to have been married to a Korean princess.
Succession
Akihito attended Tokyo's Gakushuin University, completing his education in 1956. In 1959, he wed Michiko Shoda, with whom he had three children: Naruhito, born in 1960, the heir to the throne, Prince Akishino in 1965, and Princess Sayako in 1969. Crown Prince Naruhito has a 14-year-old daughter, Aiko, but since only men are allowed to take the throne, Akishino is next in the order of succession, followed by his son, Hisahito.
Naruhito's marriage to former diplomat Masako Owada turned into tabloid fodder as the cosmopolitan princess faded from public view after their 1993 wedding, suffering from what palace officials described as an "adjustment disorder." Tabloids speculated that pressure to bear a male heir and to accustom herself to the restrictions of palace life had plunged her into depression.
Before it's here, it's on the Bloomberg Terminal.
LEARN MORE