Iran Executes Nuclear Scientist for Giving U.S. Intelligence
by
Contradictory reports over whether he had been abducted

Scientist Shahram Amiri was hanged, Tasnim news agency reports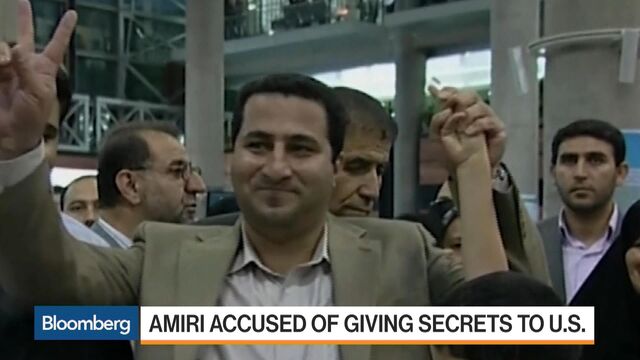 Iran said it executed a nuclear scientist with suspected links to the CIA for providing "secret information" to the U.S., confirming earlier reports of his death by foreign media.
Shahram Amiri, who returned to Iran six years ago in a highly publicized homecoming, "was hanged for spying for the U.S.," Tasnim news agency reported on Sunday, citing judicial spokesman Gholamhossein Mohseni-Ejei. Amiri had access to secret information and "established contact with Iran's No. 1 enemy, meaning the U.S., and relayed essential intelligence," Mohseni-Ejei said.
The circumstances of Amiri's arrival in the U.S. and subsequent departure are mired in conflicting accounts, and took place at the height of tensions between the U.S. and Iran over suspected military dimensions of the Iranian nuclear program. Before returning to Iran in July 2010 to the welcome of authorities, he claimed he had been abducted by U.S. agents in Saudi Arabia and held against his will in the U.S. for 14 months.
Conflicting Reports
Contradictory reports that emerged in foreign media around that time said he had defected to the U.S. in an operation planned by the Central Intelligence Agency. Hillary Clinton, then U.S. Secretary of State, said before he returned to Iran that he had been "free to come" and was "free to go."
The CIA paid $5 million to Amiri to provide information on Iran's nuclear program after defecting, The Washington Post reported, citing unidentified U.S. officials. Amiri may have returned to Iran out of concern for his family's safety, the officials told the newspaper. Amiri told his handlers that he regretted defecting and wanted to return to see his son, and was warned that he might be jailed or executed were he to return, according to the New York Times.
Mohseni-Ejei said Amiri was tried, and his mother told the BBC over the weekend that he had initially been sentenced to 10 years in prison, something Iranian officials hadn't announced.
Prison Visit
The BBC reported Saturday that he was executed on Aug. 3, hours after his mother was allowed to visit him in prison. Amiri told her she was brought to see him to say goodbye, she told the BBC.
"Be glad for me, I will be liberated from this imprisonment," she cited him saying in her interview with the BBC. "I am tired of being alone and I will be freed."
Amiri's case broke open during the tenure of former Iranian President Mahmoud Ahmadinejad, when Iran's nuclear facilities were subject to cyber attacks and several of its scientists were assassinated. After President Hassan Rouhani came to power in 2013, he supported the efforts that led to Iran's deal last year with world powers to restrict the scope of its nuclear program in return for the lifting some international economic sanctions.
Amiri was given an opportunity to repent and didn't while he was in detention, Mohseni-Ejei said on Monday. The BBC cited Amiri's mother as saying her son's body had been returned to their hometown with rope marks around his neck.
Before it's here, it's on the Bloomberg Terminal.
LEARN MORE