markets
Goldman Hails Modi Triumph as August Jinx Threatens Rupee Rally
By and
Currency weakened an average 2.3% in August in the past decade

Goldman says rupee among its top EM picks for carry returns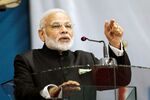 Prime Minister Narendra Modi's biggest legislative win in his two years in office seems to have come at just the right time for India's rupee, given that August is typically the harshest month for the currency.
Foreign flows into Indian assets are seen accelerating after Modi cleared the largest hurdle toward creation of a nationwide goods-and-services tax, or GST, boosting confidence in his ability to push through difficult economic reforms. That helped the rupee climb in the first week of August, a month in which it has weakened an average 2.3 percent in the last decade.
Goldman Sachs Group Inc. says the rupee is one of its top picks for carry returns among emerging-market exchange rates while Standard Chartered Plc expects the currency to benefit as global central banks keep monetary policy accommodative. Overseas investors have been net buyers of Indian stocks for five months, the longest stretch since 2014, while their holdings of rupee-denominated debt climbed in July by the most in nine months.
"It would not be surprising to see the rupee trade stronger on the back of equity and debt inflows," said Kamakshya Trivedi, the London-based chief emerging-market macro strategist with Goldman Sachs. The enactment of the GST "will be viewed very positively by investors as a signal of the reform commitment of the current government."

The GST will subsume a wide web of taxes, creating a single market for India's 1.3 billion people and making it easier to transport goods across states. For Modi, passing the tax will be another step toward reforming Asia's third-largest economy. Investors cheered his government's decision to retain a target to narrow the fiscal deficit in February's budget, spurring the rupee's biggest rally since September 2013 the following month.
Read: What's The Big Deal About India's Goods and Services Tax? Q&A
While the GST's ultimate economic impact depends on details that will be negotiated over the next six months or so, Finance Minister Arun Jaitley has said it can boost growth in the world's fastest-expanding major economy by as much as two percentage points.
"We are hopeful the passage of the GST would give the rupee a boost," said Caroline Gorman, a London-based investment manager at GAM International Management Ltd. "The structural reform agenda will be very important to investor perceptions in coming months in a number of countries," including Brazil, Argentina, Turkey and India, she said.
Fund Flows
India is among emerging markets that are benefiting from fund inflows after global central banks boosted monetary stimulus to contain the fallout of the U.K.'s June decision to exit the European Union. Overseas investors piled $2.7 billion into stocks and rupee-denominated debt last month, helping the rupee climb 0.8 percent in its first monthly gain since March.
The currency fell 0.1 percent to 66.8350 per dollar as of 4:48 p.m. in Mumbai on Monday. It rose 0.3 percent last week as foreigners bought $311.3 million more local shares than they sold in the four days through Aug. 4, set to be net buyers for a sixth straight week. Their holdings of rupee-denominated government and corporate bonds fell by 10.4 billion rupees ($156 million) last week after rising for five straight weeks.

July's 15 percent plunge in Brent crude prices also bodes well for the currency as it helped improve the outlook for inflation and public finances in the nation, which imports about three quarters of its oil. The rupee's three-month implied volatility, a gauge of expected swings used to price options, plunged 63 basis points in the last two weeks. It fell another seven basis points on Monday to 5.72 percent, the lowest since 2008.
"The overall risk backdrop remains very supportive of the rupee this time," said Divya Devesh, a Singapore-based foreign-exchange strategist at Standard Chartered Plc. "Strong equity inflows are also positive for the currency and can continue in the absence of a major negative shock."

Risks to the rupee could stem from a change in the Reserve Bank of India's policies, particularly on foreign-exchange management, as investors await the announcement of Governor Raghuram Rajan's successor.
To read about the impact Rajan has had on the rupee and India's economy, click here.
Australia & New Zealand Banking Group Ltd. says the Indian currency isn't alone in performing poorly during August. During 2013's taper tantrum, the rupee plunged 8.1 percent to an unprecedented 68.845 per dollar in August, along with sharp declines in the Indonesian rupiah, Brazilian real, South Africa's rand and the Turkish lira.
"August tends to be a poor month for Asian currencies historically," said Khoon Goh, head of Asia research at ANZ in Singapore. "The rupee has rallied strongly with other emerging-market currencies, so there is a risk it could run out of steam this month."
Before it's here, it's on the Bloomberg Terminal.
LEARN MORE