Britain Is Heading Towards a Winter of Gas Discontent
By
Rough gas storage facility completely closed for summer

Shutdown will likely make U.K. more reliant on imports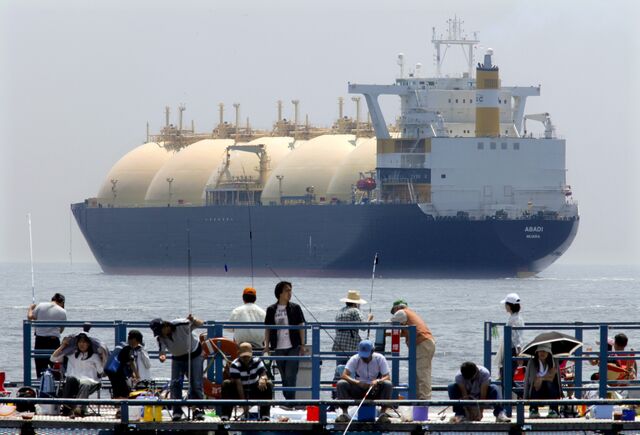 Centrica Plc's Rough, the U.K.'s largest natural gas storage facility 9,000 feet below the North Sea bed, unexpectedly closed for the summer and will probably remain unavailable for most of the winter. The shutdown whipsawed prices in Europe's biggest market. Here's what you should know.
1. Why does gas storage matter?
Natural gas is used to heat more than 21 million U.K. homes. It's also used for cooking and power plants burning the fuel often provide more than half of the nation's electricity.

The North Sea used to provide the country's natural gas, making Britain less reliant than most other European nations on imports and facilities such as Rough to meet peak winter demand. That's changed and production has dropped more than 60 percent from a 2000 peak of 103 million metric tons of oil equivalent, or 13 percent more than the U.K. used that year.
Rough accounts for more than 70 percent of Britain's storage capacity. Without the facility, the U.K. will be more dependent on imports in winter, potentially making energy more expensive. Gas for winter delivery advanced 4.3 percent since June 21, the day before the full outage at Rough was announced. Storage levels at Rough are less than half the five-year average.
Europe's Gas Stockpiles Ebb

2. Why did Centrica halt Rough?
They are trying to prevent gas leaks. Rough is simply a layer of sandstone under the North Sea. Centrica withdraws and injects gas into and out of it through 30 different boreholes, or wells. The sandstone is covered with a separate layer of impermeable rock, a natural cap that keeps gas from escaping up to the sea.
Each well has two layers of protection to keep gas from leaking out when it's injected and withdrawn. In one, testing showed one layer didn't stand up to the normal pressure gas exerts on the borehole, due to aging and usage. Fearing the problem may be occurring throughout the facility, Rough was closed so they could examine the 29 other wells. Four passed, two are uncertain and the rest are being tested. So far no gas has leaked out as a result of the problem, according to Centrica Chief Executive Officer Ian Conn.
3. What's next?
"Statistically, there's a reasonable chance that one or more wells might also have a problem," said David Aron, the London-based founder of Petroleum Development Consultants, in an interview about Rough. "Testing them all is a prudent thing to do."
While it's unlikely Rough will have to be closed permanently, its overall capacity will probably be reduced, Aron said. It's also likely it will be an expensive problem to fix. Centrica recorded a 144 million-pound impairment ($188 million) on Rough in the first six months of the year, and because it's age-related, this may not be the last time Rough will need costly repairs.
"It's a classic situation with any piece of equipment, like a washing machine," said Aron. "At some point it's costing you so much to keep fixing it, it's better to find a new one."
4. Who Loses?
Centrica. Most gas storage facilities have been becoming less profitable, and Rough's income declined 69 percent in the first half of the year to 4 million pounds from the same period in 2015. The company expects to record an operating loss for Rough in 2016, according to Chief Financial Officer Jeff Bell.
Utilities and traders are also hurt. The absence of Rough as a storage option leaves them competing for other storage facilities. The cost of buying capacity is calculated by subtracting near-term contracts from prices in the winter, called the seasonal spread. In the U.K. the seasonal spread has risen 70 percent since June 21. 
Anyone who buys gas in the U.K. directly and indirectly loses because more imports may mean higher costs. The increase in winter gas prices has prompted speculation that suppliers may raise tariffs in winter.
Alan McLaughlin, a Centrica spokesman, declined to comment on how withdrawal limits affect customers who have gas in Rough currently.
5. Who wins?
Paradoxically, Centrica may. Higher gas prices will allow its exploration and production unit to generate more income and improve the profitability of its gas-fired power stations. The company's earnings per share would also rise if it closed Rough and produced the remaining gas, according to Agency Partners LLP.
Gas exporters from Norway to Russia, already pumping record amounts of gas to Europe may be able to sell even more fuel to the U.K. this winter. Exporters of U.S. liquefied natural gas may also benefit.