DBS Profit Falls as Swiber Provisions Offset Interest Income
By
Allowances for bad debts surge from year earlier, bank says

Moody's says banks' oil and gas provisions aren't enough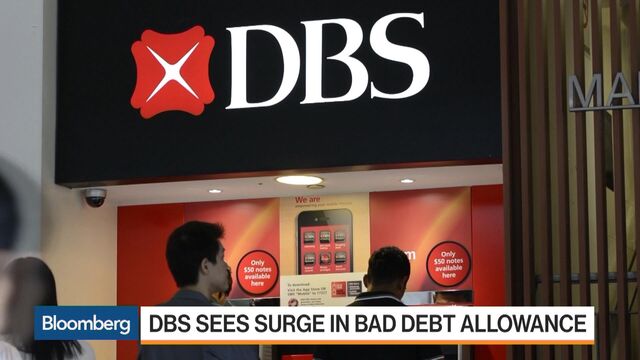 DBS Group Holdings Ltd.'s second-quarter profit declined 6 percent as provisions for troubled energy-services firm Swiber Holdings Ltd. overshadowed gains in interest and fee income.
Net income fell to S$1.05 billion ($780 million) from S$1.12 billion a year earlier, Singapore's largest bank said in an exchange filing Monday. That compared with the S$1.07 billion average of five analysts in a Bloomberg survey that was compiled before DBS revealed losses related to Swiber.
Concern has mounted over Singaporean banks' loans to oil and gas-services providers over the past two weeks since Swiber sought court supervision for its operations amid pressure from creditors. Moody's Investors Service warned Thursday that funds the banks had set aside to cover souring energy exposures aren't enough. DBS's net interest margin was bolstered by higher domestic borrowing costs from a year ago, though local rates have since fallen in 2016.
"Earlier, the expectations were dampened by Swiber, and that took the focus away from their core operations, which are quite strong," He Yuxuan, an analyst at Daiwa SB Investments (Singapore) Ltd., said Monday by phone. "What DBS needs to do is to convince investors that their risk management is in place and hopefully this Swiber is a one-off case."
Shares Rise
DBS shares rose 0.6 percent at S$14.93 apiece as of 9:09 a.m. local time, paring this year's loss to 11 percent. The benchmark Straits Times Index rose 0.6 percent.
Here are key figures from DBS's results:
Net interest income rose 5% to S$1.83 billion from year earlier
Net fee and commission income advanced 8% to S$628 million
Customer loans gained 2% to S$284.8 billion
Nonperforming loan ratio increased to 1.1% from 0.9%
Net interest margin was 1.87% versus 1.85% in first quarter, 1.75% year earlier
Specific allowances, or provisions for bad debts, rose to S$336 million in the June quarter, including S$150 million for Swiber, the bank said. Total allowances surged from S$132 million a year ago.
Swiber, which provides construction services for international oil and gas projects, had sought to liquidate its operations after facing payment demands from creditors, a plan it subsequently dropped in favor of judicial management. That allows the firm to continue business under court supervision while it attempts to turn itself around.
Profit Downgrades
DBS said in a July 28 filing that it expects to recover only half of its exposure to Swiber and its units. The disclosure prompted Goldman Sachs Group Inc. and JPMorgan Chase & Co. analysts to lower their full-year earnings estimates for the lender.
The Singaporean bank's exposure to Swiber amounted to S$721 million, according to a presentation accompanying its results. Of that total, S$403 million was to finance working capital for two projects, S$197 million was for June and July bond redemptions, and S$121 million was for mainly secured term loans for vessels, property and hedging purposes.
For a story detailing efforts to keep Swiber afloat, click here.
DBS and its two largest domestic rivals, Oversea-Chinese Banking Corp. and United Overseas Bank Ltd., are exposed to the downturn in the energy sector as a result of their lending to local companies which provide construction, shipping and maintenance services to the oil and gas industry. Many of those companies are suffering as the plunge in crude prices since 2014 curtailed exploration and other activity by oil and gas producers.
DBS's total exposure to the oil and gas sector rose to S$23 billion, excluding Swiber, as of June, according to its presentation. That's compared with S$22 billion the previous quarter.
In the oil support-services sector, the bank had a total exposure of S$7 billion to companies other than Swiber. Of that, S$2.3 billion was to five oil-services companies, one of which "has weakness," the presentation said. Another S$2.7 billion was loaned to 90 companies, where one-third of the portfolio has weakness, according to the presentation. It didn't identify the companies.
Under a "severe stress scenario," DBS would be the worst hit among the three banks because it has the highest exposure to the oil and gas services sector, Moody's said in a statement on Thursday. Almost 60 percent of its second half pre-provision income this year would be eroded by loan-loss provisions in that scenario, while OCBC and UOB would see losses of 40 percent to 50 percent, the ratings company said.