Photographer: Kevin Frayer/Getty Images
China's Small-Time Stock Investors Aren't Buying the Rebound
Bloomberg News
Trader burnt by last year's boom-bust is looking to cash out

Lackluster interest by individuals undermines Shanghai gains
When Frank Chen sees China's stocks rise, he thinks of how he can reduce his investments.
"I've already given up on this market," said Chen, a 38-year-old accountant in Shanghai who's liquidated more than half his 100,000 yuan ($15,050) of shareholdings in the past six months as shares rebounded. "If my stocks rise to levels that erase all my paper losses, I won't hesitate to choose to cash out immediately."
His desire to exit equities shows the challenge facing the nation's regulators as they try to restore investor confidence in the world's second-largest stock market. In the four months through July, the number of accounts holding shares worth less than 100,000 yuan dropped 4.5 percent, the only decline among four categories of investor wealth tracked by the nation's clearing agency. Although some of the drop can be explained by rising market values, Bocom International Holdings Co. says it will be hard to change the pessimistic mindset.
Small investors aren't likely to come back to the market "unless shares come roaring back," said Hao Hong, chief China strategist at Bocom International Holdings Co. in Hong Kong. "The scars from last year's crash take time to heal."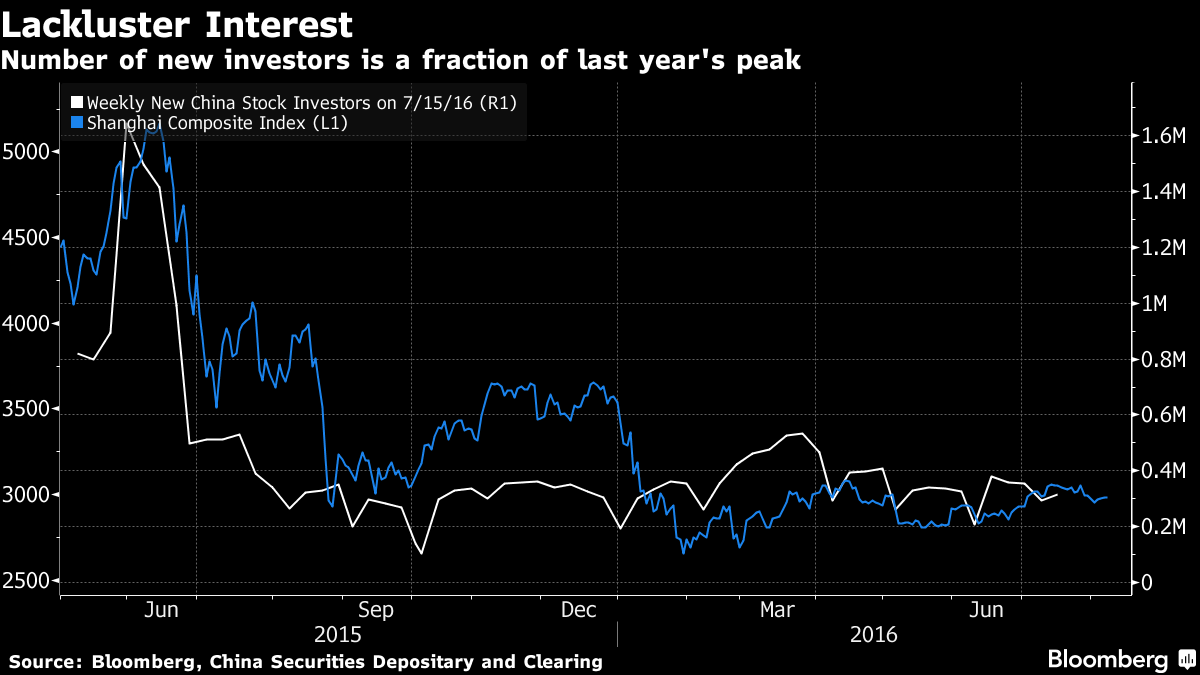 Many of China's 109 million stock investors are still sitting on losses after piling into equities at the height of 2015's rally. While the Shanghai Composite Index has climbed 13 percent from its January low, the benchmark gauge is still 42 percent below its peak in June last year. Yet individuals' dominance of trading -- they account for 80 percent of turnover -- means any rebound is limited without their participation.
Wealthier individuals appear more optimistic about the outlook for China's equities. The number of investors holding shares worth at least 10 million yuan increased 28 percent in the February-to-June period, according to data from the clearing house. Those holding from one million yuan to 10 million yuan rose 21 percent, while accounts with between 100,000 yuan and one million yuan gained 9 percent, the data show.
"Big investors aren't leaving the market and they are quite focused on individual stocks and sectors, not caring too much about fluctuations by the index," said Wei Wei, an analyst at Huaxi Securities Co. in Shanghai.
Foreigners Bullish
Overseas traders have also turned more bullish on the nation's shares traded in Hong Kong. The Hang Seng China Enterprises Index has rallied 24 percent from a February low to reduce its loss this year to 4 percent, while the premium of mainland shares over their Hong Kong peers has narrowed to near the least in 10 months. The Shanghai Composite is still down 15 percent this year, one of the world's biggest declines.
Still, there are few signs investor interest is picking up on the mainland. The number of weekly new investors in China is 81 percent below last year's peak, according to the most recent government figures, and turnover on Friday was 62 percent less than last year's daily average.
While an index of 100-day price swings on the Shanghai Composite is near a 20-month low, a 1.9 percent one-day plunge by the gauge on July 27 was a sharp reminder to investors about the risks of sudden volatility in the nation's equities. The drop was driven by reports the banking regulator was seeking to limit curb wealth-management products. Small-cap shares, which are typically favored by individual investors, were hardest hit, with the ChiNext index plunging 5.7 percent over the course of the week.
The Shanghai Composite added 0.9 percent at the close on Monday.
With the economic outlook remaining uncertain, retail investors are funneling money into risk-averse Yu'EBao, the nation's largest money-market fund that can be purchased on Alibaba Group Holding Ltd.'s Taobao marketplace, Shenwan Hongyuan Group Co. said in an interview on July 29.
As for Chen, the Shanghai accountant reckons he'll be stuck in the market for some time.
"The economic environment isn't good and sound. I haven't seen any chance that stocks will have a major comeback in the near future," he said.
— With assistance by Shidong Zhang
Before it's here, it's on the Bloomberg Terminal.
LEARN MORE