Yemeni Parties Urged to Resume Talks as Army Starts Operation
by and
Residents of capital warned not to provide sanctuary to rebels

Operation comes as peace talks in Kuwait failed to reach deal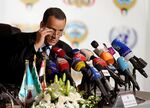 The United Nations called for resumption of peace talks as the Yemeni army started operations to retake a district near the capital, Sana'a, from Shiite Houthi rebels and forces loyal to former President Ali Abdullah Saleh.
The UN special envoy to Yemen, Ismail Ould Cheikh Ahmed, urged all sides to be open to new talks and concessions after negotiations in Kuwait ended this week without an agreement. The UN was committed to helping Yemenis achieve a peaceful resolution to the conflict, he said in comments broadcast on Al Jazeera TV Saturday.
The head of the government delegation and foreign minister, Abdulamlik al-Mekhlafi, said Saturday on Twitter that the peace talks ended without achieving any progress on peace.
The main obstacle was the lack of trust between the two sides, the UN special envoy said. The next round of peace talks would be held after a month, with the location to be announced later. "We will come back to the table soon once we reach an agreement. We will depart Kuwait but the peace negotiations would continue," he said.
Saudi Arabia assembled a military coalition in March last year to help restore the rule of President Abdurabuh Mansur Hadi. The campaign began with airstrikes, followed by the deployment of Saudi and U.A.E. troops. More than a year into the campaign, while the Houthis and their allies have lost control in southern Yemen, they still hold the capital, Sana'a, as well as other regions in the north.
Earlier Saturday, Yemen's army, backed by pro-government forces began an operation to retake the Nihm district from Shiite Houthi rebels and forces loyal to the former president, the Yemeni Army said in a statement posted on Facebook. The army and allied militia known as Popular Resistance have seized some villages, it said.
The government forces, which are about 40 kilometers (25 miles) from the capital, warned residents to stay away from the Houthi and Saleh positions and not provide them with refuge, saying they would respond to any source of gunfire. This is the first time the government forces have warned residents of the capital.
The Houthis and Saleh forces are repulsing the attacks in Nihm and Saudi-led coalition warplanes launched several air strikes on their posts, according to al-Yeman al-Youm television.
The Shiite Houthi rebels and General People's Congress party announced Saturday a 10-member political council created to rule the country, according to the rebel-controlled state Saba news agency.
More than 6,500 Yemeni civilians have been killed and as many as 3 million have fled their homes since the conflict escalated almost 18 months ago, according to a statement from the Norwegian Refugee Council, which has been monitoring the conflict..
Before it's here, it's on the Bloomberg Terminal.
LEARN MORE