markets
Protesters Disrupt S. African President Zuma's Post-Vote Speech
Sam Mkokeli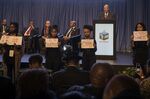 A group of women disrupted South African President Jacob Zuma's speech at the presentation of municipal election results and the opposition Economic Freedom Fighters walked out of the event.
The four women staged a silent protest in front of the president with posters bearing the pseudonym of a woman who accused Zuma of rape 11 years ago as the president's speech was broadcast live on national television. Zuma was acquited of the charges in 2006.
Support for Zuma's African National Congress fell to the lowest in the Aug. 3 local elections since the party swept to power under Nelson Mandela in 1994.
Before it's here, it's on the Bloomberg Terminal.
LEARN MORE