Vanke Saga Takes New Twist With Surprise Entry of Evergrande
Frederik Balfour and Emma Dong
Evergrande buys Vanke A shares, cites 'strong' performance

Vanke denies it leaked information about deal after query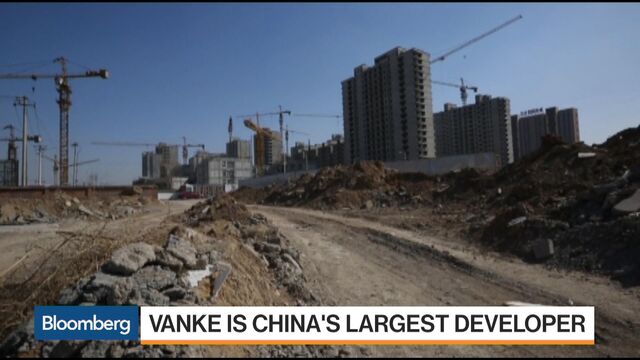 The decision by billionaire Hui Ka Yan's China Evergrande Group to take a 4.68 percent stake in China Vanke Co. introduces a new twist to the eight-month long battle for control of China's largest residential property developer.
Politically well-connected, deep-pocketed and known for an aggressive business style, Evergrande's Chairman Hui may have both strategic as well as economic reasons for injecting himself into the saga, where Vanke's management is trying to fend off a hostile approach for control by its largest shareholder Baoneng Group.
"Evergrande is hoping to have influence in Vanke, and we expect this will eventually turn into a strategic investment," JPMorgan Chase & Co. analysts led by Hong Kong-based Ryan Li wrote in a report dated Aug. 4. "Evergrande has a track record of hostile takeover attempts."
The Guangzhou-based developer bought Vanke's Shenzhen-traded shares through a unit for 9.1 billion yuan ($1.4 billion), it said in a filing to Hong Kong's stock exchange after the market close on Thursday. Evergrande cited Vanke's "strong" financial performance as China's largest developer as a reason for its investment, according to the filing.
Exchange Query
Vanke on Friday denied in a statement to the stock exchange that it leaked information about Evergrande's stake purchase to any media. The statement came after the Shenzhen stock exchange asked Vanke whether it had disclosed Evergrande's stockholding details before the acquirer's announcement. The bourse said it noticed that media had reported on the purchase before the official announcement.
Vanke's A-shares closed 6.5 percent higher to 20.95 yuan on the Shenzhen Stock Exchange Friday after surging by the 10 percent daily limit the day before. The increase on Thursday was the biggest since trading resumed July 4 after a six-month suspension. Evergrande's stock advanced 5.1 percent to HK$5.41.
Billionaire Hui's intentions may become clearer if Evergrande continues to accumulate A shares in Vanke to reach the 5 percent ownership threshold where it could request a seat on the company's board of directors, Hao Hong, head of research and chief strategist at BOCOM International Holdings Co. in Hong Kong, said.
"If I had to guess, I would say they want to influence the end game, plus Vanke is a good investment," Hong said "Hui has proven to be a very shrewd businessman."
Net Worth
Hui has a net worth of $7.8 billion, according to the Bloomberg Billionaires Index, and is a member of the Standing Committee of the China People's Political Consultative Conference.
JPMorgan's analysts also said that "Evergrande is buying so they can have some say in Vanke's management" when the board re-elects directors in the second quarter of next year.
Vanke has been in a battle for control since last year when Baoneng displaced China Resources (Holdings) Co. as the property company's largest stakeholder. The emergence of Evergrande as a shareholder is the latest twist in a dispute that has drawn scrutiny from China's securities regulator.