U.S. ELECTION WRAP: Clinton Eyes Trump Base With Olympics Ad Buy
Clinton is poised for Olympics ad blitz as Trump sits on sidelines
By , , and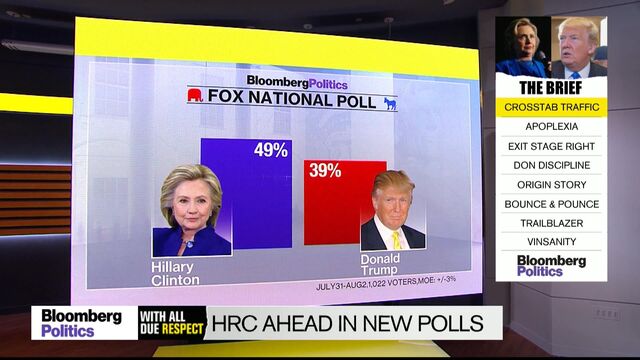 Hillary Clinton's upcoming TV ad blitz during the Olympics should help her reach a coveted group of voters: men.
"The ads are a good way to go after Donald Trump's base," said Neil Oxman, co-founder of The Campaign Group, a Democratic firm that makes political advertisements; a new Wall Street Journal/NBC News poll shows Clinton now with a slight lead among male voters, 43% to 42%; she's ahead with women 51%-35%
The Olympics, opening tonight in Rio de Janeiro, also draws a hard-to-get young-adult audience -- another group Clinton hopes to attract in bigger numbers before Election Day. Her campaign plans at least $5.5 million worth of ad time during NBC's broadcast of the 17-day games, Bloomberg's John McCormick reported. See his full story here

NBC expects record high overall viewership for the games after drawing an average 31 million viewers in prime-time over 17 nights during the 2012 Olympics in London, Bloomberg Intelligence analysts Geetha Ranganathan and Paul T. Sweeney said

The Clinton camp began running TV ads in about 9 swing states last month, a targeted messaging approach first perfected by her husband, according to Oxman

Prior to 1992, candidates typically just wrote three checks to take care of TV needs, one to each of the major broadcast networks. It was Bill Clinton who determined it made no sense to waste money in places he couldn't win, like Idaho, or was unlikely to lose, such as Massachusetts, Oxman said

As Hillary Clinton ramps up her TV presence, Trump is uncharacteristically nowhere to be found. The Republican billionaire hasn't spent any money on TV ads since early May and has no time reserved as of now for the rest of the summer or fall, according to McCormick

"It's not normal" for a presidential nominee not to be running ads at this point in the race, Oxman said, noting that Trump raised an impressive amount of money in June and July. The question now is: "When and where will he go on the air?"
"He needs to get on to rebut or attack Clinton on his terms," Oxman said. "Clinton is less unpopular today than three weeks ago and by allowing her to do this everyday she's becoming less unpopular."

Clinton's ads are using Republican attacks against Trump as well as the GOP nominee's own words as grist, and she has a lot more to draw upon

A raft of video footage assailing Trump during the GOP primary fight is sitting around waiting to be used in the general election,  New Republic wrote
Click here to get the U.S. Election Wrap by e-mail every afternoon

ON THE TRAIL
As the Olympics opening ceremony gets underway tonight in Rio, Trump is set to hold a rally in Green Bay; The event is just days after he refused to endorse House Speaker Paul Ryan in his Aug. 9 Wisconsin GOP primary, prompting the ire of Republican leaders during a week already marked by Trump-related controversies and Clinton's rising poll numbers

Fox News reported that Trump is expected to endorse Ryan tonight in Green Bay; Ryan has no knowledge of any such plan, according to Bloomberg's Billy House

Regardless of what Trump does or doesn't do this evening, Ryan won't be joining the former reality-TV star on the stump, according to AP; neither will Wis. Gov. Scott Walker or Sen. Ron Johnson, who is in a closely watched race against former Sen. Russ Feingold, the Democrat Johnson unseated in 2010

"Given how far Trump appears to be running behind Clinton in Wisconsin, there isn't much reason for Johnson to associate himself with Trump," Barry Burden, a political science professor at University of Wisconsin, said in an interview
"Wisconsin was the last primary that Trump lost. He did so in part by attacking the Republican establishment in the state, particularly Paul Ryan and Scott Walker," Burden said. "Now he is having difficulty getting them to cooperate with his campaign."
"The turbulence in the Trump campaign over the past week has made him nearly toxic to most Republican officials in Wisconsin."
State Assembly Speaker Robin Vos had this to say in an open letter ahead of Trump's visit: "We are Ryan Republicans here in Wisconsin, not Trump Republicans": AP
Clinton today told a convention of black and Hispanic journalists' associations that she wants reporters to hold her "accountable"

In response to question about polls showing a majority of Americans don't trust her, Clinton said: "I take it seriously. It doesn't make me feel good when people say those things and I recognize I have work to do"

POLLS/PREDICTIONS
Clinton leads Trump in Georgia 44% to 40%, according to an Atlanta Journal-Constitution poll; results are within the survey's error margin of 4 ppts

Georgia has voted for the GOP nominee since 1996

Overall, new polls signal deep trouble for Trump, Bloomberg's Sahil Kapur reported

ENDORSEMENTS/RENUNCIATIONS
About 70% of GOP insiders want Trump to drop out of the race, Politico reported
Penn. Sen. Pat Toomey, a Republican who faces a tough reelection this year, hasn't decided whether he'll back Trump, he told reporters today

"I'm still watching and waiting and evaluating," Toomey said, adding that Clinton "was a disaster as secretary of state"

Trump "is not only unqualified for the job, but he may well pose a threat to our national security," former CIA Acting Director Michael Morell said in a New York Times op-ed

Not only that, Trump has been "played upon" by Russian President Vladimir Putin and is "an unwitting agent of the Russian Federation"

Trump's running mate, Mike Pence, clarified that he is backing all sitting GOP lawmakers in their primaries, including Sens. John McCain and Kelly Ayotte, Politico reported

ETC
Trump unveiled an economic team that's a mirror image of the candidate and his campaign: They're mostly outside the Republican, Wall Street and academic establishments, and they're all men, Bloomberg's Rich Miller reported; see story here
Younger voters may be turning toward the Libertarian ticket, Politico reported

Clinton's lead over Trump in polls shrinks when voters can choose a major third-party candidate
"Trump voters are mainly Trump voters, but Clinton voters are still not quite happy that they're going to end up voting for her," Monmouth University pollster Patrick Murray said
Trump dropped his claim of seeing video on TV of a plane carrying $400 million in cash to Iran, a rare reversal of comments he made on the campaign trail earlier this week, Bloomberg's Toluse Olorunnipa reported

"The plane I saw on television was the hostage plane in Geneva, Switzerland, not the plane carrying $400 million in cash going to Iran!" Trump said on Twitter
Clinton sought again to clarify her past statements about whether she handled classified material on her private e-mail, saying she gave truthful answers to the FBI and that those were "consistent" with what she's said in public, Bloomberg's Jennifer Epstein and Sahil Kapur reported; see story here

CONGRESSIONAL RACES
AZ-SEN: Democratic Rep. Ann Kirkpatrick in TV ad said that "it's time for term limits" because "decades in Washington change people"
Spot doesn't mention GOP Sen. John McCain, who's seeking sixth term starting in Aug. 30 primary against ex-state Sen. Kelli Ward
FL-SEN: Republican Sen. Marco Rubio and National Republican Senatorial Committee released TV ad describing Clinton and Democratic Reps. Patrick Murphy and Alan Grayson as "three liberals with dangerous ideas on fighting terror"
Ad attacks their support for Obama administration's Iran nuclear deal and closing U.S. detention facility in Guantanamo Bay, Cuba
Primary is Aug. 30
NH-SEN, NV-SEN: National Republican Senatorial Committee reported spending $604k against N.H. Democratic Gov. Maggie Hassan and $579k against ex-Nev. Atty. Gen. Catherine Cortez Masto, per FEC filing today
Hassan is opposing Republican Sen. Kelly Ayotte; Cortez Masto up against Republican Rep. Joe Heck for seat of retiring Democratic leader Harry Reid
WI-01: Speaker Paul Ryan said on Milwaukee radio program that primary opponent Paul Nehlen's campaign is bankrolled by "scam PACs" outside Wisconsin, according to Bloomberg's Billy House
Ryan strongly favored to defeat businessman Nehlen in Aug. 9 primary in district that includes Kenosha, Racine, Janesville
Nehlen, who supports Trump, in TV ad said Congress needs "leadership with business experience, not career politicians who get in the way"; ad doesn't mention Ryan
WI-08: Democrat Tom Nelson in statement praised Republican Rep. Reid Ribble's opposition to Trump and criticized GOP candidates Mike Gallagher and Frank Lasee for not rejecting him
''I agree with Congressman Ribble that Donald Trump is someone who does not represent the values of Northeast Wisconsin," Nelson said
Nelson, the executive of Outagamie County in and around Appleton, will face winner of Gallagher-Lasee primary
Before it's here, it's on the Bloomberg Terminal.
LEARN MORE