U.K. Bond-Yield Curve Flattest in Eight Years on BOE's Stimulus
By
Two-, 30-year spread narrows to least since October 2008

BOE pushed investors to longer end of gilt curve: Commerzbank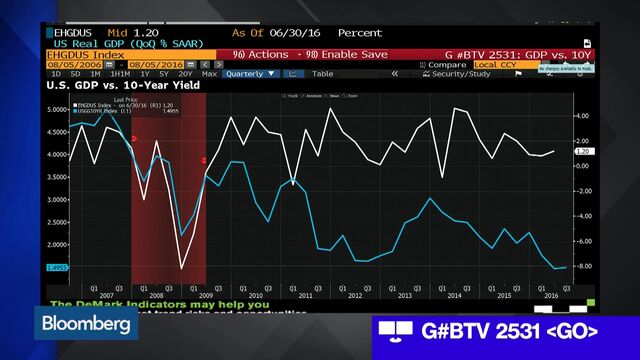 The yield spread between U.K. two- and 30-year government bonds narrowed to the least since 2008 as demand for longer-dated debt was boosted after the Bank of England's decision to cut interest rates and introduce multi-pronged stimulus.
Yields on 10- and 30-year gilts have fallen to record lows since the BOE's decision on Thursday. One measure taken by the central bank was to expand its government bond-buying target by 60 billion pounds ($78 billion). This pushed investors into longer-dated bonds to help maintain returns. 
While the BOE cut its benchmark rate for the first time in seven years, Governor Mark Carney emphasized that the rate will stay above zero, and that limited the potential for further declines in short-term gilt yields. In contrast, central banks of the euro zone and Japan have cut interest rates below zero in order to boost their economies and spark inflation.

"Governor Carney stated pretty clearly that the 'lower bound' in the U.K. is not below zero," said David Schnautz, a fixed-income strategist at Commerzbank AG in London. "There is not much room left for short-end yields to fall further. Investors are thus pushed out the curve in a bullish environment. The expansion of QE also supports longer tenors, leading to flattening of the gilt curve," he said, referring to the BOE's quantitative easing.
Record-Low Yields
Benchmark 10-year gilt yields climbed two basis points, or 0.02 percentage point, to 0.66 percent as of 4:21 p.m. in London, and earlier dropped to a record 0.627 percent. The price of the 2 percent bond due in September 2025 was 111.745 percent of face value.
The yield on 30-year gilts fell one basis points to 1.48 percent, after dropping to an all-time low of 1.450 percent. Two-year gilt yields rose three basis points to 0.14 percent. The yield spread between the securities narrowed to 133 basis points, the least on a closing basis since October 2008.
Gilts returned 2.1 percent in the past month through Thursday, according to Bloomberg World Bond Indexes, outperforming their U.S. and euro-region peers, amid speculation that the BOE would loosen monetary policy to counter the risk of recession after Britain voted in June to leave the European Union.
Recent data suggested Brexit is starting to hurt consumer confidence and business activity. The BOE signaled Thursday that its measures can be intensified if the economic outlook deteriorates further.
"I think the odds of 10-year gilt yields eventually falling to around 50 basis points are now pretty high," said Richard Kelly, head of global strategy at Toronto Dominion Bank in London. "You only need the hard data to come in roughly as poor as some of the early surveys suggest and you should see the market factor in" more QE, or a further rate cut this year.