Turkey Offers Only Bluster in Extradition Bid, Gulen Lawyers Say
by
'Conspiracy theories' are not enough, Reid Weingarten says

Government in Turkey says rival Gulen infiltrated military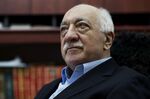 Turkish President Recep Tayyip Erdogan's demand that the U.S. extradite a 75-year-old Muslim scholar as the hidden hand behind a failed coup "is political in nature" and not backed by evidence, lawyers for Fethullah Gulen said.
"Evidence matters and due process matters," Reid Weingarten, one of the attorneys, told reporters in Washington Friday. "The bluster, the conspiracy theories and the threats of Mr. Erdogan are not strong enough to overwhelm the American legal system. And for that reason, we believe that Mr. Gulen should not and will not be extradited."
Erdogan and Gulen, who has lived in Pennsylvania since the late 1990s, are former allies turned arch-enemies. The Justice Department is weighing documents submitted by Turkey in support of efforts to extradite Gulen for plotting the coup attempt last month. Since then, Turkey has purged thousands of suspected Gulen supporters from the military, judiciary, colleges and government agencies.
Fueled Tensions
In addition to Turkish complaints that the U.S. is sheltering Gulen from prosecution, the coup attempt was followed by widespread reports in Turkish media blaming the U.S. for knowing about or supporting it. That has fueled tensions between Ankara and Washington, which depends on Turkey's Incirlik military base as a staging ground in the fight against Islamic State.
An initial batch of documents submitted by Turkey "did not, we believe, constitute a formal extradition request," U.S. State Department spokesman Mark Toner told reporters Thursday. "But we subsequently received more documents. We're looking through them."
Ultimately, U.S. officials don't expect to extradite Gulen because they aren't convinced by the evidence Turkey has presented, the Wall Street Journal reported Thursday, citing people familiar with the review who it didn't identify.
Taha Ozhan, chairman of the Turkish parliament's foreign affairs commission, said during a visit to Washington this week that testimony from coup participants forms the main evidence of Gulen's involvement. He said a failure to bring Gulen to justice in Turkey "would be the greatest blow to the regional and global fight against terrorism."
Weingarten, a partner in Steptoe & Johnson LLP, described Gulen as an "elderly, frail religious leader" and a "moderate Muslim, anti-terror Islamic scholar" who won't ultimately be sent back to Turkey.
"Under no circumstance, based upon the record to date of the applicable rules, does Turkey come anywhere close to getting the extradition they're apparently requesting," Weingarten said. The Justice and State departments "know full well what the rules are, and we have entire confidence in them that they will act appropriately."
For a QuickTake on steps to extradite Gulen, click here.
In December, three Turkish citizens filed a lawsuit in U.S. court on behalf of the Turkish government against Gulen. The lawsuit alleged that Gulen directed his followers in Turkey to launch a targeted campaign of persecution against the three plaintiffs, who are part of a religious group known as the Dogan Movement.
A district court in Pennsylvania threw out the lawsuit for lack of evidence, according to Michael Miller, a second Steptoe lawyer representing Gulen.
Before it's here, it's on the Bloomberg Terminal.
LEARN MORE