Trump Endorses Ryan, McCain, and Ayotte in Push to Show Party Unity
The Republican nominee tries to put the narrative of party infighting behind him with endorsements he had held back.
By and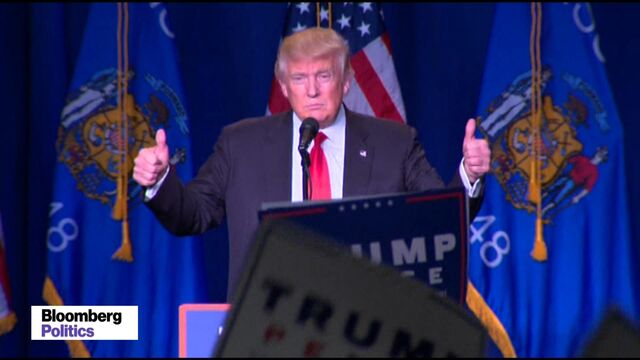 Donald Trump, looking to put behind him a week of party infighting and show that Republicans are united, endorsed Speaker of the House Paul Ryan and Senators John McCain and Kelly Ayotte in their re-election bids.
The endorsements are key to keeping Congress in the hands of Republicans to achieve policy goals, Trump said at a rally Friday evening in Green Bay, Wisconsin, Ryan's home state.
"I need a Republican Senate and a House to accomplish all of the changes we have to make,'' Trump said. "Working hand in hand, we will grow our majority in the House and in the Senate. We need that. Arm in arm, we will rescue the nation from the Obama-Clinton disaster that has bled our country dry and has spread terrorism unabated across the world." 
Ryan is facing a primary challenge on Tuesday against businessman Paul Nehlen. Ryan is expected to win, but Nehlen has tried to make an issue of what he calls Ryan's "repeated betrayal" of his party's presidential nominee.
Ryan appreciates the gesture and is going to continue to focus on earning the endorsement of the voters in Southern Wisconsin, an aide said after Trump's endorsement.
Ryan endorsed Trump on June 2 after weeks of much-publicized reluctance and deliberation, and only after it was clear the real-estate developer and TV personality was likely to be the party's standard-bearer.
Ever since, their relationship has been an awkward one. Ryan has criticized or differed with Trump publicly on several occasions while continuing to support him. The latest flashpoint: Trump's attacks on the parents of U.S. Army Captain Humayun Khan, who was killed in Iraq in 2004.
Then, on Tuesday, Trump said in an interview with the Washington Post that he was not ready to endorse Ryan, the highest-ranking elected Republican.
"I'm not quite there yet," Trump said in the interview, using almost identical language as Ryan in May while still hedging on endorsing the billionaire. In the same interview, Trump said he was not supporting McCain of Arizona and Ayotte of New Hampshire.
This week, Trump also offered thanks to Nehlen on Twitter for his "kind words" amid criticism from Ryan and other Republicans for his comments about the Khan family.
By Wednesday, however, Ryan did get the endorsement of Trump's vice-presidential running mate, Indiana Governor Mike Pence, who said he'd gotten the go-ahead to do so from Trump.
Ryan told a radio host on Thursday he'll speak out whenever he differs with Trump. "I don't like doing this; I don't want to do this," Ryan said. "But I will do this because I feel I have to in order to defend Republicans and our principles so that people don't make the mistake of thinking we think like that."
"Of course" there were things Trump could do or say that might cause him to rescind his endorsement, Ryan added on Friday.
"But I'm not going to go down the road of litigating past Trump comments," said Ryan. "Where that line gets crossed—I don't know where that is, if that is."
Before it's here, it's on the Bloomberg Terminal.
LEARN MORE