Trump Drops Claim of Seeing Jet Carrying $400 Million for Iran
By
Republicans seek to right their course against Clinton

Trump slumping in polls after parties held conventions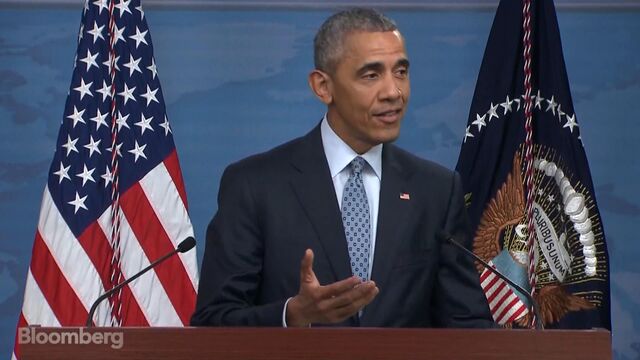 Donald Trump said Friday he didn't see video on TV of a plane carrying $400 million in cash to Iran, a rare reversal of comments he made on the campaign trail earlier this week.
"The plane I saw on television was the hostage plane in Geneva, Switzerland, not the plane carrying $400 million in cash going to Iran!" the Republican presidential nominee said on Twitter.
Trump's comments follow days of tumult for his campaign after he sparred with the family of a slain Muslim-American soldier, refused to endorse Republican House Speaker Paul Ryan for re-election, and was hit with a series of post-convention polls showing him trailing Democratic nominee Hillary Clinton.
Seizing on new details about a $400 million cash payment by the U.S. to Iran as American detainees were being freed in January, Trump said at a Florida rally on Wednesday that Iran had released video of people taking money from the plane to embarrass the U.S. A spokeswoman told the Washington Post that Trump was actually referring to footage of the freed prisoners, yet Trump again on Thursday asserted Iranians had taped the cash transfer.
Ransom Dispute
The Obama administration has faced renewed questions about the January exchange, which it described as a settlement of a longstanding arms dispute and not a ransom for Americans that were released from Iran at the same time. A video showing the plane carrying the Americans in Geneva has played repeatedly on cable news.
"We do not pay ransom for hostages," President Barack Obama said Thursday during a news conference at the Pentagon after meeting with his national security advisers.
It's the second time in the past three days the Trump campaign has had to correct claims about national security and foreign policy under the Obama administration. Trump spokeswoman Katrina Pierson said on CNN she misspoke when she blamed Obama for the 2004 death of the Muslim-American soldier, Humayun Khan, during the Iraq war.
Obama was an Illinois state senator at the time, with no role in deciding in U.S. foreign policy.
Democratic Criticism
Clinton's running mate, Virginia Senator Tim Kaine, said Thursday he had "no idea" what Trump was talking about with the Iran video.
"He might be thinking about Iran Contra from, like, 35 years ago or something like this," Kaine said in an interview with CBS News, noting Trump had recently misspoken and identified Kaine as the former governor of New Jersey, not Virginia. New Jersey had a governor by a similar name, Tom Kean, from 1982-1990.
"He was confusing it with a situation from two or three decades ago. Maybe that's what he's doing with this bogus video claim," Kaine said.
In another sign of an effort to get his campaign back on track, Trump released a statement Friday following his tweet, saying Clinton and Obama "bear the direct responsibility of destabilizing the Middle East, having let ISIS take firm hold in Iraq, Libya and Syria, not to mention their allowing Americans to be slaughtered at Benghazi."
"Clinton's home email server that she lied to the American people about was a profound national security risk," Trump said. Echoing Democrats' own language about him, he concluded Clinton "is unfit to serve as President."
Before it's here, it's on the Bloomberg Terminal.
LEARN MORE