Auctions
There Is a $4 U.S. Coin, and It's Now Worth $60,000
A rare gold coin from 1879 is coming to auction.
By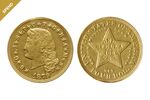 In 1879, America's minister plenipotentiary to Austria, John Adam Kasson, successfully persuaded the Philadelphia Mint that the U.S. needed a four-dollar coin. The exact logic of the argument has been lost to time, though its thrust was that America needed a coin that would work as a form of international currency, and a gold coin that (roughly) measured the same weight as a French napoleon or a British sovereign would do the trick.
The project was given the green light, and the coin, which features a giant star on one side, was minted in a limited run of two versions. One version depicted a female personification of Liberty with her hair up, the other with her hair down. But despite Lady Liberty's multiple coiffures, the coin was a flop. "People never fully got on board," said Paul Song, the director of coins and banknotes at Bonhams. "It was too much of a reach to say that the average citizen in 1880 was thinking about international trade. They just lost interest." So Congress refused to approve the coins' widespread release, the original strike of 425 coins was sold to various politicians at cost, and the mold was scrapped.
Now, one of these 425 coins is headed to auction at Bonham's LA, estimated to sell for $50,000 to $60,000 on Sept. 6.
While all collectibles rely on perceived value—paintings are "masterful," cars are "rare," jewelry has "provenance"—the gap between literal value and cultural value is particularly acute in the coin market, where currency often sells for vastly different amounts than the sums for which it was issued. A penny recently sold for $1.2 million; a silver dollar sold in 2013 for more than $10 million; and almost 15 years ago, a $20 gold piece sold for $7.6 million at auction.
This isn't the only Stella coin out there, and different Stellas have sold for very different prices. One is currently for sale at Rare Coin Wholesalers for $229,500; three years ago, a rare, mint version of the Stella coin (this one with her hair up, from 1880) sold for $2.6 million at Bonhams; in the same auction, an 1879 Stella sold for just over $1 million.
The coin in the upcoming sale, Song said, carries a lower estimate than the other coins because of wear to its surface—it was apparently used as a piece of jewelry for many years. (There are apocryphal stories of many Stella coins ending up in Washington bordellos frequented by congressmen.)

Song is confident, though, that the coin will find a buyer. "People really like the Stella," he said. "They really like the big star on the back, and they like the design. It appeals to a lot of people." 
Before it's here, it's on the Bloomberg Terminal.
LEARN MORE