markets
South Africa's Ruling ANC Loses Vote to DA in Nelson Mandela Bay
By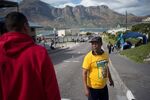 South Africa's ruling African National Congress lost control of the southern municipality of Nelson Mandela Bay, a key port and vehicle manufacturing hub, in a local government election that's highlighted urban discontent over a stagnating economy and a series of scandals embroiling President Jacob Zuma.
With all votes counted in the municipality, the main opposition Democratic Alliance had 46.5 percent support, the ANC 41.6 percent, the Economic Freedom Fighters 5.1 percent and United Democratic Movement 1.8 percent, results released by the Independent Electoral Commission in the capital, Pretoria, show. The absence of a clear winner means the municipality, which includes the city of Port Elizabeth, will be run by a coalition after the elections. Both the DA and EFF have said they will work with each other but not the ANC.
Before it's here, it's on the Bloomberg Terminal.
LEARN MORE