RBS Slumps on Legal Costs From Past, Bleaker Outlook on Future
by
Bank abandons plan to create standalone Williams & Glyn unit

Lender may not reach 2019 goals amid rate cut, drop in demand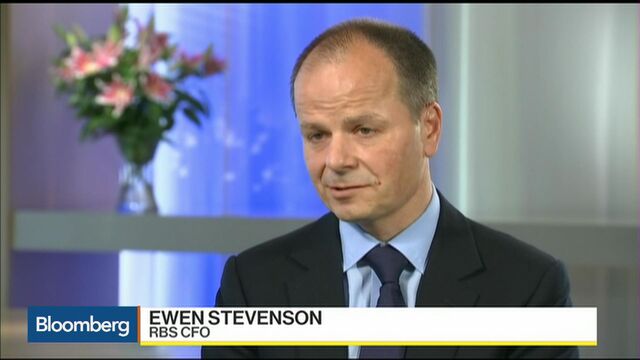 Royal Bank of Scotland Group Plc slumped after posting another loss and saying it will probably take even longer than expected to reach targets for profitability. 
Britain's largest taxpayer-owned lender faces mounting hurdles from Brexit, record-low interest rates, and costs for past misconduct that continue to plague the bank eight years after it required a taxpayer-funded bailout. The second-quarter net loss of 1.08 billion pounds ($1.4 billion) was more than quadruple what analysts had estimated, driven by expenses tied to a lawsuit over the bank's 2008 share sale and a further provision in the payment protection insurance scandal.
Chief Executive Officer Ross McEwan is halfway through a five-year plan to shrink the former global titan into a domestic lender, just as the U.K. economy shows signs of slowing after Britain voted to leave the European Union. The bank said Friday it may not reach its 2019 goals and was abandoning a plan to set up its Williams & Glyn consumer bank as a standalone business after spending 1.4 billion pounds on the project.
"It's pretty grim," said Ian Gordon, an analyst at Investec Plc in London with a buy rating on the shares. "The charges are another incrementally negative surprise, while the timeframe and pace of recovery looks longer than ever. The underlying core performance is kind of OK, but there's a new wodge of conduct issues."
Rate Cut
The shares fell as much as 5.9 percent in London trading, and the stock's 39 percent drop this year is the worst among major U.K. banks. It's unclear when the U.K. government will reduce its 72 percent stake in the bank as it trades at less than half the 407 pence a share at which taxpayers would break even on the state's 2008 and 2009 investment.

With the Bank of England's rate cut on Thursday, it will probably be "more challenging" for the bank to reach its 2019 cost-to-income ratio target. RBS's net interest margin, which rose 8 basis points from a year earlier to 2.21 percent in the quarter, will be squeezed by the central bank's move, Chief Financial Officer Ewen Stevenson said in an interview with Manus Cranny on Bloomberg Television.
"There's definitely a slowdown going on" as a consequence of Brexit, Stevenson said. "We've seen for some time a slowdown amongst our corporate customer base, stalling decisions to invest in people, invest in plants. That's continued after the referendum vote."
'Uncertain' Future
The shares fell 4.6 percent to 183.2 pence at 10:26 a.m. in London. The net loss was caused by 1.28 billion of conduct and litigation charges and compared to a 280 million-pound profit a year earlier. Pretax profit excluding restructuring costs and the litigation charges was 716 million pounds, down from 1.54 billion pounds a year ago.
RBS earlier this year said it hoped to have a cost-to-income ratio below 50 percent and a 12 percent return on tangible equity in 2019. Stevenson said today it was "uncertain" if they'd achieve those targets.
While RBS's outlook grew bleaker, it's still handling problems from its past. The bank took a charge of about 700 million pounds to cover any potential settlement arising from a lawsuit linked to its emergency 2008 rights issue, undertaken by former CEO Fred Goodwin in a last-ditch attempt to rescue the lender before its taxpayer bailout. The bank entered settlement talks with shareholders that subscribed to about 4 billion pounds of the rights issue last month, leading it to take the provision. RBS is due to go to court over the case early next year.
Williams & Glyn
RBS took a further 450 million pound hit for mis-sold payment protection insurance in the second quarter to cover it up to the end of June 2019 after the U.K.'s Financial Conduct Authority delayed the introduction of a time limit on consumer complaints. That should be the "full and final" provision for PPI, according to Stevenson.
RBS said lower-for-longer interest rates had torpedoed the chances of spinning off Williams & Glyn as a standalone institution, forcing it to focus on a trade sale after having "positive discussions" with a number of potential buyers. RBS received a formal bid for the business from Banco Santander SA this week, marking the second time the Spanish lender has tried to acquire the business, people with knowledge of the matter have said.
For more on RBS's struggles to divest Williams & Glyn, click here.
Scrapping the project means RBS has spent about 1.4 billion pounds in the past eight years creating a bank that will never open its doors as an independent firm. With about 314 branches and 2 million customers, the unit "remains attractive to the right owner with the right scale," CEO Ross McEwan said on a call with reporters.
The firm's common equity Tier 1 capital ratio, a measure of financial strength, was 14.5 percent at the end of the second quarter, down from 15.5 percent at the end of December. That's above its target of a 13 percent common equity Tier 1 ratio required to return any excess capital to investors.
Still, before it can make a payout, it must dispose of Williams & Glyn, complete the bulk of its restructuring, reach a settlement in the U.S. mortgage probe and pass Bank of England stress tests later this year.
Before it's here, it's on the Bloomberg Terminal.
LEARN MORE