Drinks
Like Mojitos? Add Champagne for an Even Better Summer Drink
The Old Cuban is a bubbly twist on a classic and next up in our 12 Cocktails of Summer Series.
By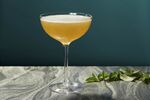 One easy way to give new life to a drink: Add champagne.
This simple trick turns a Campari and soda into a spritz, and it gives a traditional mint julep or a Manhattan some extra boost. Add champagne to a mojito, and you'll be thinking along similar lines as bartender Audrey Saunders did in 2002, when she invented the unforgettable summer cocktail known as an Old Cuban.
"The Old Cuban is in a special tier of cocktails because it's a true modern classic," said Alan Walter, head bartender at Loa in New Orleans, where he is currently serving the drink. A base of rum, mint, lime, and simple syrup form an indisputably delicious quartet. The innovation of Saunders—a legend of the bartending scene who opened New York mixology temple Pegu Club—was to find the right balance, which employed an aged rum, two dashes of Angostura bitters, and most important, a float of champagne. The combo achieves something greater than the sum of its parts, recalling the refreshing coolness of a mint-forward mojito but with a number of delightful surprises for the tongue: the fizz of the bubbly, the mellowing, herbal effect of the bitters, the woody depth of the rum.  
"Every cocktail has to have a tail that whips," said Walter. "A tiny pronouncement or surprise. A lot of good cocktails clear the wave for that last little thing it does to your palate." More often than not, the last thing it does to your palate is compel you to order another.
Ingredients:
1.5 oz aged rum (Saunders recommends Bacardi Añejo 8-Year)
1 oz simple syrup
.75 oz lime juice
2 dashes Angostura bitters
6 mint leaves
2 oz champagne
Add mint, lime, and simple syrup to shaker and lightly muddle the mint, taking care not to pulverize the leaves. Add the ice, bitters, and rum, shake hard till chilled, and strain into a coupe or champagne glass. (Double strain to remove mint and ice flecks, if you like.) Top with champagne, and garnish with a sprig of mint on the glass's rim.
Before it's here, it's on the Bloomberg Terminal.
LEARN MORE