markets
No One Told Brazil Markets That Rio Olympics Would Be a Disaster
Julia Leite, Paula Sambo and Vinícius Andrade
Ibovespa and currency are world's biggest gainers this year

Financial markets appear insulated from pre-games turmoil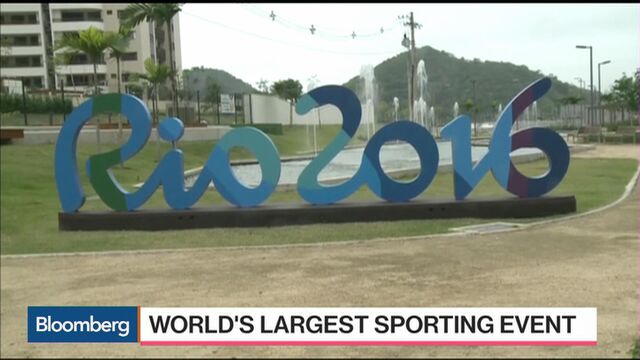 The gloom surrounding the Olympic Games getting underway Friday in Rio de Janeiro is nowhere to be seen in the country's financial markets.
The problems dogging Latin America's largest economy are on full display as athletes from over 200 countries make their way to the games. Sailors are turning up their noses at the dirty water in the city's Guanabara Bay, the Chinese basketball team had to dodge a gang shootout shortly after arrival, while travelers have been met by a sign from disgruntled police at Rio's airport that read "Welcome to Hell." A torch bearer let his displeasure with the government be known by dropping his pants in the midst of an official ceremony.
Yet as the opening ceremony gets underway, the benchmark stock index and currency are near the highest in more than a year after posting the world's best performance in 2016 amid a rebound in commodities and speculation that stimulus in developed markets will make Brazil's higher interest rates more attractive to foreign investors. The nation's dollar notes have followed suit, returning double the emerging-market average, and bond risk as measured by credit-default swaps has plummeted on wagers a new government will be able to put an end to the worst recession in a century.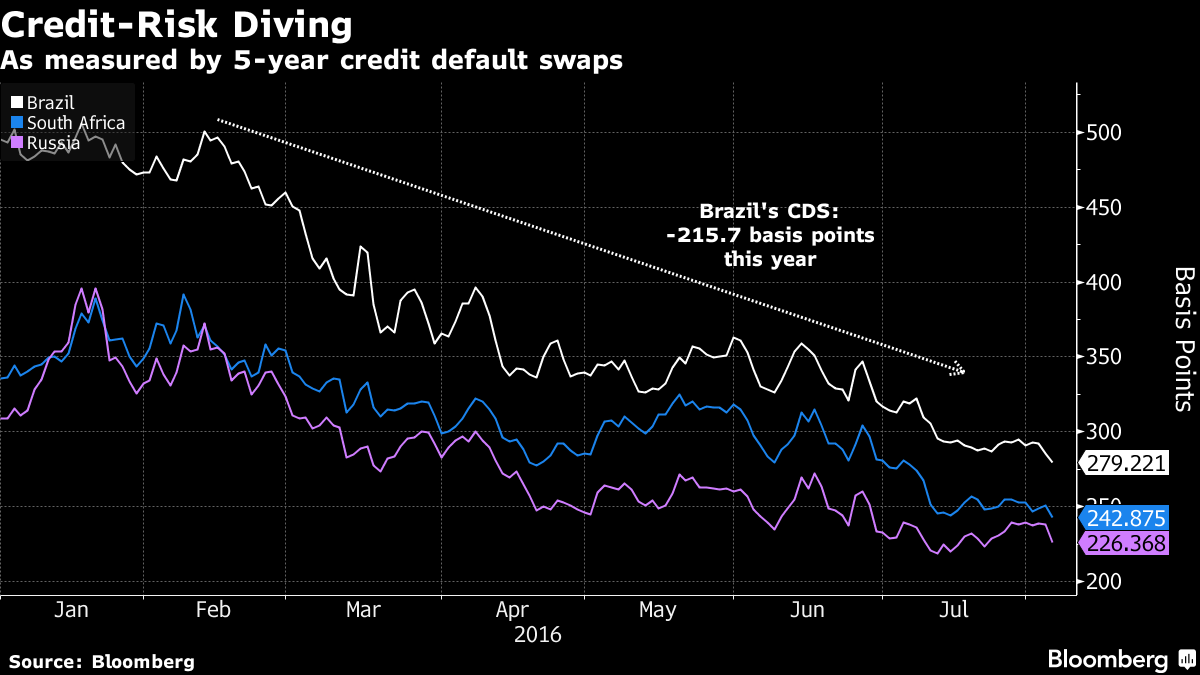 "Investors don't care about the Olympics," said Jankiel Santos, the chief economist at Haitong in Sao Paulo. "With the prospects of political stability and new fiscal measures, investors have a different outlook."
Michel Temer, who took over as acting president in May after Dilma Rousseff stepped down to face an impeachment trial, impressed investors by assembling what Goldman Sachs Group Inc. called an economic dream team for his cabinet. While Temer hasn't pushed through any major policy changes, he's pledged to shore up the budget and bolster growth in an effort to win back the investment-grade credit rating the country lost last year.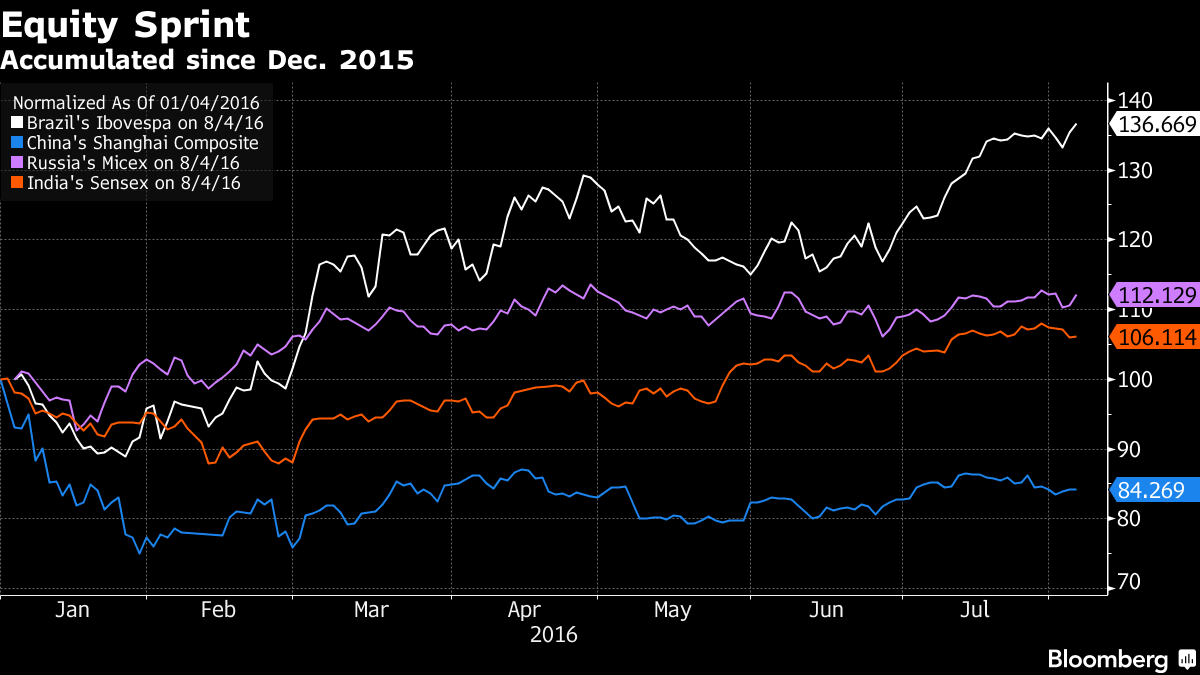 To be clear, this year's rally is partly a reflection of how bad things have been in the recent past. While the Ibovespa has jumped 33 percent in 2016, it lost 38 percent from the end of 2010 through December. The real's 24 percent gain this year is tops among about 150 currencies tracked globally by Bloomberg, but compares with a 58 percent decline over the past five years. Brazilian assets have underperformed emerging-market peers in almost every category since Rio was chosen to host the games in 2009.
Still, optimism that Temer will do a better job than Rousseff in pulling Brazil out of recession have pushed up asset prices even as Olympic blunders pile up. The Ibovespa headed for its eighth straight weekly advance Friday, as the real gained 0.2 percent to 3.1876 per dollar as of 12:21 p.m. in New York.

"Investors' appetite for Brazil and the Olympics are two very different things," said Bianca Taylor, a sovereign analyst and strategist at Loomis Sayles & Co., which manages $229 billion of assets, including some of the country's dollar bonds. "The good momentum for Brazilian assets will keep depending on global risk appetite and whether Brazilian politics stay on course for its fiscal reforms."
There's also hope for Brazilians more interested in volleyball than valuations. Goldman Sachs predicts the country will turn in its best-ever Olympics performance with 22 medals, five of them gold.
— With assistance by Ney Hayashi Cruz
Before it's here, it's on the Bloomberg Terminal.
LEARN MORE