Monte Paschi Clean-Up Would Still Leave Bank in Danger Zone
By
Bank plans to sell bad loans and stock to reinforce buffers

Debt ratio would exceed safe level even after loans offloaded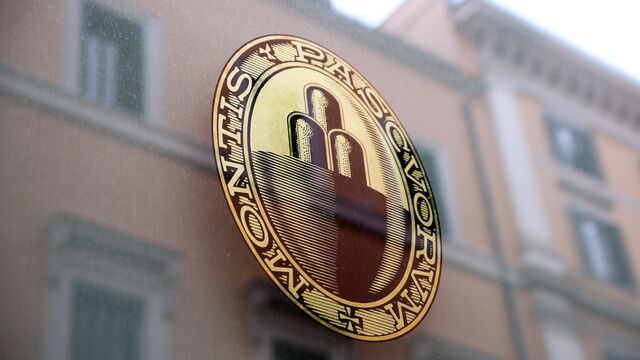 Banca Monte dei Paschi di Siena SpA's plan to offload $31 billion in doubtful loans, designed to attract investors to a share sale by reducing the bank's risk of losses, will still leave it with a bad-debt level considered unsafe by industry standards.
The Italian lender intends to issue as much as 5 billion euros ($5.6 billion) of stock after it sells 28 billion euros in bad loans at a 67 percent discount. The plan, the third time in two years that Monte Paschi has tapped shareholders, was announced the same day Europe published stress-test results showing a gap in the bank's capital.
The disposal will reduce Monte Paschi's so-called Texas ratio by almost 50 percentage points to 104 percent, according to Bloomberg calculations. The measure of financial health looks at non-performing loans as a share of tangible common equity and reserves set aside for bad debt. A ratio exceeding 100 percent is considered a red flag for potential insolvency.

The bank plans to spin off all its doubtful loans -- the most troubled non-performing assets -- into a securitization vehicle that will seek investment from outside investors for its senior tranches. The remaining non-performing loans -- overdue exposures including loans unlikely to be paid -- will still make up 17 percent of the total.
"You have to believe that the bank will be completely clean after this procedure, that the remaining troubled loans won't go bad," said Hugo Cruz, a London-based analyst at Keefe, Bruyette & Woods, an investment bank. "If things don't go well with the Italian economy, those could go bad too of course. So it's not an easy buy."
Monte Paschi's stock is trading at about 8 percent of book value, meaning the market considers the bank worth less than what the lender believes it would get in liquidation. Assuming no further loan losses, the new shares would be at least 40 percent of their book value, much more than many peers, according to Cruz.
Monte Paschi fared the worst among 51 banks subjected to the European stress tests, which showed its regulatory capital would drop below zero if the worst-case scenario came true. The firm said the assumptions on such huge losses were based on its current bad-debt pile and would change significantly once the spinoff was completed.
— With assistance by Sonia Sirletti
Before it's here, it's on the Bloomberg Terminal.
LEARN MORE