Hambro Sees 'Very Good Fortunes' for Iron Ore on Capex Slump
by and
IRC chairman says sector seeing major scaling back in spending

Hong Kong-listed miner starting up supply from new K+S mine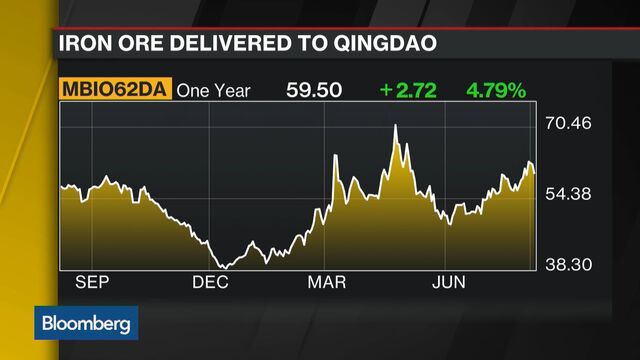 A slowdown in spending on global iron ore projects amid weak prices is setting the ground for a longer-term revival, according to Hong-Kong listed producer IRC Ltd., which is starting up production from a new project in Russia that was 10 years in the making.
The steelmaking ingredient, which has slumped about 68 percent from a 2011 peak as supply topped demand, will trade between $55 and $65 a metric ton over the next 18 to 24 months, before seeing gains, IRC Chairman Jay Hambro said in a Bloomberg Television interview on Friday.
"After that period, when we have seen no capex or very minimal capex for bulk commodities, then we will begin to see in a market where demand is stable and somewhat increasing, a return to very good fortunes," Hambro said. IRC has begun shipping ore to China from its new K&S mine close to the town of Izvestkovaya, he said.
The biggest producers are scaling back investments as they complete years of expansion projects aimed at boosting supply. BHP Billiton Ltd., the world's biggest mining company, last year halted a $600 million port project, while Rio Tinto Group, the No. 2 shipper, said Wednesday iron ore capital expenditure fell 57 percent in the first half from a year earlier. China's Baosteel Group Corp. and partners in December mothballed a project in Western Australia.

"What we are seeing now is a huge scale back in capex, and this is why we have a cyclical market for bulk commodities," said Hambro.
Iron ore has staged a surprise rally in 2016 as policy makers in China signaled they would support growth in the top consumer, steel prices advanced and Chinese mills hit record daily rates of production. The commodity may be boosted over the next 12 months as expanded credit in China helps to underpin steel output, according to Sanford C. Bernstein & Co.
Spot ore with 62 percent content at Qingdao has advanced 39 percent this year to $60.74 a ton on Friday, according to Metal Bulletin Ltd. In Asia on Friday, futures in China and Singapore surged, with the most-active contract on the Dalian Commodity Exchange closing at the highest level since February 2015.
IRC produced 188,111 tons of iron ore in the six months to June 30, down 67 percent from a year earlier, according to a July filing. Future output will be boosted by the ramp up at the K&S mine, Hambro said.
Before it's here, it's on the Bloomberg Terminal.
LEARN MORE