France Is Preparing for Its Own Messy Election
Alain Juppé, a former prime minister, could be president.
By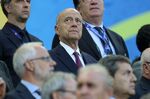 Twenty-one years ago, French Prime Minister Alain Juppé tried to curb retirement benefits for public employees. In response, labor unions staged a general strike that paralyzed France for weeks. Juppé had no choice but to drop the plan. Less than two years later, the fatally weakened center-right government was defeated in a snap election. Juppé was out.
Today, French unions are again flexing their muscles, forcing Socialist President François Hollande to water down his proposals for labor reform. Presidential elections are set for April 2017, with a runoff in May, and Hollande's reelection chances look bleak. The candidate who appears in the best position to replace him? Juppé, now 70, who for most of the past two decades has been mayor of Bordeaux. This time, he says, he'll take on the unions and win.
A June Ipsos survey put Juppé's approval rating at 49 percent, compared with 16 percent for Hollande, 25 percent for right-wing National Front leader Marine Le Pen, and 31 percent for former center-right President Nicolas Sarkozy, who's seeking a comeback after his 2012 defeat. Voters see Juppé as "a consensual figure," says Yves-Marie Cann, an analyst at the Elabe polling group in Paris. "Even people on the left like him."
Juppé is pushing to bolster his support among conservatives before the center-right Republican primary on Nov. 20. Although mainstream politicians in France have traditionally been reluctant to criticize the government during an emergency, Juppé lashed out at the Socialist administration after the Bastille Day terror attack in Nice, telling RTL radio on July 15: "If all measures had been taken, the tragedy would not have happened." Sarkozy, who's expected to face Juppé in the primary but hasn't formally announced, was even quicker to pounce following the latest terror attack, which took place in a church in Normandy. Hours after the incident, during which a priest was murdered, Sarkozy enumerated measures he would take to fight terrorism. He suggested the government should disregard legal checks on its power in the pursuit of potential attackers.
Juppé is campaigning on a pro-market, business-friendly platform. To improve French competitiveness, he wants to abolish the maximum 35-hour workweek, cut taxes, and make it easier to hire and fire. He'd let companies negotiate directly with employees, rather than allowing national unions to negotiate industrywide contracts as is now the case, even though only about 8 percent of French workers belong to a union. "We have to do deep reforms, and it won't always be pleasant, but we've waited too long," Juppé said at a campaign rally in the southern city of Perpignan last month.
Hollande failed to pass reforms because he was elected with the unions' support and then blindsided them, Juppé told a business group at a July 6 campaign stop in the Mediterranean resort town of St. Cyprien. "I am going to be clear about it from the beginning," he said. Asked about his defeat at the hands of the unions in 1995, he replied: "It doesn't do much good to talk about the past."
Voters seem less impressed by Juppé's program than by his calm demeanor and discreet style, a contrast to Sarkozy, 61, who struggles to control his temper and while president was criticized for his nouveau riche tastes. Arnaud Lepart, an unemployed resident of Perpignan who turned out to cheer for Juppé at the rally there, says, "I agree with some of his proposals, but most of all it is the man I like." Sarkozy, Lepart added, "is a divisive figure."
A major selling point for Juppé is his stewardship of Bordeaux, a city of 240,000 where he's spruced up the downtown and waterfront, dramatically boosting tourism and business. "Our economic signals are all strong now," says Sylvie Cazes, a leading Bordeaux winemaker who has worked with Juppé on the city's newest tourist attraction: an €81 million ($91 million) museum devoted to the wine industry that opened on June 1. Cazes says Juppé visited local vineyard owners and other businesses, persuading them to contribute some €20 million toward the project—a rarity in France, where almost all cultural projects are publicly financed.
Staunchly pro-European, Juppé is trying to counter the populist, Euroskeptic message of Le Pen's National Front and the fallout from Brexit. "We must admit that people are unhappy with the political establishment," he told reporters in Perpignan. "National governments should reclaim some of the powers now exercised by the European Union."
Sarkozy has used similar rhetoric. Recent polls suggest he's gaining some traction, as Juppé's lead among likely primary voters has shrunk from 12 points in January to 8 points in June, according to Ipsos polling data. French weekly Paris Match has dubbed Juppé "The Fragile Frontrunner." Says Cann, the analyst: "Even if Alain Juppé has an advantage now, the game is still open."
Juppé, meanwhile, has been churning out position papers on subjects such as agriculture and education. He says he'll have a detailed legislative program ready to introduce immediately after the May 2017 runoff. "I will be ready on the first day."
The bottom line: With Hollande the most unpopular president in French history and Sarkozy still a divisive figure, Juppé could win the election.


Before it's here, it's on the Bloomberg Terminal.
LEARN MORE