Fortuna Poised to Halt Cash Burn as It Expands Into Silver Rally
by
Miner in Latin America still looking for early-stage projects

Company plans to fund most Lindero development with cash: CEO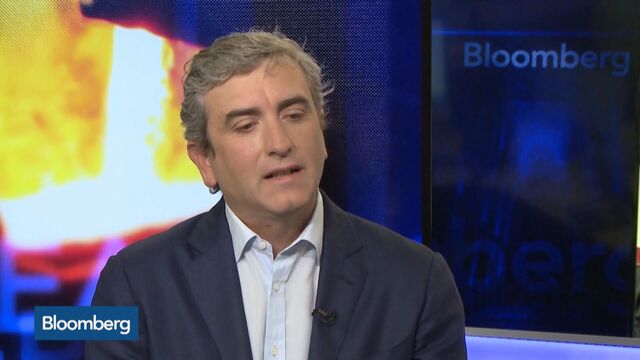 Fortuna Silver Mines Inc. expects to start generating cash again this quarter as it benefits from a mill expansion in Mexico and soaring metal prices, Chief Executive Officer Jorge Ganoza said.
With upgrades at the San Jose facility complete, the Vancouver-based company is looking to generate $50 million to $60 million in cash annually and widen its profit margin in terms of earnings before interest, taxes, depreciation and amortization to 45 percent this year, Ganoza said. In the 12 months through March, Fortuna has been burning through cash -- negative free cash flow was $21.3 million -- and posted an Ebitda margin of 14 percent, according to data compiled by Bloomberg.
With cash reserves of almost $100 million and debt of just $40 million, the miner will use some of its money to develop the Lindero gold mine, which it acquired through the purchase this year of Goldrock Mines Corp., Ganoza said. Fortuna's executive team is based in Peru where the company operates the Caylloma silver mine, its only other operating operation besides San Jose. 
'Good Position'
"We are in a good position to self-fund for the most part, if not all, of the capital requirements for the Lindero project in Argentina," Ganoza said in an interview on Bloomberg TV Canada.
Fortuna is scheduled to release its second-quarter earnings report on Aug. 8 after markets close. The company is expected to report profit excluding one-time items of 3 cents a share, according to the average of five analysts' estimates compiled by Bloomberg.
Fortuna recently completed the third expansion of its mill at San Jose, which Ganoza says will make it the world's 13th-largest silver producer. With the upgrades, San Jose will be able to produce 7 million to 8 million ounces of silver and 52,000 to 57,000 ounces of gold annually, according to the company's website.
Silver's 43 percent rally this year has sent miners' stocks soaring. Fortuna's shares have more than tripled, roughly in line with the gains of Bloomberg Intelligence's 24-company Global Silver Mining Competitive Peer Index.

Fortuna tends to react less dramatically to big swings in silver prices because it has two solid operating mines with good margins, Jessica Fung, a Toronto-based commodities analyst at Bank of Montreal, said in an interview this week.
"Fortuna is generally viewed as a more defensive name, which is why they haven't performed as well as some of the other small-cap names," she said in a telephone interview. 
Fung said the Goldrock acquisition is positive, both in terms of the valuation paid and the fact that it allows Fortuna to grow. "The question that was overhanging them over the last year was what are they going to do after the San Jose expansion is done," she said.
'Geological Risk'
While turning Lindero into a producing mine by the second half of 2018 will keep the company busy, Fortuna will continue to hunt for early-stage assets as a way of "seeding the pipeline," Ganoza said. The company will continue "building a pipeline of earlier-stage projects where we are willing to take more geological risk but less financial risk."
The focus will continue to be on improving margins rather than boosting production, as well as finding assets in places that are good to do business, he said.
In an interview last week, Goldcorp Inc. CEO David Garofalo said his company may try to sell its Alumbrera asset, an aging mine in Argentina with undeveloped deposits. But Ganoza said Fortuna wouldn't be interested in Alumbrera because it's not a pure mid-sized gold or silver asset.
Conditions in Argentina have vastly improved under President Mauricio Macri, which provided the catalyst for Fortuna to buy Goldrock, a property it passed on back in 2010 because of the political outlook.
'Hunting Ground'
"We monitor Latin America closely -- it's our hunting ground," he said. "When we saw the changes that Macri was enacting, just coming in with a lot of political capital, he has changed the business environment 180 degrees."
Ganoza also is encouraged by the changing business climate in Peru, where excessive regulation of the mining industry needs to be addressed, he said. Pedro Pablo Kuczynski, the former finance minister and Wall Street veteran, took office as Peru's president last week pledging to lower taxes and modernize the country's infrastructure.
"The speed at which we can advance our explorations, and what not, are being hampered not only by the social challenges in some areas but also some red tape," Ganoza said of Peru. "I believe this government is going to address that."
Before it's here, it's on the Bloomberg Terminal.
LEARN MORE