Erste CEO Sees Bad Debts Staying Low After Provisions Fall 93%
by
CEO Treichl tells analysts on call "risks will remain low"

Erste shares have fallen 17 percent this year, less than index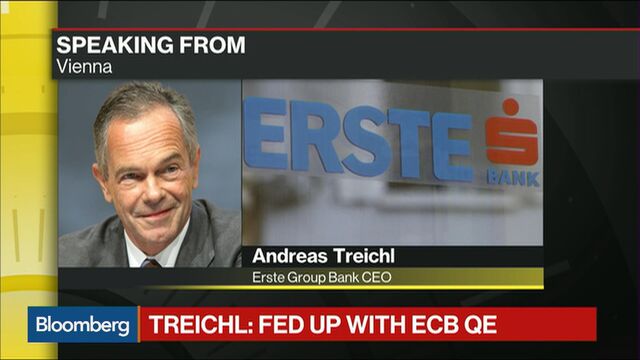 Erste Group Bank AG, Austria's biggest bank, doesn't expect earnings to be burdened by fresh provisions after a 93 percent drop in risk-related charges in the first half, Chief Executive Officer Andreas Treichl said.
"We're not going to show the kind of reductions we've seen this year because then we would end up with huge writebacks -- but we believe risks will remain low," Treichl told analysts on a conference call on Friday, when asked to give an outlook over the next two years. Loan growth needs to pick up "slightly" in order to make up for lower returns on the bank's securities portfolio, he said.
Erste's second-quarter net income more than doubled to 567 million euros ($632 million) from a year earlier as it released risk provisions and benefited from a sale of a stake in Visa Europe Ltd. Bad debt charges fell over the last two quarters, helped by a "substantial" decline in non-performing loans, the lender said.
Erste rose 4.3 percent at 11:31 a.m. local time. The bank has slipped about 17 percent this year, making it the third-best performer in the Euro Stoxx Banks Index, which declined 32 percent.
One of the longest-serving CEOs at a major European lender, Treichl has said the bank needs about 5 percent loan growth this year as record-low interest rates undermine revenue. Erste, which trails UniCredit SpA as the biggest foreign-owned bank in eastern Europe, is seeking to bolster fee income by offering incentives to customers to shift their deposits into asset-management products. 
Net interest income was little changed at 1.1 billion euros in the second quarter. Erste's fully-loaded common equity Tier 1 ratio, a measure of financial strength, advanced to 12.7 percent.
"We have loan growth of up to 9 percent in some of our countries, the strongest being the Czech Republic and Slovakia," Treichl said in a Bloomberg Television interview with Manus Cranny on Friday. "That's the main reason why our net interest income held up, that we made up for our loss in the securities portfolio," where the bank lost 25.8 million euros related to markdowns, he added.
Before it's here, it's on the Bloomberg Terminal.
LEARN MORE