ECB Leaves Investors Guessing on Some Banks' Stress-Test Results
by and
ECB's silence contrasts with practice at other regulators

Lack of transparency means investors assume the worst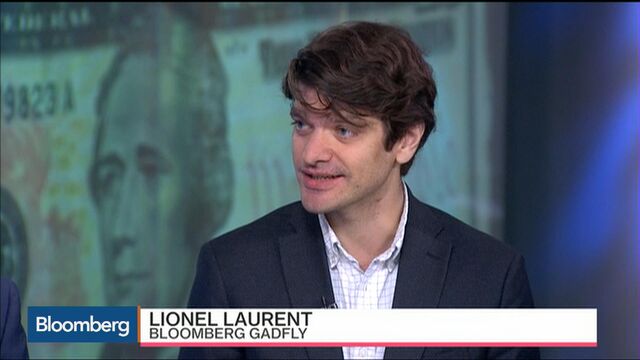 The European Central Bank is letting a pall of secrecy hang over the health of some of the continent's banks.
While fellow regulator the European Banking Authority published results of stress tests for 51 banks from Banca Monte dei Paschi di Siena SpA to Deutsche Bank AG, the ECB decided against publicly disclosing the outcome of its own parallel test for 56 additional banks. The ECB, the continent's top banking regulator, instead left it up to lenders whether they made public information on capital levels, loan quality and leverage.
As a result, investors and the public are left in the dark about the ability of many of the bloc's medium-sized banks -- including some with assets of as much as 100 billion euros ($112 billion) -- to withstand a deep recession. The decision breaks with stances taken by other regulators in the ongoing debate over whether additional information calms panics or feeds them.
"Publication of results brings some transparency to the market," said Stephan Ertz, who helps oversee about 275 billion euros as head of credit at Frankfurt-based Union Investment. "If you don't publish, everyone starts speculating as to why you don't."

Some banks have disclosed their results, or portions of them, but investors have been left wondering about how others did -- or if they were even tested. The EBA examined 37 significant banks directly supervised by the ECB, which separately looked at another 56 banks, for a total of 93. The ECB supervises 129 "significant" banks in total, leaving 36 unaccounted for, though some of those are units of larger firms or were tested last year.
The ECB's silence makes it an outlier among regulators. The EBA makes public thousands of data points for each lender it tests. In the U.S., Federal Reserve officials including Daniel Tarullo have said that transparency on test results is critical to their success. The U.K.'s Treasury Select Committee, has called on the Bank of England to err on the side of disclosure. Sam Woods, head of the BOE's Prudential Regulation Authority, calls the market discipline that transparency allows "an important tool."
The disclosure gap underscores the difficulty European regulators are having in bolstering confidence in a banking industry that continues to struggle under the weight of billions of euros in soured loans and negative interest rates that crimp margins. While the ECB and EBA have repeatedly said banks have adequate capital and that they don't anticipate significant new regulatory requirements, bank shares have plunged this year.
Too Transparent
Some policy makers and academics have raised concerns that too much transparency about individual banks could hurt lenders by feeding potential panics and discouraging banks from trading with each other. Too much disclosure might also prompt banks to take steps to simply pass the test to meet public scrutiny rather than strengthen risk-management systems, according to research by professors Itay Goldstein, of the University of Pennsylvania, and Haresh Sapra, of the University of Chicago.
"Banks may be overly obsessed with passing the stress test and looking good," Goldstein said in an interview. "There may be benefit in having this conversation happening between the regulator and the bank behind closed doors. I don't necessarily view the limited disclosure as being bad. I think there are indeed good reasons to reduce disclosure of results."
Italy, Portugal
Still, the policy means traders in European banks' shares and bonds are relying on scattershot results. The EBA published results for five of Italy's largest banks, including Intesa Sanpaolo SpA and UniCredit SpA, while the ECB supervises another 10 Italian banks. One of those lenders, Mediobanca SpA, chose to disclose, saying in a statement that it exceeded regulatory capital requirements in the test. 
"Our position is that we don't invest in the smaller Italian banks," Union Investment's Ertz said. "If there was more transparency and we felt they might be a good investment, obviously, then we might consider it."
None of Portugal's banks were part of the EBA test, and the ECB supervises four of the country's banks. Banco Comercial Portugues SA released a statement last week saying it had 6.1 percent capital in the test's adverse scenario taking into account all future regulatory requirements. Other Portuguese lenders haven't released any info.
"This is an internal supervisory exercise conducted by the ECB," a spokeswoman for the regulator said in an e-mail. "Therefore, the results are not published by the ECB."
Even with his concerns about banks' response to public tests, Goldstein said when markets are experiencing difficulties, more transparency can help. That's the case for Italian lenders, as the eight banks from that country in the Euro Stoxx Banks index have dropped by an average of about 60 percent in 2016.
"With the situation right now in Italy, and you keep hearing more and more warnings, I think that there is a growing indication that there might be real problems coming up," he said. "In this kind of situation, then, disclosure could help."
Before it's here, it's on the Bloomberg Terminal.
LEARN MORE