Clinton Tweaks Her Answer on FBI's Findings About Her E-Mails
By and
Democratic candidate says statements to FBI were truthful

E-Mail controversy continues to dog presidential campaign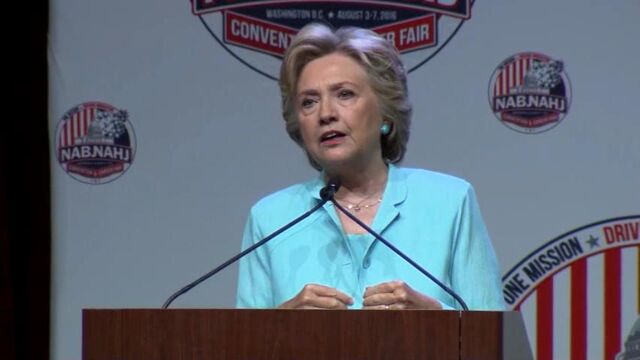 Hillary Clinton sought again to clarify her past statements about whether she handled classified material on her private e-mail, saying she gave truthful answers to the FBI and that those were "consistent" with what she's said in public.
Clinton, responding to questions from reporters at a gathering of black and Hispanic journalists in Washington, insisted Friday that there was no contradiction between her assertions that she didn't knowingly send or receive classified material through her private system while secretary of state and the results of a Federal Bureau of Investigation probe.
The Democratic presidential nominee was criticized earlier this week for suggesting during an interview with "Fox News Sunday" that FBI Director James Comey had said her past statements on the e-mail issue were "truthful." Comey told a congressional panel July 7 that he was "not qualified" to say whether Clinton had lied to the American people and that he would not "get in the business of trying to parse and judge her public statements." But he also said there was no evidence that she lied in an interview with the FBI.
On Friday, Clinton sought to thread through those remarks, saying she "may have short-circuited" her answer.
"My answers to the FBI were truthful," Clinton said, and that "was consistent with what I said publicly."
Shifting Language
As the e-mail controversy has dogged her presidential campaign, Clinton has shifted her language in talking about the e-mails and included caveats, saying she didn't knowingly send or receive material that was marked classified at the time. She added, after the FBI concluded its investigation and recommended that no criminal charges be filed, that she didn't believe she had sent classified or confidential material.
The campaign of Republican Donald Trump said "today's painful, pretzel-like response to a simple question about her illegal server was obvious to everyone watching."
Trump spokesman Jason Miller said in a statement that Clinton's "habitual lying about the use of her secret server to send and receive classified, top secret information shows her blatant disregard for national security."
The FBI investigation found that three e-mails that passed through Clinton's server were marked classified at the time, However Comey said at the congressional hearing that "we did not find evidence sufficient to establish that she knew she was sending classified information beyond a reasonable doubt to meet the intent standard" for prosecution.
However the FBI chief, when he announced the results of the investigation, also called Clinton and her staff "extremely careless in their handling of very sensitive, highly classified information."
Immigration Overhaul
During her question-and-answer session Friday, Clinton also vowed to succeed on immigration reform where President Barack Obama failed, promising to "start early" and introduce legislation with a path to citizenship in her first 100 days.
"I've already talked to some of my former colleagues in the Senate. This will be fast-tracked," Clinton said, expressing hope that Democrats will retake the upper chamber and gain seats in the House.
With Trump trailing in the presidential race, she argued that Republican congressional losses in November would pave the way for reform. "I view the political landscape as increasingly favorable to us making this happen," she said.
But Republicans may still hold a majority in the House, even if their margin shrinks. Those who remain are likely to be from heavily Republican districts, and Trump won the party nomination on a platform of mass deportation and restricting legal immigration that energized a large contingent of conservatives eager to reverse trends that are making the U.S. less white and more ethnically diverse. That makes any compromise on immigration legislation unlikely to make it to the president's desk.
Before it's here, it's on the Bloomberg Terminal.
LEARN MORE