Canada Stocks Rise to One-Year High on U.S. Jobs Data, Earnings
by
Magna, Telus climb after posting better-than-forecast results

Gold producers drop with gold as odds of Fed rate hike rise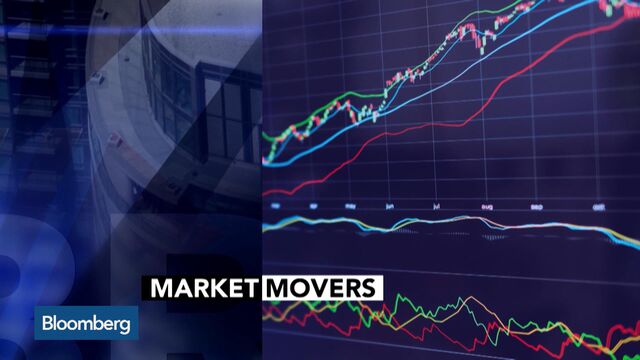 Canadian stocks rose to the highest close in a year, amid earnings from Magna International Inc. and Telus Corp., and as the nation's largest trading partner added more jobs than forecast in a sign of continued strength in the economy.
The S&P/TSX Composite Index rose 0.8 percent to 14,648.77 at 4 p.m. in Toronto, for a fifth weekly gain in six. Trading volume today was 6 percent lower than the 30-day average at the close. 
U.S. payrolls jumped in July for a second month, adding 255,000 jobs to exceed all forecasts in a Bloomberg survey of 89 economists, following a 292,000 gain in June that was revised higher. The unemployment rate held at 4.9 percent. Traders are now pricing in 46 percent odds the Federal Reserve will hike interest rates in December, compared with 37 percent a day ago, according to data compiled by Bloomberg.
By contrast, Canada's economy lost 31,200 jobs in July, compared with consensus expectations of a 10,000 gain, while the jobless rate rose to 6.9 percent. In a separate report, Canada's trade deficit also hit records in the second quarter, including a greater-than-estimated C$3.6 billion gap in June.
"We didn't think we would see a quick rebound in the second half for Canada," said Frank Maeba, managing partner at Breton Hill Capital in Toronto. His firm manages about C$1.4 billion. "These jobs numbers don't help accelerate the rebound. Energy has been a drag and we've also seen volatility in housing prices." The U.S. remains a bright spot in global markets, and Maeba expects a "general grind higher" for U.S. equities barring any significant macro shocks.
Magna International Inc. increased 5.5 percent, the most since February, to lead consumer discretionary stocks higher as the group jumped 1.8 percent. Magna reported second-quarter sales of $9.44 billion, ahead of estimates, while also raising its forecast for 2016 European light vehicle units. Nine of 10 industries in the S&P/TSX advanced. Gold tumbled the most in 10 weeks to lead a 1.1 percent decline in raw-materials producers.
Telus Corp. increased 2 percent, the biggest gain since February, after boosting the lower end of its 2016 revenue outlook. The telecommunications company topped earnings estimates as it added more customers in the quarter. Bombardier Inc., meanwhile, lost 0.5 percent after reporting wider-than-expected losses in the quarter amid rising costs for increased production of its new C Series jetliner.
The Canadian equity benchmark is up 13 percent in 2016, rebounding from a slump last year that was the worst for the S&P/TSX since the 2008 financial crisis. The rally has made Canadian stocks more expensive than their U.S. peers, with a price-earnings ratio of 23.1 for the S&P/TSX, about 13 percent higher than the S&P 500 Index.
Mining and energy stocks have propelled Canada to the second-best performance among developed markets this year, trailing only New Zealand fueled by a rally in commodities prices from gold and crude to base metals.
Before it's here, it's on the Bloomberg Terminal.
LEARN MORE