Broadbent Ready to Back Another BOE Rate Cut Amid Slowdown
by and
Deputy governor says no BOE official advocated negative rates

Central bank has room to ease more should outlook darken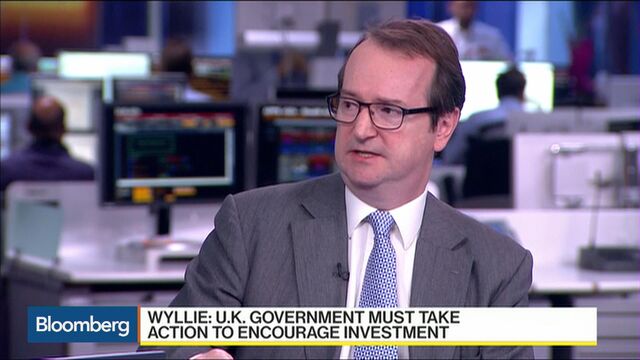 Bank of England Deputy Governor Ben Broadbent said he's likely to favor another interest-rate cut this year while signaling policy makers won't take borrowing costs below zero.
The Monetary Policy Committee discussed the appropriate amount of new easing to add to support an economy rattled by Brexit, he said in a briefing at the BOE in London on Friday. While they discussed taking rates lower, "there wasn't a huge amount of debate about what that lower bound currently is," he said.
The Deputy Governor also said none of the nine MPC members advocated the idea of negative rates, since there's room to ease policy using the bank's current tools. Broadbent said he agreed with Governor Mark Carney about the risks from negative rates.
"You can't banish the zero lower bound or some sort of lower bound entirely" even with the BOE's new term funding scheme that's aimed to offset the impact on banks' margins, he said. "There's no escaping these effects at some point."
Rate Limits
His comments came after the central bank cut interest rates for the first time in seven years and said it will buy government and corporate bonds. While the MPC disagreed on the size and design of the stimulus announced on Thursday, with some members rejecting more QE, Broadbent's comments indicate all are aligned with Governor Mark Carney's distaste for negative rates. 
The central bank also slashed its growth forecasts and predicted unemployment will rise, and on the basis that those forecasts are correct, Broadbent said he was part of the group that favors lowering borrowing costs again this year.
"The minutes said there was a majority that expected to cut interest rates again were the economy to unfold in line with forecasts, and yes, I was one of the majority," he said.
While Broadbent agreed that the BOE had further monetary policy ammunition, he said many of the effects of Britain leaving the European Union on the economy are structural, and the central bank can do little about them.
Structural Changes
"There are limits to what monetary policy, indeed any demand-management policy, can do -- by that I mean conventional fiscal policy as well -- to offset what is a structural effect on the economy," he said. "You should not imagine that conventional policy will make up for the structural changes introduced by the decision to leave the EU."
The BOE also announced a 100-billion pound ($132 billion) bank program, called the Term-Funding Scheme, to help lower borrowings costs feed through to the real economy as rates approach zero. The TFS is currently calibrated to accommodate rates at 0.25 percent, and will have to be adjusted if the BOE's benchmark was taken lower, Broadbent said. The plan wasn't designed to allow negative rates, he said.
"The scheme exists to make sure those rate cuts get passed through, not somehow to foreshadow anything else," the deputy governor said. "I'm not going to tell you that it's utterly impossible to change that estimate for the lower bound, but I am going to say there are limits. It's unlikely that assessment changes any time soon."
Broadbent declined to give any precise number for the new floor of the BOE's benchmark rate, other than to say it was "marginally positive." Also, while he wouldn't rule out the BOE expanding the range of assets it buys beyond government and corporate bonds to securities such as exchange-traded funds, he declined to speculate.
"It's not qualitatively something we haven't done before," Broadbent said. "We'd have to think through very seriously anything else we did obviously, but that is a matter for the MPC and I'm not in a position to give a steer one way or another."
Before it's here, it's on the Bloomberg Terminal.
LEARN MORE