British Bettors Gambling That Team GB Strikes Gold at Olympics
by
Never mind Brexit: U.K. is hoping for medal haul in Rio

Swimmer Adam Peaty getting 1-to-5 odds in 100m breaststroke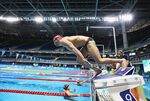 As the Olympics get underway in Rio de Janeiro Friday with an opening ceremony full of samba music and celebrities, U.K. bookmaker William Hill Plc expects another big medal haul for Great Britain.
Consumer confidence has flagged amid a worsening economic outlook in the wake of Britain's vote to leave the European Union, but Britons have more confidence in the prospects for their Olympians, with 10-to-11 odds on the British team taking home nineteen or more gold medals.
"Although unlikely to reach the dizzy heights of London 2012, the vast majority of our customers believe that Team GB will produce a significant haul," said William Hill spokesman Rupert Adams. The company spoke after reporting a 1 percent gain in first-half net revenue Friday.
Team GB won a record 65 medals at the London 2012 Olympics, 29 of them gold, as British bookmakers handled 80 million pounds ($105.1 million) in bets. While that level of betting probably won't be repeated in this year's games, mobile technology has made wagering easier than ever. Bookmaker Paddy Power Betfair Plc said last year that 70 percent of its bets were placed on mobile devices.
The most popular British athlete among gamblers is swimmer Adam Peaty, who's getting odds of 1-to-5 -- paying one pound for every five bet -- to win the 100-meter breaststroke. Cyclist Elizabeth Armitstead, who dodged a possible two-year ban to compete in the Olympics after missing three drug tests, is a 4-to-1 favorite to win the women's road race.
Surge Ahead
The U.S. men are predicted to surge ahead in the 4x100 meter relay, with odds on them winning at 11-to-8, or a 42 percent probability, compared with Britain's 20-to-1. William Hill offers odds of just 2-to-1 that Jamaican sprinter Usain Bolt will win all three events in which he competes.
"The whole stadium will be cheering Bolt on and despite the fact that it will cost us a few quid, we will be cheering him on as well," said Adams, using a British slang term for pounds. Meanwhile, Britons will back London-born James Ellington, who faces steep odds of 150-to-1 in the 100-meter sprint.
In what has already been dubbed the year of the outsider, William Hill isn't taking any chances with none of its Olympics odds approaching the 5,000-to-1 it offered some customers betting on underdogs Leicester City to win soccer's English Premier League. The team won and William Hill paid out a total of 2 million pounds.
Before it's here, it's on the Bloomberg Terminal.
LEARN MORE