Berlusconi's AC Milan Era Ends With Sale to Chinese Group
Daniele Lepido and Tommaso Ebhardt
Soccer club is sold for 740 million euros, including debt

Both Milan soccer teams now owned by Chinese investors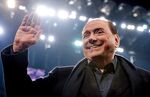 Silvio Berlusconi's era at the helm of AC Milan is over after 30 years.
The Berlusconi family's investment vehicle Fininvest SpA signed a preliminary contract to sell 99.9 percent of the soccer club to a group of Chinese investors operating through a management company led by the state-owned Development & Investment Corp. for 740 million euros ($826 million), including about 220 million euros of debt, the company said in a statement. The binding contract is expected to be completed by the end of 2016.
Milan has struggled in recent years, with the team a shadow of the roster that regularly competed for soccer's top prizes. Since Berlusconi took control of the team in 1986, Milan has won eight league titles and five European cups, marking the most-successful period in the club's history.
The sale agreement requires the purchasers to carry out capital increases and liquidity injections for a total of 350 million euros over a three-year period.
Chinese investors will now control both Milan soccer teams following the recent investment by Suning Holdings in crosstown rival Inter Milan. The AC Milan deal underscores China's push to buy soccer assets across the globe. Some of the country's biggest companies have been on a buying spree for the past two years, picking up teams, media companies and other businesses related to the world's most popular sport. Clubs in China, meanwhile, have been the biggest spenders in the global transfer market this year.
Berlusconi turned AC Milan into one of soccer's most iconic teams and a perennial power. The billionaire's lavish spending in the early years helped lure some of the sport's top talent, players such as Marco Van Basten who drew an army of followers around the world.
Milan is popular in China, where Italy's Serie A became the first top league to be broadcast by state television. Globally the club claims to have more than 380 million followers, a number bettered by only five or six other teams. AC Milan is ranked the 14th wealthiest in Europe, according to accountants Deloitte LLP.
The Chinese investment group includes Haixia Capital and Yonghong Li, which were members of the consortium led by Sonny Wu's GSR Capital that was nearing an agreement to acquire control of the club in July, according to people familiar with the matter. Haixia Capital and Li chose to negotiate with Fininvest directly, said the people, who asked not to be identified because the discussions were confidential.
The Chinese investors were assisted by Rothschild & Co. as financial adviser and Gianni, Origoni, Grippo, Cappelli & Partners as legal advisers. Fininvest was advised by Lazard and BNP Paribas and the Italian law firm Chiomenti.