Turkey Faces Junk Status as Moody's Weighs Political Turmoil
by
Markets already pricing Turkish debt below investment grade

Downgrade could spur billions in outflows as funds divest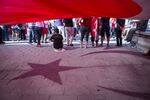 Back in December, with Turkey teetering on the edge of losing its investment-grade rating, Moody's Investors Service said only political stability and a commitment to a long-overdue economic reform program could pull the country back from the brink.
Since then, Turkey has suffered the bombing of its airport by Islamic State and seen its parliament attacked by F-16s in an attempted coup. The country is also purging tens of thousands of people from the military, government and academia, all while being in a state of emergency that's given President Recep Tayyip Erdogan the power to rule by decree.
Political stability? Not so much. Yet as Moody's evaluates Turkey's rating on Friday, it'll have to make a judgment as to whether it's clear that the chaos will hurt growth in the region's largest economy so much that it will hamper its ability to service its debt. Credit markets are already treating Turkey's debt as junk.
"Evidence of a growth slowdown in Turkey may not materialize for several months," Phoenix Kalen and Roxana Hulea from Societe Generale said in a July 27 report. "Turkey may avoid an imminent Moody's downgrade, but it is likely to lose its investment-grade status over a 12-month horizon."

Default Swaps
The cost to insure its 5-year bonds against default was 267 basis points on Friday, more than double countries with the same rating including Slovenia and Romania, and about 50 basis points higher than junk-rated Russia. Its markets-implied credit rating is Ba3, three steps into high-yield territory, according to Moody's Analytics.
Turkish officials reject implications the turmoil is exacerbating any weaknesses that would justify a downgrade, saying the economy has proven its resilience and that they've contained the fallout from the coup attempt, which they blame on followers of Fethullah Gulen, a Turkish imam living in self-imposed exile in the U.S. They've promised a slew of measures aimed at shoring up investor confidence, ranging from a new sovereign wealth fund to lowering the cost of energy.
"The cleaning up of members of the Fethullah Gulen terrorist network from the state, armed forces and police will bring dynamism and the government will speed up reforms," Development Minister Lutfi Elvan said in an interview with Bloomberg on Tuesday. "A better investment environment will prevail."
More Time
For now, Turkey may win the benefit of the doubt, according to Nigel Rendell, a senior emerging-markets analyst at Medley Global Advisors LLC in London.
"Moody's may hold out for more time, arguing there is too much uncertainty at present to make a clear call, and wait and see how policy and events progress over the next 3-6 months," he said.
The Moody's decision is important because it's one of two investment-grade ratings Turkey needs to attract money from some of the world's largest funds. Fitch Ratings currently has an investment-grade BBB- rating for Turkey.
Estimates of how much is at stake in Turkey range from as high as $10 billion, which is JPMorgan Chase & Co.'s forecast for likely outflows following a downgrade, or as low as $2 billion, which is the figure calculated by Cemil Ertem, one of Erdogan's advisers on economic issues. 
Investments Withdrawn
Some businesses are already voting with their feet. Retail companies like Top Shop Ltd. have withdrawn, and others are expressing uncertainty about their investments. Foreign investors sold more than $900 million in Turkish stocks and bonds in the past two weeks.
"In light of the current developments, we can no longer reliably assess how the country will develop in the long-term," Josef Kaeser, chief executive officer of German industrial giant Siemens AG, said on an earnings call on Thursday.
S&P Global Inc. immediately downgraded Turkey in the wake of the coup, drawing sharp protests from officials in Ankara who thought the decision was premature.
While Deputy Prime Minister Mehmet Simsek, the nation's top economic official, said downside risks to growth had increased, he called S&P's decision "rushed and wrong," and criticized the company for not contacting Turkish officials before the downgrade.
Reforms Delayed
S&P cited a fragmenting political landscape, saying it would undermine the investment environment and growth, and lead policymakers astray from a commitment to economic reforms.
"It's difficult to see renewed reform impetus given the current preoccupation of the government with removing alleged supporters of the coup," said William Jackson, senior emerging markets economist at Capital Economics in London
Still, with so much at stake, the consensus is that Moody's will wait, according to Tim Ash, a strategist at Nomura International Plc in London.
"The future of the investment-grade rating is in the Erdogan administration's court," Ash said in an e-mailed report on Thursday. "The decision is a tough one for Moody's and they will likely want as much time as possible to think this over."
Before it's here, it's on the Bloomberg Terminal.
LEARN MORE