Trump Should Push Biofuels on Corn Belt Swing, Santorum Says
By
Republican nominee Trump backs U.S. Renewable Fuel Standard

Tactic would exploit a Clinton weakness, Rick Santorum says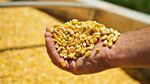 Donald Trump's campaign swing through the Corn Belt on Friday should include a hearty endorsement of U.S. renewable fuel mandates, says Rick Santorum, one of his former rivals for the Republican presidential nomination.
Santorum said Trump could bolster his credibility with Republican voters in Iowa -- and exploit one of Hillary Clinton's weaknesses -- by championing an 11-year-old U.S. program that requires renewable fuels, including conventional corn-based ethanol, to be blended into gasoline. The move also could help the Republican nominee regain his footing after days on the defensive, marked by a public feud with the parents of a slain Muslim-American soldier, his refusal to endorse House Speaker Paul Ryan before a primary election and reports of a campaign in disarray.
"When you're on offense, you have a better chance of winning than when you're playing defense," Santorum, a former senator from Pennsylvania, said in a telephone interview. "One of the things I'd certainly encourage Donald Trump to do is to go on offense on the biggest issue in the state of Iowa, and that's the issue of ethanol. Don't pass up the chance."
Designed to shrink the nation's dependence on foreign crude and curb greenhouse-gas emissions, the law pits oil companies and refiners such as Exxon Mobil Corp., Valero Energy Corp. and Tesoro Corp. against farmers in the corn-rich Midwest who are fighting to preserve the mandates. Further complicating the issue, environmentalists are divided over the value of depending on corn as a major fuel source.
Related story: As Corn Devours Prairies, Greens Reconsider Biofuel
The next president could play a key role in shaping the future of U.S. biofuel policy, because Congress only sets annual targets through 2022; after that, it is up to the Environmental Protection Agency to decide how and whether to continue quotas. Although lawmakers envisioned the program giving a boost to advanced biofuels made from algae and non-edible plant material, most of the mandate is now fulfilled by ethanol made from corn -- ensuring demand, jobs and economic activity tied to the crop. Iowa is the No. 1 corn producer in the U.S. 
Santorum won the Iowa caucuses in 2012, when he ways vying for his party's presidential nomination against Mitt Romney. But he had different luck against Trump and more than a dozen other Republican candidates this year. After a poor showing in Iowa in February, Santorum pulled out of the Republican race.
Trump already supports the Renewable Fuel Standard; while campaigning for votes ahead of Iowa's caucuses, he said the EPA should boost annual quotas.
'Back on Track'
Clinton said she supported the program in an opinion piece published in an Iowa newspaper in May, but also argued that the RFS needed to get "back on track" in a way that gives investors certainty, protects consumers, expands access to high-ethanol blends of gasoline and "drives the development of cellulosic and other advanced biofuels." After reports Wednesday that Clinton aides met with California officials to discuss the state's fuel policy -- which places a premium on low-carbon fuels -- campaign officials said the Democrat wasn't seeking to dismantle the federal program.
The issue is a vulnerability for Clinton, said Santorum. He noted that Clinton voted against the renewable fuel mandate in 2005.
"It's a good place for him to show how he connects with Iowa voters and how duplicitous Hillary Clinton is," Santorum said. "It's not just about ethanol, it's about Hillary Clinton; it's about is this someone you can trust. Trump has got a very solid and consistent record on this."
"I hope he focuses on going after Hillary Clinton on issues that matter to people in the state's he's talking at, and this would be a great opportunity for him."
Before it's here, it's on the Bloomberg Terminal.
LEARN MORE