Toyota Cuts Net Forecast as Yen Gains, Americans Snub Cars
By and
Stronger yen drags on earnings after three-year tailwind

Toyota says competition in China getting more severe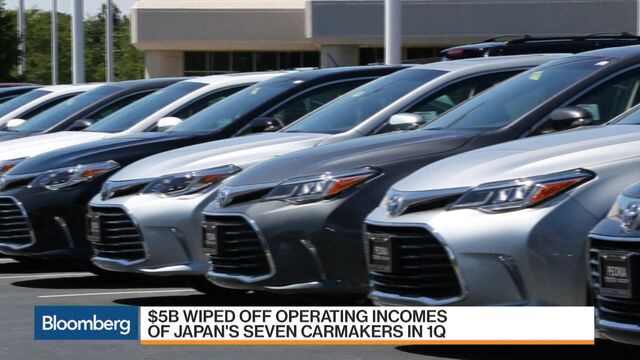 Toyota Motor Corp. lowered its fiscal-year profit forecast as a strong yen cut earnings from vehicles sold outside Japan and U.S. consumers bought fewer Camry, Corolla and Prius vehicles.
Profit will probably drop to 1.45 trillion yen ($14.3 billion) for the year ending in March, compared with the 1.5 trillion yen forecast made in May, Toyota said on Thursday. Net income in the three months through June dropped 15 percent to 552.5 billion yen, beating analysts' estimates. The automaker based its forecast on yen at 102 against the dollar, compared with 105 it assumed in May.
Every Toyota and Lexus car model on sale in the U.S. for at least a year has posted sales declines this year, a trend putting scandal-tarred Volkswagen AG on course to surpass its Japanese rival as the world's top-selling automaker. The yen has strengthened more than 18 percent against the dollar this year, making Toyota's exports less competitive and cutting the value of repatriated earnings.
"They are trying to cut costs, variable costs, overhead cost but there's not enough to offset the loss from the yen," said Steve Man, a Hong Kong-based autos analyst at Bloomberg Intelligence. "They are the most aggressive in terms of cutting the forecast. They are trying to cut as much as possible to set a lower expectation."
Pickup Push
Toyota is increasing supplies of pickup trucks and sport utility vehicles in North America, and is focused on staying disciplined with incentive spending that has been increasing slightly, Tetsuya Otake, a managing officer, said at a briefing on Thursday.

After a three-year streak of foreign-exchange rates boosting operating income, President Akio Toyoda said in May that currency tailwinds raised Toyota's earnings above the level of its "true capabilities." Toyoda, 60, is responding by reorganizing the car-making giant into smaller independent units, taking after the Lexus International luxury division carved out within the company four years ago. The aim is to speed up decision-making and respond more quickly to changes in demand.
"Things are moving so rapidly every day," Otake said, lamenting big foreign exchange rate swings.

Toyota's revenue in the three months ended in June fell to 6.59 trillion yen, compared with analysts' average estimate of 6.58 trillion yen
Operating profit for the quarter dropped to 642.2 billion yen, compared with analysts' average estimate of 520 billion yen
Prius Sales
The introduction of the redesigned Prius hybrid late last year underscores the challenge Toyota's having in responding to the whims of consumers across its biggest markets. In Japan, buyers have responded to the improved mileage and higher-tech interior by making Prius the top-selling model each month this year.
The reception in the U.S. is another story. Sales of the Prius sedan model have dropped 11 percent this year through July, and deliveries have plunged 26 percent for the broader line. Toyota said Wednesday it would postpone the start of sales for its Prius plug-in model to the winter, rather than begin Japan deliveries this autumn.
The automaker may take steps to promote sales of the new Prius in the U.S., Otake said.
Low gasoline prices also are dragging on the usual stalwarts of Toyota's car lineup, including the Camry sedan and Corolla compact. While the RAV4 and Highlander sport utility vehicles are pacing record light truck sales, weak car demand has outweighed light trucks' strength. The company's total U.S. deliveries have slumped 2.5 percent this year, trailing the industry's 1.3 percent rise.
In China, Toyota is seeing more severe competition, but will refrain from trying to force demand by increasing incentives, Otake said. The automaker delivered 689,900 vehicles in the world's largest market in the first seven months. 
Production disruptions have added to Toyota's challenges. The company said it lost output of about 80,000 vehicles due to earthquakes in Kumamoto prefecture in April, Japan's most devastating since March 2011. Factories in Japan had already been trying to recover from having to shut down for a week in February due to an explosion and fire at a steel-making affiliate.
Toyota is responding by cutting costs. After Britain voted to leave the European Union in June and investors sought refuge in the yen as a haven currency, Toyota deactivated elevators and bathroom hand dryers and cut back on air conditioning at its offices in Japan.