Stan Lee on the Worst Advice He's Ever Received
How the comics legend got into the business, got inspired to write Spider-Man, and why it took so long for Hollywood to get Marvel right.
By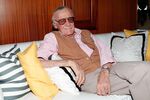 The following is a condensed and edited interview with Stan Lee, chairman emeritus, Marvel Entertainment.
 
You went into the comics business when you were 17. How did that happen?
I heard there was an opening in this publishing company. I didn't know it was in the comic book department. They published movie books, sports books, romance books, and a few comics. It was only a two-man department, Joe Simon and Jack Kirby, who worked as a team.
 
I filled the inkwells. In those days, they used ink, and that's how I started. Little by little, I would read some of the things, and I would say, "You know, that's a mistake. It ought to be worded this way." So they'd let me change the wording. Before I knew it, I was writing some stories for them.
 
What was the inspiration for Spider-Man?
First of all, I wanted him to be a teenager, because there were no teenager heroes. Then I wanted him to have personal problems. He didn't have enough money. Nobody ever asked if super­heroes had money or didn't. But this guy, he lived with his aunt who had no money. He had to help pay the rent and so forth.
 
I wanted each character to be interesting, so that the reader would care. Each had to have his or her own personality, his or her own hang-ups and quirks and problems. I thought of them as actors.
 
Steven Spielberg met me at a party, and we were talking. He said, "You know, Stan, you and I do essentially the same thing, except my pictures move." I thought that was kind of nice of him to say.
 
Why do you think it took so long for Hollywood to get Marvel movies right?
The film studios, they just didn't see it until finally Disney did. Disney has done a wonderful job. I mean, they've made these characters the biggest things in the world. They've made me seem better than I am by making the movies so good.
 
You've done cameos in all the movies. Is there any particular role that you've liked the best?
My favorite was the one, Avengers: Age of Ultron, where Thor warned me not to take a drink and I did anyway, and then the next scene I was dead drunk. They were carrying me out. [Laughs]
 
You didn't like playing the disc jockey in the strip club in Deadpool?
Oh, I loved that, except they didn't shoot that in the strip club; very frustrating.
 
What was the message you were trying to send with the X-Men?
It was an anti-bigotry story. People hated and feared the X-Men because they were different. And I wanted to show that everybody is different in some way or other, and it's wrong to hate somebody because of the difference.
 
What's the worst advice you ever got?
Listen to what your boss tells you. My boss never liked the idea of Spider-Man. He didn't want to do it. I had to sneak Spider-Man into another book, over my boss's head. Experts really know nothing.



Before it's here, it's on the Bloomberg Terminal.
LEARN MORE