ANC Stung by Cities in Worst South Africa Election Display
by , , and
Ruling party narrowly behind in capital; leads in Johannesburg

Opinion polls show coalitions may run key cities after vote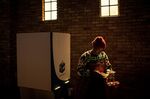 South Africa's ruling party risks losing outright control of the capital, Pretoria, and Johannesburg in its worst electoral display since apartheid ended as urban voters showed their anger over a flat-lining economy and scandals surrounding President Jacob Zuma.
While the African National Congress took a narrow lead in Johannesburg as results from its traditional strongholds in townships started to come in, its share of the national vote is set to drop below 60 percent for the first time since it swept to power under Nelson Mandela in 1994.
"It has lost ground in the urban middle-class areas, and in a country that is rapidly urbanizing, that is a threat to the ANC," Nic Borain, a Cape Town-based political analyst and adviser to BNP Paribas Securities South Africa, said by phone. "To get below 60 percent and to lose two metros would be a serious failing for the ANC, even one metro."
Still widely credited for ending white-minority rule, the ANC now faces almost daily demonstrations over the failure of the government it leads to fulfill promises to create jobs, address poverty and improve living standards. Unemployment is at 27 percent, the central bank anticipates zero growth this year and the nation's credit rating is at risk of being cut to junk by S&P Global Ratings in December. A succession of graft scandals implicating Zuma, 74, has also fueled dissatisfaction.
"It doesn't seem that the ANC is doing that badly that they will feel the need to get rid of Zuma, but they will have to do a lot of soul-searching," Melanie Verwoerd, a former ANC lawmaker and South African ambassador to Ireland, who now works as an independent political analyst, said in an interview.
The ANC fell behind in Tshwane, the municipality that includes Pretoria, with 42.3 percent of the vote, narrowly behind the Democratic Alliance with 43.4 percent, partial tallies released by the Independent Electoral Commission show. In Johannesburg, the ruling party had 42 percent support compared with the DA's 41.7 percent. The DA was ahead in the Nelson Mandela Bay municipality, which includes Port Elizabeth, with 46.7 percent support, compared to the ANC's 41.6 percent, and looks set to increase its majority in Cape Town.
Balance of Power
The Economic Freedom Fighters, which advocates the nationalization mines, banks and land, holds the balance of power in Pretoria and Johannesburg. Like the DA, it has said it is prepared to enter into coalitions with other opposition parties, but not the ANC.
"It will be very difficult for the ANC, or the DA, or even the EFF, to find anyone but each other to do a deal," Daniel Silke, director of Cape Town-based Political Futures Consultancy, said by phone. "This will result in prolonged coalition building, falling apart and rebuilding until some form of stable government is achieved in towns and cities."
The DA will start talks on forming a coalition to run the council once the vote count is complete, party leader Mmusi Maimane told reporters in Pretoria. Results from five wards were still outstanding, data on the commission's website showed.
With 13 million, or about 85 percent of the estimate of votes cast nationally in the election counted as of 2:56 a.m. on Friday, the ANC had 54.7 percent of the total support, followed by the DA with 26.6 percent, according to the commission. The Economic Freedom Fighters stood at 8 percent. The ANC had 62.9 percent in the 2011 election.
Investors Wary
The ANC has pledged to cut the budget deficit and improve the management of state companies to defend the investment-grade rating. Yet investors are still wary about its plans to introduce a national minimum wage, give the state a bigger role in the economy and to take a free stake in new oil and gas ventures.
The DA plans to remove policy uncertainty to attract investment, improve public-sector fiscal management, support small businesses in creating jobs and reform the labor market so that it's more flexible and enables companies to create positions more easily.
The rand was little changed at 13.7167 per dollar at 2:58 a.m. in Johannesburg. On Thursday, it was the best performer of 24 emerging-market currencies monitored by Bloomberg. It's still down about 40 percent since Zuma took office on May 9, 2009.
Zuma Under Pressure
Zuma has come under pressure to quit since the nation's top court ruled in March that he violated the constitution by refusing to repay taxpayer money spent on upgrading his private home. While the ANC's poor election showing will add to the pressure on him to go before his current term ends in 2019, the party is unlikely to oust him, because his allies control the party's top structures and he has appointed most of them to senior government posts.
For a table of the latest election results, click here
The partial results may not be an accurate indication of the final outcome as counting from rural areas and townships where the ANC has historically had more support tends to take longer.
"We are confident that we will keep all the metros that we've kept before," Jessie Duarte, the ANC's deputy secretary-general, said in Pretoria. "We are not worried at all."
Before it's here, it's on the Bloomberg Terminal.
LEARN MORE