business
Siemens Raises Outlook After Quarterly Profit Beats Estimate
Niclas Rolander and Julia Hirsch
Engineering company increases fiscal-year EPS guidance

Third-quarter industrial operations profit rises 20%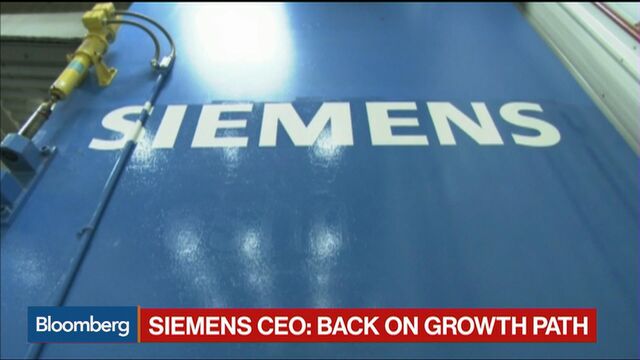 Siemens AG, Europe's biggest engineering company, raised its earnings outlook for the second time this year after posting higher-than-expected third-quarter profit and a jump in large orders for power-generating equipment.
Profit from so-called industrial operations rose 20 percent to 2.19 billion euros ($2.44 billion) in the three months through June, the Munich-based company said Thursday in a statement. Analysts had predicted an average of 2.09 billion euros, according to a Bloomberg survey.
"We are clearly back on a growth path," Chief Executive Officer Joe Kaeser said in an interview with Bloomberg TV. "On the other hand, the environment hasn't been exactly great, so we really need to work hard."
The shares rose 3.2 percent to 99.85 euros at 9:30 a.m. in Frankfurt, taking the increase since the start of the year to 11 percent.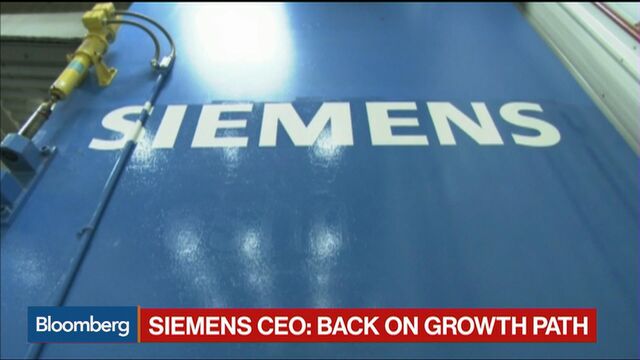 Focus on Energy
Kaeser is shifting the company's focus to energy markets, agreeing in June to merge its wind-turbine business with Spain's Gamesa Corp. Tecnologia SA to rival Vestas Wind Systems A/S as the world's largest wind-turbine company by installed capacity. Siemens has also spent almost $9 billion on buying oil and gas equipment specialist Dresser-Rand Inc. and Rolls-Royce Holdings Plc's energy unit. Following the steep decline in crude oil prices, energy companies and their equipment suppliers have been hit by a decline in new projects.
Integration of Dresser-Rand is going well and the merger with Gamesa will result in a "huge amount" of savings to make it cheaper to deploy renewable power projects, Kaeser said in the interview.
The company, which also makes trains and health-care equipment, raised its forecast for earnings per share for the full year to between 6.50 euros and 6.70 euros compared with the previous range of between 6 euros and 6.40 euros. It kept other guidance including for the industrial business profit margin to be within a range of 10 percent to 11 percent. It was 10.8 percent in the latest quarter.
Cost Savings
The results are "a strong set of numbers with good earnings quality," Morgan Stanley analysts including Ben Uglow wrote in a note. The company is doing well executing its projects, they said.
Cost savings this year will likely be 1 billion euros, according to Chief Financial Officer Ralf Thomas. Siemens has previously said it was aiming for 950 million euros.
Like many other European manufacturers, Siemens is facing a challenging global market amid a slowdown in Chinese growth and a slump in commodity-related investments. In response, the engineering giant has announced thousands of job cuts.
Revenue in the third quarter rose 5 percent to 19.8 billion euros and orders rose 6 percent to 21.1 billion euros with the help of large power and gas contracts as well as wind-turbine orders for projects like the East Anglia ONE offshore wind farm off the English east coast.

For the 11th straight quarter, Siemens' book-to-bill ratio was above 1, meaning it's taking orders for more products and services than it is delivering. In the third quarter, Siemens booked a $800 million contract to supply turbines and generators for a gas-fueled power plant in Ohio, and got an order worth 500 million euros for the expansion of three power plants in Bolivia.
Siemens in January unexpectedly increased its full-year outlook as Kaeser said he was confident the company would be able to ride out a slowdown in China and the drop in oil prices.
"The drop in the oil price means that we, as a supplier to the industry, don't
expect the business to take off in a major way in the short-term," CFO Thomas said. "We've been achieving great synergies already, and expect to continue to do so. We're making the best of the situation."
Siemens, which has some 14,000 employees in the U.K., has warned against the consequences of Britain leaving the EU. In the interview, Kaeser said he and other senior company managers went to the country two days after the referendum to urge politicians for "clarity" on the plans.
"We made it very clear that we are there for our customers, we are there to stay and there is no change in plans for the current projects," the CEO said. Once the conditions for a British exit from the union are known, "we'll look at it, and may or may not reconsider, but we need to have clarity."
— With assistance by Anna Edwards, Elco Van Groningen, and Elisabeth Behrmann
(
Adds shares in fourth paragraph.
)
Before it's here, it's on the Bloomberg Terminal.
LEARN MORE