Siemens CEO Sees Political Upheaval Threatening Future Orders
Niclas Rolander and Julia Hirsch
CEO warns Brexit, Turkish crackdown, terrorism can hurt demand

No longer possible to assess Turkey's development, CEO says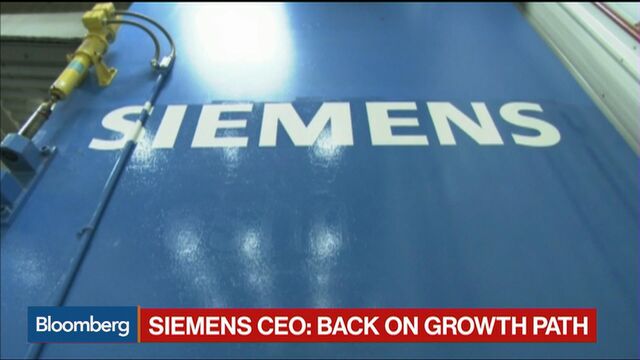 Fresh from raising the earnings outlook for a second time this year, Siemens AG Chief Executive Officer Joe Kaeser struck a more cautionary tone for the German engineering company, saying rising political uncertainty in countries like the U.K. and Turkey is clouding prospects for keeping the order books full.
"Uncertainties will create restraint and restraint will weaken the investment climate," the CEO said Thursday at a press conference in Munich about third-quarter earnings. "At the end of the day, this will mean that we will receive fewer orders."
Kaeser's worries about the future came as the German company with employees in 200 countries painted a rosier picture of operations in the latest quarter, when it raised its full year outlook after a 20 percent jump in profit. Yet just as the reporting period was ending, the U.K. voted to leave the European Union, Turkey had a failed military coup and France and Germany were rocked by deadly terrorist attacks.
For more on Siemens third-quarter earnings, click here
The resulting unpredictability arising from these events will be taken into consideration when Siemens provides an outlook in November for the next fiscal year, Kaeser said Thursday.
Record Orders
While he didn't provide clues about that future guidance, contracts for heavy equipment like trains and electricity-generating gas and wind turbines are key to future growth and profitability.
At the end of June, Kaeser had in hand the company's largest-ever order backlog at 116 billion euros ($129 billion). For the 11th straight quarter, Siemens' book-to-bill ratio was above 1, meaning it was taking orders for more products and services than it delivered.
"The prioritization of order generation is now higher with him being at the helm," said MainFirst analyst Daniel Gleim. "This is clearly bearing fruit and in my opinion this is going to continue."
Siemens shares were 4.2 percent higher to 100.85 euros at 1:35 p.m. in Frankfurt, giving the company a market value of 86 billion euros.
To allow the pipeline to grow, Siemens will need to bag more contracts like an $800 million agreement to supply turbines and generators for a gas-fueled power plant in Ohio and another for wind turbines for the East Anglia ONE offshore wind farm off the English east coast.
Brexit Clarity
Siemens, which has some 14,000 employees in the U.K., warned against the consequences of Britain leaving the EU ahead of the June 23 Brexit referendum. In an interview with Bloomberg TV on Thursday, Kaeser said he and other senior company managers went to the country two days after the vote to urge politicians for "clarity" on the plans.
"We made it very clear that we are there for our customers, we are there to stay and there is no change in plans for the current projects," the CEO said. Once the conditions for a British exit from the EU are known, "we'll look at it, and may or may not reconsider, but we need to have clarity."
Kaeser also warned about the situation in Turkey, another hot spot for the company where a failed attempt last month to overthrow President Recep Tayyip Erdogan led to hundreds of deaths and sparked a purge of thousands of teachers, judges, police and military personnel.
"Turkey is an important market for Siemens," Kaeser said. "After the current events, we can no longer reliably assess how the country will develop in the long term."
Before it's here, it's on the Bloomberg Terminal.
LEARN MORE