Ryan's Balancing Act With Trump Risks Damaging Speaker's Brand
By
Republican leader says he criticizes nominee to defend party

Ongoing spat is reminder of deeper splits among Republicans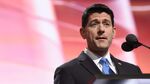 House Speaker Paul Ryan said Thursday that his approach to Donald Trump -- repeatedly blasting his controversial remarks while still backing the Republican presidential nominee -- is aimed at defending his party.
But Ryan is finding himself caught between two forces at odds within the party: the millions of Republican voters drawn by Trump's style and message who resent Ryan's criticisms, and the old-guard that wants even greater distance from the candidate. That tension puts at risk Ryan's brand as a serious policy wonk who can lead the party in Trump's wake, whether the real-estate mogul loses or wins the election.
"I don't like doing this; I don't want to do this," Ryan told a Wisconsin radio station. "But I will do this because I feel I have to in order to defend Republicans and our principles so that people don't make the mistake of thinking we think like that."
When Ryan says "we think," he does appear to reflect a growing portion of a Republican establishment alarmed at Trump's volatility on the campaign trail and worried that his outbursts could hurt the party in congressional races and elsewhere. This week, Richard Hanna of New York became the first Republican member of Congress to endorse Hillary Clinton, although Hanna is retiring at the end of the year. Other prominent Republican lawmakers have said they won't support Trump while stopping short of endorsing the Democratic nominee.
But Ryan's "we" may not include a majority of Republican voters at this point.
"I suspect the cost for Ryan is in the future," Sarah Binder, a congressional expert at the Brookings Institution in Washington, said. "Any national aspirations require expanding the appeal of the GOP label to a broader electorate, including women, non-white, and college-educated voters. Refusing to cut ties with Trump could potentially tarnish the GOP label for years to come."
'Hurts Ryan'
"I think everything about this hurts Ryan," adds New York state-based pollster John Zogby. "If Trump wins, it's not really a Republican victory, so to say. And if Trump loses, it makes Ryan the head of all the king's horses and men."
"And good luck putting them back together again," he added.
Two months after Ryan endorsed Trump, the pair have, if anything, grown further apart. There aren't any public photos of the two together -- and Ryan's office says it isn't aware of any -- even though Ryan chaired the convention that formalized Trump's nomination.
On Tuesday, Ryan faces a primary challenge notable mostly for his opponent's attack on the speaker for not backing Trump. While Ryan is expected to prevail, Paul Nehlen blasted him this week for his "repeated betrayal" of the party's nominee.
Ryan "wants to immunize his own reputation and the GOP brand name from Donald Trump -- but without losing the votes of Trump's GOP supporters," Binder said. "My hunch is that Ryan's brand name back home is strong enough to withstand the waffling, particularly in a district that went for Cruz not Trump."
'Sick and Tired'
Even so, conservative commentators are already starting to blame Ryan and other establishment Republicans as a series of polls show support for Trump sliding.
"If in 96 days Trump loses this election, I am pointing the finger directly at people like Paul Ryan and Mitch McConnell and Lindsey Graham and John McCain and John Kasich and Ted Cruz if he won't endorse -– and Jeb Bush and everybody else that made promises they're not keeping," Fox News Channel host Sean Hannity said on his show Wednesday night. "Sorry, you created Donald Trump, all of you because of your ineffectiveness, because of your weakness, your spinelessness, your lack of vision, your inability to fight Obama. Your fear of being blamed for a government shutdown and I'm getting a little sick and tired of all of you."
Ever since Ryan took a month to deliberate before reluctantly backing Trump, Ryan has tried to maintain this awkward balancing act toward his party's nominee.
The latest incident was sparked by Trump's attacks on the parents of U.S. Army Captain Humayun Khan, who was killed in Iraq in 2004. Ryan responded with a statement defending Khizr Khan, who spoke at the Democratic convention about his soldier son, saying in a his son's "sacrifice should always be honored. Period." In the same statement, Ryan said he rejects any "religious litmus test for entering our country," another swipe at Trump.
On Tuesday, Trump then came out saying he wasn't ready to back Ryan over Nehlen, his challenger in Tuesday's upcoming Republican primary in Wisconsin for Ryan's congressional seat. 
In doing so, Trump pointedly used almost the identical language Ryan had used in May when still hedging on endorsing Trump. "I'm not quite there yet." The next day, Trump's running mate, Mike Pence, endorsed Ryan, saying Trump encouraged him to do so.
Trump confirmed his conversation with Pence during a rally Thursday, adding, "Paul Ryan's a good guy, actually." When the crowd booed, he added, "No, he's a good guy."
Ryan, however, isn't scheduled to join Trump when he speaks at a rally in Green Bay, Wisconsin on Friday.
The campaign's rift with the Republican establishment also goes beyond Ryan. Trump also declined to back Republican senators John McCain of Arizona and Kelly Ayotte of New Hampshire this week. And Pence, asked on NBC Thursday whether he backed the pair in their primaries, demurred. "I look forward to supporting Republican candidates in the days and weeks ahead all over the country and so does Donald Trump."
Tough Spot
Zogby says that Ryan is in a no-win situation and is probably doing the only thing he can as speaker, which makes him the highest ranking party official.
On the one hand, Zogby says Ryan has to back the man who clearly won his party's primary "because once you go down the road to dissing democracy, oh my God! You open the door to so many problems."
But Ryan, who has his eye on leading the Republican Party in the wake of a possible Trump defeat, doesn't want to be associated with Trump's more controversial remarks and policies, Zogby adds.
In the end, Zogby said that Ryan's goal of preserving party unity may be a lost cause. 
Regardless of whether Trump wins or loses in November, "I am of the belief the party itself can't be put back together again. It is hopelessly split and adrift," he said. "And how can that make Ryan a winner?"
Before it's here, it's on the Bloomberg Terminal.
LEARN MORE