The Challenger
Ryan Rival Seeking to Use Bad Blood With Trump Against Speaker
A top Trump aide said Paul Nehlen isn't going to win, but the challenger is drawing increasing attention ahead of Tuesday's primary, a contest that's become a small-stage enactment of the battles within the party.
By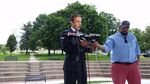 The growing fissures in Donald Trump's Republican Party are on full display among the small towns, manufacturing plants, and rolling farmland of southeast Wisconsin's 1st Congressional District, House Speaker Paul Ryan's home base.
Paul Nehlen, Ryan's longshot rookie campaign challenger in Tuesday's primary, is seeking to leverage the Republican presidential nominee's troubled relationship with the speaker in a contest that's become a small-stage enactment of the battles within the party.

Paul Manafort, Trump's campaign chairman, said Thursday that Nehlen isn't going to win, yet earlier in the week, Trump inflamed the situation by praising the challenger and withholding his endorsement of Ryan, the party's top elected official and 2012 vice-presidential nominee. Ann Coulter, another anti-establishment figure, plans to show up this weekend to campaign for Nehlen, pouring more fuel on the fire.
Nehlen, a small businessman with Tea Party movement ties, is presenting himself as a more conservative option than Ryan.
"Speaker Ryan's repeated betrayal of Donald Trump is an act of sabotage against our party, an act of sabotage against our Republican electorate who selected Mr. Trump as our nominee," Nehlen told reporters Wednesday outside a courthouse a few blocks from Ryan's home in Janesville. "Ryan's efforts to undermine the Republican nominee, who he pretends to have endorsed, is exactly the kind of two-faced dishonest politics that represents what's wrong with Washington."
With less than a week until the primary, Nehlen is trying to exploit the national attention he's received after Trump praised him on Twitter, then told the Washington Post that he was "not quite there yet" in terms of endorsing Ryan. That language pointedly echoed words Ryan used earlier this year as he spent several weeks weighing his eventual endorsement of Trump, a lukewarm backing that's included plenty of disagreements.
Manafort acknowledged on ABC News that "there's a conflict within the Trump campaign," with vice-presidential nominee Mike Pence endorsing Ryan on Wednesday. "We've sort of had a rule of not getting involved in primaries because it's usually not a good situation for the presidential candidate," Manafort said.
Trump will work with Ryan, Manafort said. "But Ryan is also running against somebody who's not going to win but nonetheless is a strong supporter of Mr. Trump."
The challenge to Ryan has parallels to a June 2014 Virginia primary that ended with then-House Majority Leader Eric Cantor losing a primary to Dave Brat, a barely known Tea Party opponent. There is one major difference: Ryan hasn't taken the race or district for granted.
From mid-July through Aug. 1, his campaign ran 729 broadcast television spots in the district's two largest television markets, Milwaukee and Madison, at an estimated cost of about $500,000, data from Kantar Media/CMAG shows. 
Reflecting his campaign's strategy not to engage with Nehlen, Ryan's ads haven't mentioned his opponent. There are also no debates scheduled before Tuesday's primary.
As of July 20, the speaker had $9.5 million in his campaign account, compared to $175,000 for Nehlen.
Ryan, who is often mentioned as a potential 2020 presidential candidate should Trump fail in his White House quest, was first elected to the House in 1998. His district isn't quite as conservative as the state's four other Republican-held ones, even narrowly backing Illinois neighbor Barack Obama in 2008.
Besides kind words from Trump, Nehlen also has the backing of former Alaska Governor Sarah Palin, the party's 2008 vice-presidential nominee, and firebrand former Colorado Representative Tom Tancredo.
Outside observers say Ryan likely has little to worry about. In June and July polling, he was viewed favorably in his congressional district by 84 percent of Republicans and independents who lean that way, according to one of the top polls in the state.
"Nehlen has enjoyed much greater notoriety in his campaign than most challengers enjoy, not to mention the late developing mentions by Donald Trump," said Charles Franklin, director of the Marquette University Law School poll. "Still, it would seem to take a low turnout among Ryan supporters and a very large surge among party dissidents to make this race competitive."
Ryan has been endorsed by all of the Republican state lawmakers in the district, as well as four Republican sheriffs and groups opposing abortion, his campaign says.
"Paul Ryan has always been focused on Wisconsin and it shows with the wide range of local support he has received," campaign spokesman Zack Roday said in a statement. "His support comes from Wisconsinites. The same cannot be said of his opponent."

Nehlen is an Ohio native who moved to Wisconsin eight years ago, according to the Associated Press.
With little name recognition and minimal campaign signage in the district, Nehlen has been shunned by the Republican establishment in a state home to three of the nation's most prominent Republicans: Ryan, Wisconsin Governor Scott Walker, and Republican National Committee Chairman Reince Priebus.
Nehlen's campaign declined to make him available for an interview, or share details about any retail campaigning stops on Wednesday. He answered two questions from reporters at the news conference near Ryan's home, after giving the media six he said should be asked of the speaker.
Trump is scheduled to visit Wisconsin on Friday, giving him a prime opportunity to endorse Ryan or tweak him some more. That event in Green Bay isn't expected to draw the state's top three Republicans: Ryan, Walker, and U.S. Senator Ron Johnson, according to the Milwaukee Journal Sentinel.
Trump's running mate, Indiana Governor Mike Pence, told Fox News on Wednesday that he's backing Ryan, while Walker told the Milwaukee newspaper he's "100 percent" with the speaker.
Jeannine Hanson, 62, a retired medical writer and nurse who lives a few blocks away from Ryan and has one of his campaign signs in her yard, said she isn't too concerned about Nehlen.
"We have a seat at the table because he's the speaker of the House," she said. "Do you really want to give that up?"
Before it's here, it's on the Bloomberg Terminal.
LEARN MORE