Randgold Fights to Keep Gold Target After African Mine Setbacks
by
Company sees full-year production at lower end of target range

Shares drop most in four years as quarterly profit falls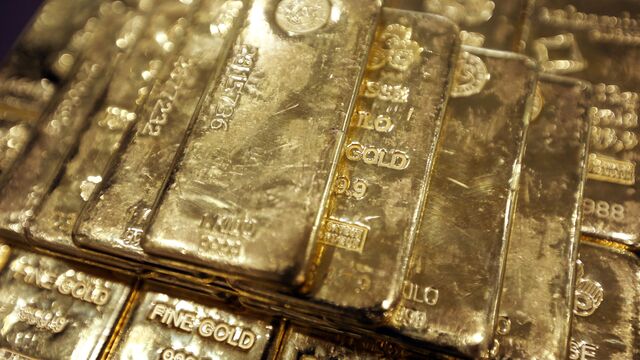 Randgold Resources Ltd. is fighting to meet its full-year production target after operational problems at two of its African mines led to lower gold output and profit. The shares dropped the most in four years.
Second-quarter gold production slipped 6.2 percent after a milling-circuit breakdown at its Tongon mine in Ivory Coast and technical issues at its Kibali project in the Democratic Republic of Congo, the company said Thursday. It now sees full-year output in the lower half of its 1.25 million to 1.3 million-ounce target range, while costs will be in the upper half of its range.
"We had a difficult quarter," Chief Executive Officer Mark Bristow said in an interview in London. "We've kept our guidance. The only danger is Morila," he said, referring to the Mali mine the company is closing. Randgold is still waiting for approval to mine a deposit there that's scheduled to add 40,000 ounces this year.
The Jersey, Channel Islands-based producer fell as much as 12 percent in London, the most since March 2012, to 7,900 pence and traded at 8,035 pence by 9:01 a.m.
The shares have still almost doubled this year as gold surged on demand for a haven amid expectations the Federal Reserve will keep interest rates low and as other central banks pledged more stimulus to bolster economies following Britain's vote to exit the European Union. Randgold is one of the best-performing gold miners in the past decade and has built a reputation for delivering on its goals.

The company today reported second-quarter profit dropped 8.5 percent from a year earlier to $49 million. Sales were little changed at $354.4 million, while the cost of mining bullion rose 6.3 percent to $727 an ounce. Gold prices have jumped 27 percent this year to about $1,350 an ounce.
"The result was slightly softer than we had expected," Investec Plc said in a note to investors. "The second half will require some catch-up to meet full-year 2016 guidance."
Randgold, which has built a cash pile of $272.7 million, will consider changing its dividend policy or payout ratio when it accumulates $500 million. That could happen by early next year, Bristow said.
"We've had a bad quarter operationally, but we're still highly profitable on all fronts," he said.
Before it's here, it's on the Bloomberg Terminal.
LEARN MORE