Kuroda Rains on Super-Long Bond Party for Firms as Rates Surge
by and
Market speculation for BOJ policy changes has sent rates up

Haste to buy long debt is fading, PineBridge Investments says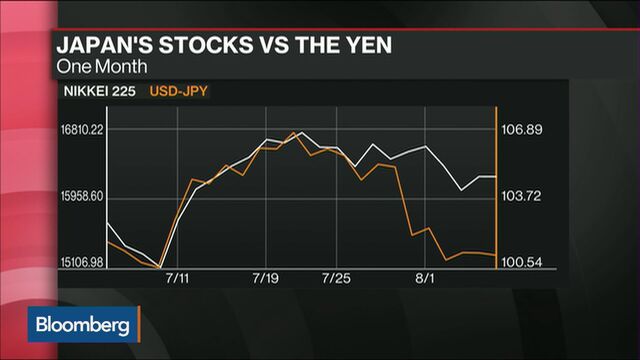 Japanese companies keen to lock in ultra-low borrowing costs for the next couple of decades face the risk that their best opportunity to do so is slipping away.
Investors may shy away from longer notes amid concerns the Bank of Japan could cut purchases of super-long debt, threatening to end a recent surge in issuance of yen-denominated bonds due in 20 years or more, according to Daiwa Securities Group Inc. The yield on corporate securities of 15 years or more rose 13 basis points in July to 0.49 percent, with investors losing 1.94 percent in the period, data from Nikko Research Center show. The jump in yields exceeded the 5 basis-point increase on short-term debentures.
BOJ Governor Haruhiko Kuroda said last week the central bank will review its stimulus measures by its next meeting in September, which has led to speculation it could push up longer-term market interest rates, according to Bank of America Corp. and Daiwa. Another step the BOJ could take is to abolish its negative interest-rate policy, which would also slow the rush into longer debt that below-zero yields had fueled, according to PineBridge Investments LP.
"Investors will wait more before buying longer-term corporate bonds if rates are rising," said Tadashi Matsukawa, the Tokyo-based head of fixed-income investment at PineBridge Investments Japan in Tokyo. "When rates were tumbling there was a feeling that people would buy anything as long as they had positive yields. That haste is disappearing."
For a primer on the BOJ's policy review, click here.
While investors have grown more cautious and demanded more compensation for holding longer debt, data from July show that borrowers rushed to lock in rates even after they increased from record lows.
Narita International Airport Corp. sold 10 billion yen of 20-year bonds on Friday at a coupon of 0.427 percent. The yield on Japan's 40-year bond rose 44.5 basis points to 0.49 percent Thursday from a record low of 0.045 percent on July 6.
"Even with interest rates going up, they are still at a low level," Hisashi Kawada, an executive director at the debt capital markets department of Nomura Securities Co., Japan's largest securities firm, said by e-mail Thursday. "We still see demand from issuers to sell longer bonds."

Issuance of securities maturing in 20 or more years rose almost five times from June in the month to 985 billion yen ($9.7 billion). Such offerings have more than doubled to 2.43 trillion yen this year, compared with the same period in 2015, as the BOJ's adoption of negative rates in January fueled a hunt for yield.
That rush has left investors holding a greater amount of riskier debt, adding to the potential for pain in any selloff. The move toward zero yields on all Japanese government bonds earlier this year opened the door for even lower-rated issuers to sell longer bonds.
Lower Quality
At least 16 Japanese companies with ratings in the single A zone from Rating & Investment Information Inc. sold securities of 20 years or more this year, compared with none last year at that credit evaluation. Those figures don't include subordinated bonds, whether long-term or perpetual notes, mainly from financial institutions, which rose to 19 issues this year from six for all 2015.
"Investors had been lulled into believing that interest rates would stay low or decline further and bought long-term corporate notes," said Toshiyasu Ohashi, the chief credit analyst at Daiwa. "Companies may want to continue to sell super-long bonds, but there may not be much appetite for them."
Before it's here, it's on the Bloomberg Terminal.
LEARN MORE