markets
Jokowi Premium Returns to Indonesia as Stocks Lead Gains in Asia
By and
President gaining credibility with investors: Samsung Asset

Jakarta Composite Index advances 9 percent in past month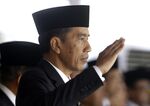 The on-again, off-again relationship between Indonesian President Joko Widodo and international investors is definitely back on.
The Jakarta Composite Index rose 9 percent in the past month, the most in Asia, after the passage of a tax amnesty bill that was seen as a test of the president's authority and as he appointed the reformer Sri Mulyani Indrawati as finance minister. Indonesian stocks have been climbing since last October and got a boost as Britain's vote to leave the European Union spurred speculation of more developed-nation stimulus.
They've had a rollercoaster ride since Widodo, a political outsider who rose from humble roots and is known as Jokowi, declared his intention to run for president in early 2014. The JCI surged 22 percent that year on optimism he would bring his can-do approach as Jakarta governor to reforming the economy, prompting talk of a Jokowi premium, before giving up more than half of those gains last year as he struggled to get infrastructure projects started or meet an ambitious tax collection target.
"Jokowi is in the second year of his five-year term and he's gaining credibility," said Alan Richardson, a Hong Kong-based fund manager at Samsung Asset Management. "We're starting to see some kind of virtuous cycle taking place, helped by the reallocation of capital flows from developed to emerging markets, of which Indonesia is attractive."

Aided by their relative lack of exposure to Europe, Indonesian stocks have lured $1.4 billion of foreign funds since the end of June. The JCI is up 18 percent this year and is trading at 16 times its 12-month projected earnings, the highest since May 2013. Its valuation premium over the MSCI Emerging Markets Index is 32 percent, the widest since February. The benchmark gauge closed up 0.9 percent on Friday.
Optimism on growth is also aiding sentiment, with Southeast Asia's largest economy expanding 5.18 percent year-on-year last quarter, according to data released Friday. That was ahead of the 5 percent median estimate in a Bloomberg survey and the 4.92 percent growth in the first three months.
Indrawati, who was finance minister from 2005 to 2010, returns to the role after spending six years as one of three managing directors at the World Bank. She successfully steered Indonesia through the global financial crisis, helped spur investment and restructured the tax office.
Her appointment is seen as boding well for the tax amnesty, which is aimed at luring undeclared money back to Indonesia to buttress the budget as well as bringing companies and individuals into the tax system for the first time. The central bank sees it delivering 560 trillion rupiah ($43 billion) of inflows.
'Strong Individuals'
"The new finance minister is very well regarded," said Soo Hai Lim, an investment director at Baring Asset Management (Asia) Ltd. in Hong Kong. "People have warmed to Jokowi's ability to push for things that he wants to do. He has strong individuals in the cabinet to help him deliver his reform agenda."
While second-quarter results contained more negative than positive surprises, the analyst mood has become brighter and earnings should improve this quarter, Peter Sutedja, an analyst at CIMB-GK Securities Pte in Jakarta, wrote in a note on Wednesday.
Alvin Pattisahusiwa, director of investment at PT Manulife Aset Manajemen Indonesia, which oversees 48 trillion rupiah, forecasts the JCI will advance a further 13 percent by the end of 2017. The recent rally has been driven by an increased flow of funds to emerging markets on stimulus expectations, he said.
"But investors are normally moving based on their expectations for the next six months to a year, so this is signaling an improvement in their earnings expectations."
Amnesty Risk
John Rachmat, head of research at PT Mandiri Sekuritas, who raised Indonesian stocks to overweight last week, said there's a risk the tax amnesty won't be as successful as the central bank forecasts. Much of the current optimism is based on the assumption the president will give Indrawati free rein to set economic policy and if this doesn't happen there'll be a deterioration in sentiment, he wrote in a July 27 note.
The budget is still under pressure, with Indrawati revising this year's deficit projection to 2.5 percent of GDP from 2.35 percent on Thursday.
Still, Indonesia's political stability, compared with many of its emerging-market peers such as Brazil, Turkey, South Africa and Malaysia that are grappling with crises, is endearing it to international investors.
"The stars are aligned in favor of Indonesia right now," said Jeffrosenberg Tan, associate director at PT Sinarmas Sekuritas in Jakarta. "We've got the right people handling the economy and with the tax amnesty coming in, the outlook is bright."
(
Updates with market close.
)
Before it's here, it's on the Bloomberg Terminal.
LEARN MORE