Japan's Top Steelmaker Cedes Crown to Arcelor as Yen Soars
by
Nippon Steel yields top spot as most valuable global producer

Climbing yen hurts Japanese producers' sales in export market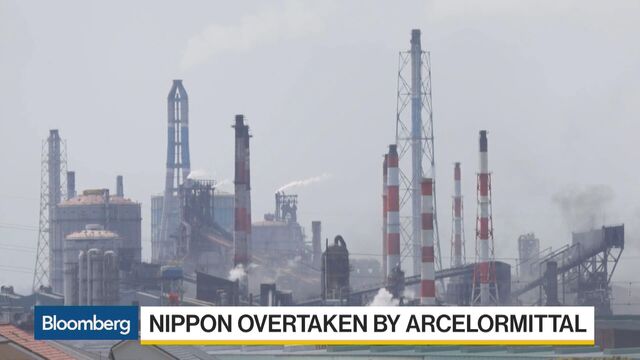 Japan's biggest steelmaker is top of the pile no more, as a resurgent yen hands a competitive advantage to overseas rivals amid an unprecedented global glut.
Nippon Steel & Sumitomo Metal Corp. has been overtaken as the world's most valuable producer by Europe's ArcelorMittal and is neck and neck with a revitalized Posco in South Korea for second place. In China, meanwhile, signs are emerging that the government is set to combine its biggest mills into two national champions, each far surpassing Nippon Steel in terms of output.
The biggest steelmakers in Japan, including Nippon Steel and JFE Holdings Inc., will increasingly have to look for opportunities overseas as the population shrinks and the economy stagnates in a home market that they've long dominated. The yen's rapid appreciation has hurt them in export markets where they draw more than a third of their sales. JFE's Chief Executive Officer Eiji Hayashida has said the company needs to seek foreign deals to thrive beyond the construction boom planned for the 2020 Tokyo Olympics.

"The currency is the defining factor showing the contrast between mills in Japan and overseas," said Yoku Ihara, president of Growth & Value Stock Research of Japan. "When international prices dropped, a weaker yen helped domestic steelmakers counter the impact. Now, a stronger yen and low prices are a double-whammy."
Top Performer
The yen is the best performing major currency this year with a gain of 19 percent against the dollar and Japan's top mills last week posted quarterly losses and warned of deteriorating conditions. Luxembourg-based ArcelorMittal, meanwhile, reported its best quarter since 2014, while Posco saw profit rise 47 percent as it rode a recovery in steel prices and a weakening in the won.
Nippon Steel traded 0.5 percent higher at 1,913 yen as of 10:28 a.m. in Tokyo. The Japanese producer has fallen 21 percent this year, while Arcelor has surged 86 percent and Posco has advanced 31 percent over the period.
The price of hot-rolled steel coil in China has climbed 38 percent this year, an increase which has rippled through world markets. Mills in Japan feel less benefit because they sell a greater proportion of their products on long-term contracts than rivals such as Posco, according to Keiju Kurosaka, an analyst at Mitsubishi UFJ Morgan Stanley Securities Co.
Even as world steel markets have risen, Nippon Steel's average product price fell 18 percent to 68,100 yen ($672) a metric ton in the three months through June from a year earlier, and the company has forecast a further decline to 66,000 yen this quarter. JFE's price slumped 20 percent to 58,500 yen a ton and it predicted 58,000 yen in the three months through September.
"We have ended up with an extremely regrettable result," Toshiharu Sakae, executive vice president of Nippon Steel, said last week after the company announced earnings.
More pain could be on the way. The Japanese currency climbed above 100 yen to the dollar in June for the first time since 2013 and some forecasters reckon a strengthening toward 90 yen is possible. Nippon Steel's outlook is based on an exchange rate of 100 yen, while JFE's is 105 yen. The currency last traded around 101 to the dollar.

China is the epicenter of the global steel glut and is shipping its surplus overseas at record rates in the face of slowing domestic growth. Exports last year exceeded the total produced by Japan, the second-largest supplier.
The nation is considering a sweeping overhaul of its steel sector that would merge major producers into two national champions located in the north and south, according to people familiar with the plan. Hebei Iron & Steel Group and Shougang Group would be combined into Northern China Steel Group, while Shanghai Baosteel Group and Wuhan Iron & Steel Group would be folded into Southern China Steel Group, they said.
While two such giants on Japan's doorstep may have the economies of scale to pose an even greater threat to its exporters, any capacity cuts that result from the move could bolster prices and fatten margins.
China has pledged to trim overcapacity by as much as 150 million tons through 2020. Chinese steel mergers would bolster those efforts and pressure local governments to retire smaller mills, lifting prices and helping steelmakers in Japan, according to Kazuhiro Harada, senior analyst at SMBC Nikko Securities Inc.
"I don't think the emergence of a giant mill in China will have a significant negative impact on Japanese steelmakers," Harada said, referring to the possible combination of Shanghai Baosteel Group and Wuhan Iron & Steel Group. "The benefits will be bigger."
Before it's here, it's on the Bloomberg Terminal.
LEARN MORE