India Races to Implement Epic Tax Reform
by and
'Always good to set stiff targets and try meet them': Jaitley

Around 60,000 state and federal tax collecters to be trained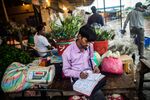 After Indian lawmakers took a decade to agree on the nation's biggest tax reform in modern history, Prime Minister Narendra Modi is racing to get it implemented in less than eight months.
"We are going to try to make it reasonably as quick as possible," Finance Minister Arun Jaitley told reporters in New Delhi on Thursday. "It is always good to set stiff targets and try meet them, rather than have no targets at all."
Modi's government set a target date of April 1, 2017, for a goods-and-services tax known as GST to take effect. The announcement came a day after he won unanimous support in parliament's upper house for a constitutional amendment that will unify India's 1.3 billion people into a single market for the first time, eliminating a number of taxes that inhibit trade between India's various states.
Here is the timeline, and challenges that may hold things up:
In The Next Few Months:
At least 16 states to ratify the bill in about a month
President to give his assent on constitutional amendment
Cabinet to approve the formation of GST Council
GST Council to recommend model GST laws
Cabinet to approve GST laws
By December:
Federal and state governments to approve their respective laws
Back-end and front-end IT systems to be ready
Roughly 60,000 officers to be trained on GST laws
By March 2017:
Training to be done on IT systems
Outreach program with industry
Testing and integration of GST front-end and back-end IT systems
New tax set to roll out from April 1, 2017
Possible Roadblocks:
Calculating the revenue base of states and the federal government
Determining compensation to be paid to states
Making rate structure
Agreeing on the list of exempted items
Forming a consensus on model GST bill
Dividing powers between state and federal agencies for administering GST
Before it's here, it's on the Bloomberg Terminal.
LEARN MORE