Critics Say the Fed Is Being Held 'Captive' by Financial Markets
by
Citigroup's Buiter says Fed is 'captive' of financial markets

Fed disagrees, saying it's focused on Main St. and the economy
It's the Greenspan put gone wild. Or so the Federal Reserve's critics would have it.
No longer is the Fed just waiting for financial markets to be hit by a bout of turbulence and then lowering interest rates in response -- as former Chairman Alan Greenspan did. Instead, the critics contend, it's become so sensitive to the risk of sharp market moves in the future that it's pulling its policy punches now by repeatedly holding off on raising rates.
"They used to respond, I think excessively, to what financial markets did," said Willem Buiter, chief economist at Citigroup Inc. and a former policy maker at the Bank of England. "Now they don't act in response to the fear that they have of how the market might respond to their actions."
New York Fed President William Dudley suggested earlier this week that the central bank is paying close attention to how its possible policy moves might play out in the currency and other financial markets. The risk in such a strategy is that the Federal Open Market Committee loses credibility and finds itself increasingly hamstrung in carrying out policy, said investment analyst Jim Bianco.
Running Policy
"The market now thinks it runs monetary policy," said Bianco, president of
Bianco Research LLC in Chicago.
In a Bloomberg Television interview on July 29, Buiter put it another way: "The Fed more than any serious central bank unfortunately appears to be the captive of the financial markets."
Fed officials have regularly denied that there's anything like a central bank "put" -- options-trading parlance for an implicit guarantee that the Fed wouldn't let stocks fall too far -- or that they're led around by financial markets. They do pay attention to what's going on in markets because of the knock-on effects that can have on consumers, companies and the overall economy.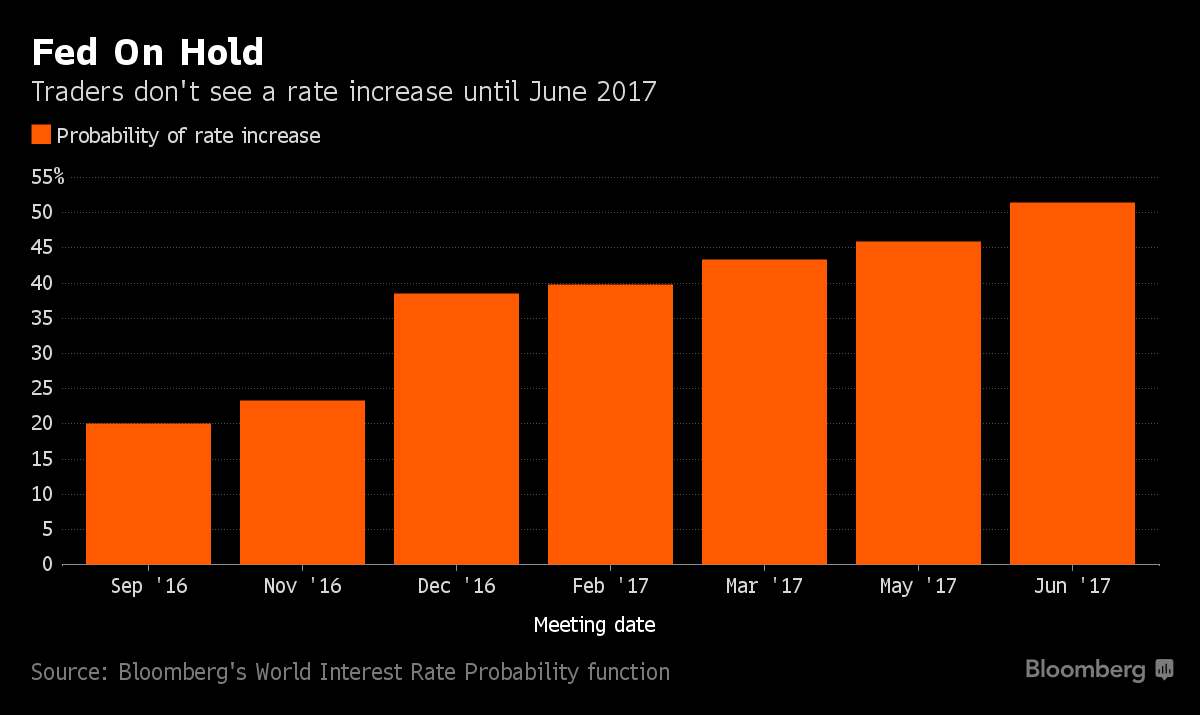 "We are focused on Main Street, on supporting economic conditions -- plentiful jobs and stable prices -- that help all Americans," Fed Chair Janet Yellen said in an interview with Time Magazine published on April 13.
By becoming more open about its intentions, the Fed is also seeking to better align the markets with its thinking so that investors respond to developments in the economy the same way it does.
Policy makers in late-July left interest rates unchanged for the fifth straight meeting after increasing them in December for the first time in almost 10 years. Pricing in federal funds futures imply only a 39 percent chance of a rate increase by the end of this year.
Officials may be paying careful attention to how investors might react to their monetary moves because they believe the markets are more skittish than in the past.
"In the current environment of sluggish global growth, low inflation and already very accommodative monetary policy in many advanced economies, investor perceptions of and appetite for risk can change abruptly," Yellen told a press conference after the FOMC's meeting on June 14-15.
"We're going to be more vulnerable, as we saw in January and February, to bouts of financial instability," Dallas Fed President Robert Kaplan said in a June 30 Bloomberg interview.
That means the Fed has to "think globally, be aware of what's going on globally, and be patient and gradual in removing accommodation," he added. It doesn't mean, though, that the central bank should "overreact when there's financial turmoil."

In his remarks Monday in Bali, Indonesia, Dudley indicated that policy makers scaled back their projections of how many times they would raise rates this year because of concern that more hikes could lead to a spike in the dollar. The median estimate of officials in June was for two increases this year, down from the four envisaged at the start of 2016.
"If the FOMC did not make this adjustment, the stronger dollar could result in an undesired tightening of U.S. financial conditions," Dudley, who is vice chairman of the committee, said in the speech.
Goldman Sachs Group Inc. strategists Robin Brooks and Michael Cahill said Dudley made it sound like the Fed was trying to keep the U.S. currency from rising in response to easier monetary policy abroad.
'Dollar Targeting'
"He essentially made the case that weaker fundamentals elsewhere require a dovish offset from the Fed, to prevent the dollar from appreciating," they said in an Aug. 2 note to clients. "This language comes very close to dollar targeting."
Dudley denied that the central bank was targeting the greenback. He said the FOMC considers "financial conditions broadly defined," not just U.S. currency's value, in determining its monetary stance.
Contrary to what the Fed's critics suggest, Dudley said investors "appreciate that the FOMC needs to take a risk management approach in the conduct of monetary policy."
And in the current situation, the risks argue for the Fed taking a go-slow approach to raising rates, he suggested.
In highlighting the Fed's risk-based approach to carrying out policy, Dudley was echoing arguments made by Greenspan himself more than a decade ago.
"The conduct of monetary policy in the United States has come to involve, at its core, crucial elements of risk management," the then-Fed chairman said in a January 2004 speech in San Diego.
"Inferences about how market participants and, hence, the economy might respond to a monetary policy initiative may need to be drawn" as a result, he added.
Before it's here, it's on the Bloomberg Terminal.
LEARN MORE