Goldman Employees to Pull $350 Million From Och-Ziff Fund
By
Bank to liquidate multi-strategy fund in its retirement plan

Setback for Och as clients pull assets, U.S. probe continues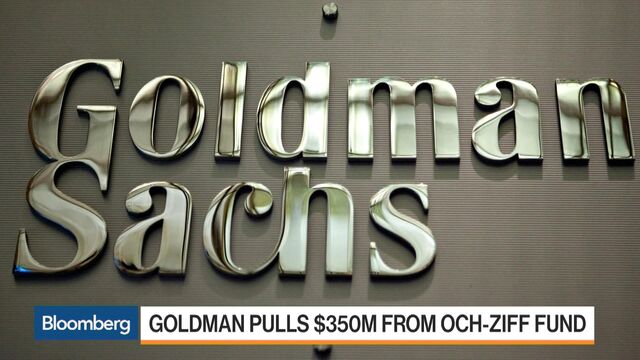 Goldman Sachs Group Inc.'s retirement plan is pulling cash from one of the investment bank's most famous alumni, liquidating a hedge fund run by Daniel Och's Och-Ziff Capital Management Group. Och-Ziff shares fell.
Almost all of the multi-strategy fund that Och-Ziff manages for Goldman employees will liquidate by Sept. 1, according to an investor letter obtained by Bloomberg. The fund holds about $350 million, a person familiar with the matter said.
Och-Ziff has been plagued by redemptions and a federal probe. Och spent a decade at Goldman Sachs, rising to become co-head of U.S. equities trading, and has kept ties with the bank after starting his own company in 1994. The U.S. has been investigating whether Och-Ziff paid bribes in exchange for an investment from Libya's sovereign wealth fund and to participate in other deals in Africa. Clients pulled $3.1 billion from Och-Ziff's funds in the 12 months through June, and an additional $3 billion through Aug. 1, reducing assets to $39.1 billion.

Fund Performance
"Och-Ziff is a strong, longstanding partner of the firm, and we continue to invest with them across multiple platforms," Goldman Sachs said in a statement. The bank remains one of the asset manager's biggest clients, according to another person familiar with the matter, who asked not to be identified discussing confidential dealings.
Joe Snodgrass, a spokesman for Och-Ziff, declined to comment.
Shares of Och-Ziff slid 3.2 percent to $3.58 at 10:03 a.m. in New York. They're down 41 percent this year through yesterday.
The multi-strategy fund dropped an annualized 6.9 percent over the past 12 months, documents provided to investors show. The shutdown leaves the bank's 401(k) investors with just two hedge fund options: vehicles managed by Leon Cooperman's Omega Advisors and Lee Ainslie's Maverick Capital.
Cooperman's Firm
Omega is also under government scrutiny. In March, Cooperman -- once the head of Goldman's asset-management unit -- told investors that U.S. regulators were considering taking action against him and his firm over trading in certain securities, according to a person familiar with that matter. Cooperman told CNBC the probe centered on trading of Atlas Pipeline Partners LP, a midstream operator that merged with a Targa Resources Partners LP unit in 2015.
Cooperman's fund lost 10.4 percent in 2015, and it was down 5.6 percent in the first quarter of 2016, Bloomberg has reported. Maverick Capital managed a total of $15.2 billion as of Dec. 31, regulatory filings show.
Goldman told past and current employees about the decision to discontinue the Och-Ziff fund in the letter on July 29. The move is frustrating some of the 401(k) investors who are concerned their holdings will sink in value as it sells off assets, according to another person with knowledge of the situation.
Liquidation Plan
About 90 percent to 95 percent of the multi-strategy hedge fund's portfolio will be liquidated by Sept. 1, according to the memo. The fund, run as a separately managed account, mainly invests in equities, with its largest holdings in consumer discretionary and industrial stocks. Proceeds will be transferred to a Treasury money market fund.
Earlier this week, Och-Ziff said it more than doubled the money it's setting aside for a settlement with U.S. authorities. The firm reserved $214.3 million in the second quarter, bringing the total to $414.3 million. Settlement talks are in advanced stages, Chief Financial Officer Joel Frank said Aug. 2.
Daniel Och started Och-Ziff with backing from Ziff Brothers Investments. In November 2007, his firm went public, raising $1.15 billion in what was then the largest public offering of a U.S. hedge-fund manager. He's worth $2.8 billion, according to the Bloomberg Billionaires Index.
Before it's here, it's on the Bloomberg Terminal.
LEARN MORE